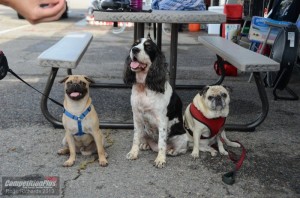 Woof at ya my good peeps! It's been a dogs day since Mom has let me at the lap top, but here I am! Boy things have been busy here at Dina Parise Racing! We have been racing and I have been hangin' with my fans!
Since I last wrote we have been to Maryland, Pennsylvania and Virginia and maybe a few more places I can't remember! I have been in and out of the Motor home so many times I'm dizzy!
It was so fun in Pennsylvania at Maple Grove Raceway raising donations for Indy Honor Flight ( http://www.indyhonorflight.org/ ) part of Honor Flight Network .Mom and Dad think they did all the work, but really …. I reeled 'em all in with my cuteness! And WOW, did we collect a lot of donations for them! Enough to send TWO Veterans on an Honor Flight!
Ya gotta have friends, right? I also got to hang with my Auntie Rhonda and Uncle Roger and Auntie Lisa at Virginia MotorSports Park for the Extreme Outlaw Pro mod Event! Auntie Rhonda has six fur kids that look just like me! Uncle Roger has one. His name is Mochi! He came to visit! And Auntie Lisa brought Morgan… She is furry, but looks kinds funny compared to me and Mochi ! We had a lotta fun! We made sure to leave Mom plenty of hair to vacuum up . I know how she loves to vacuum!
I may be a dog, but I love being at the track! I make sure to get my credentials and I am the best crewmember going! Dad says I'm not a pain in the rear like Mom… I don't really know what that means, but…. I guess it's good!
We have lots of good stuff coming up! We will be doing the Nassau County Cruise to the Show on September 28th and 29th! And I will be looking cuter than ever to raise more donations for Indy honor Flight! If you live on or near Long Island, come to the show!
Well, I have to go now, My fans are waiting!
Woof at ya!
See you at the races!
Bella The Wonder Pug