Allow me to introduce you to my NEW project! Welcome to Women Crush Wednesday! Periodically on Wednesdays, I will feature a woman (or women) who have inspired me. Since March is Women's History Month, this is a great time to begin!
A Friend and Mentor
Welcome to Woman Crush Wednesday. Today, I'd like to honor my friend and mentor Ms. Bunny Burkett. I had somewhat of a 'late start' in the industry of Motorsports. Although a fan, I never drove a race car until I was in my 30's. I have always been inspired by Bunny.
Record Breaker
Her record speaks for itself. Let's begin with the fact that her career spans 50 Years. She is the 1986 IHRAFunny Car World Champion and has claimed an NHRA Division Championship. She has been entered in the Super Stock Hall of Fame, East Coast Drag Times Hall of Fame, Little Guys Nationals Hall of Fame, Maryland International Raceway Hall of Fame and York US 30 Legions of Honor.
The Inspiration
When I became a driver, I met Bunny early on. From day one, Bunny became my mentor as well as my friend. I'm not sure if she is aware of the impact she has had on me, but she has been instrumental in helping me to keep focused and continue to be persistent. Despite a near-fatal crash and a battle with Breast Cancer, she still has the most positive outlook of anyone I have ever met. If you are not aware of who Bunny is, you may have been living under a rock and you need to do a bit of research. Thank you, Bunny for the contributions you have made to the sport of Drag Racing. The sport, it's fans and its participants owe you a debt of gratitude.
Note of Encouragement
As a gift, my husband had Bunny sign an inspiring message on the driver door of 'Stella' (the 3,000HP Pro Mod) when it was first built. I now read it and give it a gentle tap before every run.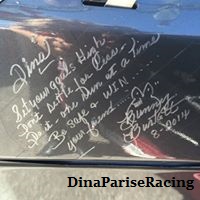 Set your goals high

Don't settle for less

Do it-One run at a time

Be safe and win…….
Bunny is a source of constant inspiration to me.
Thank you, Bunny. I'm honored to call you a friend.
Be the inspiration everyone needs.
Thank you for reading,
Dina~