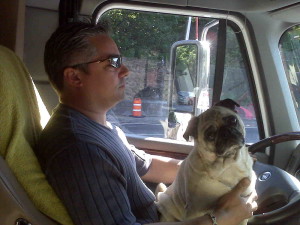 Well, its another year and things have been crazier then ever. Where do I start? Ok… Here goes! Good friends of ours found us a shop in York PA were we moved the shop to the week of before Christmas. We thought it was going to be a permanent or semi permanent location … Well… 'til we received an email that they sold the building and we had to be vacate. Within a month. Oh, and by the way.. the shortest month of the year of course! It was a short lived reprieve, and once again we had to scramble to find another location. Thanks to Chip King we have a place in NC.
We bought a Ford F250 (Thanks to the fine people at Huntington Chevrolet in NY) and in one week I was able to put 7,600 miles on it! I did not think this would be possible to do. I gotta tell ya, when you bring you truck in for an oil change after one week of use people look at you weird. Dina and I had to go to NC to look at the shop. Notice I said Dina first, brownie points! I went from NY to PA on Wednesday to load up the shop, a friend followed me to NC where we dropped the Truck and trailer off.Whew….THEN….. We turned around and drove back to NY and left Friday night for Missouri, so Dina could get fitted for her NEW Cadillac CTSV. Some call me the Energizer bunny because I just keep going and going. We met up with Rob Matheis (Matheis Race Cars) at his shop and had NY style pizza in Missouri. Thats what they call it, I call it flat bread with stuff on it . It actually was pretty good though. Now we the major snow storm and ice storm is moving in, so we have high tail it out of Missouri and try and beat the storm. Well, we get to Indy and oh boy was it fun. When you don't you see cars on the road it is a sign to get off the road. Now I have the Boss and Bella in the truck, so cargo is high priced right now and mistakes and it is going to cost me dearly. The road was a bit shiny I hit the tow button on the truck and it started to slide, yup the entire highway was covered in black ice. Well, I cut a .001 light hitting that button again let the truck straighten out and coasted all the way to the exit. But what pissed me off, the salt truck in front of us not putting any salt down. I think he saw the NY plate and had other ideas for me. I was so white, you could see me from space. We stopped for the night and hit the road the next day without any problems. It is nice to be home for a short period. But like they say the show must go on.
So, now it is order more parts for the boss's car, that money tree in the backyard is so frozen it is only dropping pennies lately. Get the shop up and running this month and get back to some consistency in our lives. Poor Bella doesn't know if she is coming or going, I forgot what month it is and what's her name, the boss lady is just going crazy. We should have been testing in March, but it's ok…. This is the Real husband of DPR and it IS reality at it's finest ! YEP!. And, we wouldn't want it any other way. Sounds good right? Another suck up! HA! Well, we have a lot to do in a short period of time, but it always seems to come together some how some way.
One big topic that is going on is the state of our sport of Drag Racing. Whit Bazemore wrote an article about it on Competition Plus and if you read it Whit states things have to change for Drag Racing to be here for the next 5-50 years. I wont get into it all, but all my life I have always dreamed of racing cars. Yes, I am guilty of the street racing back in the day. But this is a sport that compares to no other sport. There are only a handful of people who made a living from the sport and they are all idols in my eyes. We as Drag Racers need to bring that back, be the next idol. Bring our personalities back into the sport, have fun. Look at Tony Stewart how many times has he throw a helmet at another driver.Again this starts at the top, nobody wants to see a robot in front of the TV and say I want thank blah blah blah.You sound like the teacher from Charlie Brown, " Wah,Wah,Wahhhh". How about, "Damn, that thing was full of fire, I was scared out of my shorts!" John Force gets TV time because he is nuts, says stuff that has nothing relative to the race at times. You put the boss in front of a mic and watch out the show girl is coming to towm. I am a shy guy, we are like Pen and Teller sometimes.I'm Penn and she is certainly Teller! I am not big on being in the spot light, but when that chance comes I don't plan on being a flap jack,I will be a big Whopper! Look out!
Well, its time to get a move on and see what type of trouble I can get into today. The boss already gave me three things to do and I forgot all three of them. Oh ya, one was get back to work. I think she means go back to Corporate America work. I'm not biting…….