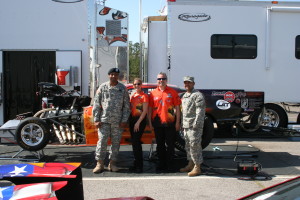 The 11th hour of the 11th day of the 11th month. Many older Americans may understand the significance of that time and date before a younger American would. So, pay attention young ones! This is how Veteran's Day began, and we as a whole need to keep this part of history fresh for generations to come.
November 11th, 1918. It was the end if 'The Great War' ,or as we all know it World War 1.Three years later following a dedication at the tomb of the 'Unknown Soldier' at Arlington National Cemetery, communities began to recognize 'Armistice Day' with parades and speeches, until Congress declared November 11th a Federal holiday in 1938, 'a day dedicated to the cause of world peace'. In 1954 the act of 1938 was amended by striking the word 'Armistice' and adding the word 'Veterans'. From then on November 11th became a day to honor American Veterans of all wars as well as in peacetime. And there you have it ; Veterans Day in a nutshell.
If you know Parise Racing, you know every day is Veterans Day (Memorial Day etc.) according to this team! At Parise Racing, it is recognized that honoring our Veterans one or two days a year is not enough. It should be done on a regular basis. The members of our US Military sacrifice so much to protect our freedom. Sometimes, unfortunately they make the ultimate sacrifice.
On October 29th Parise Racing was to attend the 'Rumble in the Park' event at Virginia Motorsports Park. It was to be the final event of the year for the Northeast Outlaw Pro Mod Association, but it never happened. Unfortunately, as Mother Nature had done quite a bit this year, she hailed an unrelenting two days of cold and rain over Petersburg, Virginia causing the cancellation of not only the race but a very special day that was planned in honor of a 'True Hero'.
That 'True Hero' is 1st SGT. Billy J.Siercks. When Billy was home from deployment, he was very much like the rest of us. He was a 32. He was a Dad, a Husband, and a best friend. He enjoyed spending time with his family. Teaching his older son to ride Dirt Bikes and doing wheelies. You know, big guy, kids' stuff. Then there was Billy the soldier. Since joining the Army in 1997 he was deployed 5 times to places such as: Bosnia, Kuwait, Iraq and Afghanistan twice .His awards and decorations far exceeded his young age. Those awards included 3 Bronze Stars (1 with Valor), 2 Purple Hearts and the list goes on. There are just too many to mention. His second trip to Afghanistan is where he ultimately lost his life just this past September. He left behind a wife and two very young sons, (ages 7 and 3) the younger of the two with a severe medical issue. To make matters worse for this family, due to a backup at Arlington Cemetery, he will not be laid to rest until this coming week just before Veterans Day. So the healing has not yet begun.
October 29th was to be the 1st SGT. Billy J. Siercks Memorial Race and fundraiser for the Billy Siercks Memorial Fund. All proceeds going directly to the fund established on behalf of his two young sons. The day was to pay tribute to Billy as a father, a husband, a son, a sibling, a friend and of course a Soldier. In paying tribute to Billy, there was an amazing pre-race ceremony planned! A FULL Honor Guard courtesy of the Petersburg and Carson Fire Departments was planned. The National Anthem was to be sung by SPC Marybeth Hightower of the Fort Lee Army Band. The Vietnam Vets MC USA planned on traveling from New Jersey just to support the event and volunteer. The Red Knights MC planned on volunteering their time to collect donations. A local Junior Dragster racer (Chad Logan) chose to forego his race at another track to participate in the event. Lunch was to be provided by Roger Hedrick of Outback Steakhouse in Colonial Heights (Roger and Outback, Rock!) Virginia Motorsports Park had planned to really pump up the fundraiser all day, and was on board with all the details. All were convinced it would have been a great success.
Since the window of opportunity for this fundraiser was closed by Mother Nature, it is now being re-opened again by Parise Racing! Below is the direct mailing address for the Billy Siercks Memorial Fund. As stated earlier, ALL PROCEEDS go directly to the fund. Again, established on behalf of his two boys (ages 7 and 3) the younger battling medical issues. Let's help them gain some security for the future. Billy paid the ultimate price for our freedom; it's time to show him (and his family) we appreciate all he has done.
If you would like to make a donation please send checks to:
Billy Siercks Memorial Fund
c/o PNC Bank
10261 Bristow Center Drive
Bristow, VA  20136
(Make checks payable to Billy Siercks Memorial Fund)
Your donations are greatly appreciated!
Please take time out this week to 'Thank a Veteran'. Go to a VA Hospital, a VFW hall, an AMVET Post or wherever you may find a Veteran. Take the time to say 'Thank You ' .You will be glad you did, and so will they!
Parise Racing would like to thank the following for their assistance with this event:
Virginia Motorsports Park http://www.vmpdrag.com/drag/ , Trey Dotson,
Outback Steakhouse in Colonial Heights, Va.(Roger Hedrick, Proprietor) http://www.outback.com/restaurant/locations/va/colonial-heights/colonial-heights/index.aspx , Petersburg Fire Dept. , Carson Fire Dept., Kim Hall, Mark Talbott, Vietnam Vets MC USA, Fort Lee Army Band, USA Auto Supply.
For more information about Parise Racing please visit: http://pariseracing.com/
'Like' Parise Racing on FaceBook! https://www.facebook.com/PariseRacing
For information about Parise Racing sponsors visit: http://pariseracing.com/sponsors/
Become a sponsor of the Parise Racing team! Visit here for information! http://pariseracing.com/contact/
We often take for granted the very things that most deserve our gratitude.  ~Cynthia Ozick
Story by Parise Racing