Two races down and more to go. We started out in PA, went to VA and picked up Butch B. our crew Dina Parise Racing member, then drove to Atlanta to pick up Dave J (another DPR Crew member). We then we headed to South Georgia Motorsports Park to get some testing in. Mother Nature had continued with her wrath of crappy weather and ee got rained out. We decided to leave and head straight to Bradenton Motorsports Park (the first IHRA ,Crower Pro mod event).
But as with this DPR team, there is NEVER a dull moment. So, on the way to Bradenton, I figured let's get the rig washed and shiny for the race. I spent 130 bucks (much to the boss' dismay) at the Blue Beacon Truck wash. They did a great job. We looked good, for a whole 10 minutes! Then, looking up the road, I see headlights (in mid-afternoon). Next thing you know, it down pours for 10 minutes straight! Seemed we were following the cloud too! I wasn't very happy to say the least.
Bradenton (IHRA), was not a good debut for Stella. We loaded everything in the trailer including the kitchen sink. Ultimately, a $22 part broke and caused us to bow down. We had the part over-nighted and stayed to test on Tuesday. Thank fully that went well. So, we loaded up and were off to Palm Beach International Raceway.
We enjoyed some much needed R&R while we were in Palm Beach. It was nice to get away and just relax. But we know better than to get used to it! The R&R ended quickly.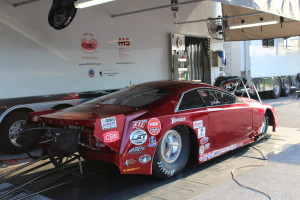 Stella (the Cadillac ) seems to be standing up to her Italian name! She can be a real Biotch. After much hard work and A LOT of sweat, we finally got the car down the track. Unfortunately, Stella was anything but Stellar. Certainly not the numbers we wanted, but we will take it. She is coming around and we know she can't stay biotchy forever. In the end, we didn't want to leave Florida. We decided to stay an extra day and enjoy the weather.
It is great to be back competing with IHRA, where Pro Mod began. From the racers to the safety crew to the fans it is an amazing place to race! We got to hang out with our friends as well as making some new ones. We even played some football. It was like old times again. Right now the Pro Mod car count is down, but it will certainly improve as time goes on. As I said, IHRA is a great place to race.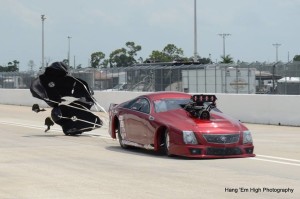 We went back to PA to regroup. Since we can never seem to stay put for too long,we decided to go out and test at Virginia Motorsports Park. We tested with the assistance of with none other than Quain Stott. Truthfully, Stella must like Southerners ! She ran great! She 60ft'd in thr .980's all day. Needless to say we ran a 3.99 to the 1/8 right off the trailer on a green track (and Dina lifted a bit early).We backed it up with a bunch of 4.0's. It was a great day of testing. I was good to see Stella and Dina going down the track and at a good pace!
I'm finding it hard to go from being a Driver to being a full time crew member. I do miss the seat and hauling butt down the track. But this is the year we need to get the boss in the winners circle. I can't give too much away but we will be making some changes real soon. I don't like being stagnant with our program. We will keep you posted on the changes.
Changing gears: The other day I was listening to NASCAR on SiriusXM radio as I was driving. Yes I said the "N" word. I was listening as a couple of fans called in and started to complain about the format, the tracks, and more. It was very sad to hear. Taking the time to answer was Jeff Gordon. He then said to the fans; with all this complaining and unhappiness maybe NASCAR should just shut down all together and cancel races. After listening to more, it made me think about our sport of Drag Racing. The IHRA, NHRA, PDRA and other series'. Well guess what? We are really in the same boat as NASCAR. I came to the upsetting realization: It seems there is a tendency to pick apart the different (drag racing) series rather than promoting and supporting them individually. I can say, I have been guilty of this as well. The various series' compliment the teams (and their Marketing Partners) that run them. If we continue bashing any series, we run the risk of less companies wanting to invest or be involved. The result? Even more teams will be forced to sit out. As most know, drag racing costs money, lots of money. The faster you go the more funds you need. So, regardless of what series anyone is racing (or a fan of) please help promote it even if you don't like it.
We have a great race schedule for the rest of 2015. I wish we could hit the lotto so we can race every weekend, but 'til that happens we will have to keep working. Well one of us has to work….