That's right folks! Bella Booda here! It's finally that time of the year! Racing season! Have you missed me? Mommy has been hogging up the computer with this whole Website Re-Launch, thingy, so I have been getting lots of naps in! Have you checked out the *NEW and Improved* Website? I'm hearing it's looking very cool! But, what do I know, since I'm a dog and all!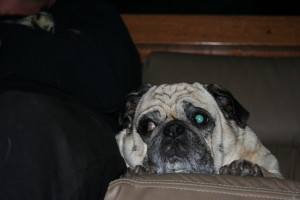 So….SSSHHHHHH, I have been snooping around out in the shop and WOW! Things are looking good! Daddy painted his car! It looks a lot like the things that fly in the air, you know…planes! Very cool! Uncle Dave has been working very hard putting lots of parts together. I don't know how he does it. I can't watch for too long. When I do, I need a snack and a nap!
I finally got to be a co-pilot again in the Motor Home! First we went to a place where the cars were inside. That confused me, but I had fun in my Junior Dragster Stroller anyway! We were at the Northeast Custom Car Show! I had to use my cuteness to help raise donations for the National Multiple Sclerosis Society! I'm cute, so it works! Did you know you can donate to the teams causes right here on the website? Here, Mommy gave me the link; http://pariseracing.com/our-causes/ . Just go to the link and click on the cause!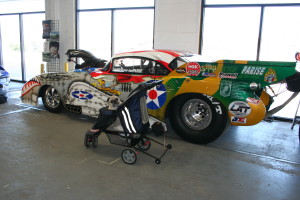 The show was so much fun! Lots of people said hello to me! But, I am not used to being inside, or to it being so quiet! So, I waited. I waited to see Mommy start cooking and putting food in those big trays…..Finally! I see it! Lots of food, packing the Motor Home! We are going racing! Yahoo!
We went to one of my favorite places! Virginia MotorSports Park! I have lots of friends there!  I got to sit outside in my stroller, and listen to the roar of the motors! I know what you are thinking; "a dog, at a racetrack, and loud motors?" YES! Guess what? I can hang with the big boys (and girls). I am a Professional Pro Mod Puppy! So, you can usually find me hanging around in the pits.
Start them up….shut them down….start them up…shut them down……Go out for a run….come back….go out for a run….come back…. I was getting dizzy! I forgot what testing was like! Lots of starting and stopping. Then the Burst Panel thingy popped on Mommy's car! Not sure what that is, but they took pictures! Wanna see? Look in here; http://pariseracing.com/photos/testing/ Then we had some soldiers visit too! I liked them! They are in the photos too!
So, another season begins, and I will be seeing from my point of view again! I hope you enjoy my 'Puppy pit reports' again this season! I hope to see you all at the track! I will be back soon , but now I'm gonna take a nap! This Blog stuff is exhausting!
Woof!
Bella Booda