The First Quarter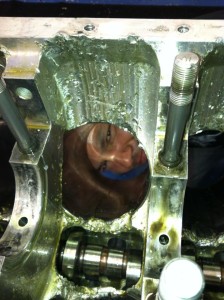 Well the Dina Parise Racing team has a tough start to the first quarter so far. I suffered my very first engine explosion ever driving my 1953 Corvette Pro Mod, which was not pretty by the way. Oh, and of course it was documented in Drag Illustrated's May/June Issue.Photographer Van Abernethy never misses a beat.
As for Dina's car, her 1963 Corvette Pro Mod is just not playing nice in the sand box. We call it the 'Beast' for a reason! And the 'Beast' name will remain, at least for now. We have hired some folks to do a Voodoo dance and scare the devil out of it. Hopefully, that will work.
Like they say; if it was easy everybody would be doing it. We aren't going to throw the towel in just yet so keep a close eye on the progress.
The Men Behind the Scenes
Keeping busy as a crew member oh, and a driver, (that statement always makes my crew laugh) I don't always get to hear what the announcers say.But, having to  play both roles,I do at least try to pay attention as often as possible. Every so often I will hear things said , regarding our team or others.At times, I am in awe of the plethora of  information I hear!  Question for everyone, when was the last time you thanked the announcer?Asked them for their autograph,or took pictures with them ? Can't remember can you? They speak to thousands of people during an event, an entire event! I can tell you is  this,  they have a much harder job than I do. They have to be a comedian, yet they must be a  book of knowledge. They need to be exciting and all the while  speak to people who know everything about drag racing and some that no nothing about drag racing and make it entertaining and understandable for all . It's a tall order. Yes, some announcers are over the top at times, but think about this ; would you rather hear crickets in between rounds?
My good Friend Rockin Rob Cherkas is a great example of such an announcer! The guy is a great  drag racer in his own right and the Announcer for many racing events. He is the most professional and exciting guy to listen to when he is announcing.  He begins his day in the team pits gathering  information ( like a sponge) so he can relay that information to the fans. Team by team, round by round, Rockin' Rob keeps the fans informed and intrigued.
If you are NHRA nut, Bob Frye was the voice of NHRA. I had the honor of meeting Mr.Frye while we were racing at Numidia Dragway many years ago. As he interviewed Dina, I said ' " Now, that is one job I would suck at."  Not only does he remember names, he has to remember engine specs, what he ate for lunch yesterday, be funny to boot. Are you nuts? I am lucky if I remember my wife's name! What's her name? …..oh, ya….Boss.
So, the next time your at race thank your announcer! He has one the toughest jobs around.
Sitting VS. Standing
This is a topic that still blows me away and I really wish people would just deal with it.
Woman racers.
Yes, Dina has had her mishaps but they are not due to the fact that she is a female or that she can't drive. She has had issues (mechanical in nature) beyond her control. What really drives me nuts is when I hear the statement "Women should not be in a race car". I love this statement . Honestly, it makes me push Dina even harder (well, harder than she pushes herself!).
Trust me, I have noticed that this sport has enough men in it that should never be allowed to drive a street car, let alone a 200+ MPH bullet. When Dina went to Frank Hawley Drag Racing School for her license, I saw grown men all pumped up with their chest out being cocky. Well, after the first burn out they were practically sucking their thumbs and asking for a glass of milk because they were so scared. I did ask this one guy, what happened when he did not complete part of the course. His answer; " This is not for me, way too much." At least he was honest, but I wasn't going to let him off too easy. I said, "well you gave the girls in the class a hard time" (because he did), "I don't see your chest pumping now, it isn't so easy is it?" He put his head down and just walked away.
My point is, regardless, if it is my wife or another female we as men need to show respect to them just like you would to any male driver.  If you are a guy, and race and lose to a female, it doesn't mean you are any less of a man, it just means you lost the race.  If you think it is easy (if you have not raced), spend the money at Frank's School and try it. You may be surprised. The next time you think a female should not be in racing, go tell Shirley Muldowney or Bunny Burkett what you think. Be sure to keep your mouthguard in, you may need it.
The brains that make us look good.
For a small team we get a lot accomplished and a lot goes unnoticed but not forgotten. This year  DPR has the pleasure of working with Jon Salemi ( AKA Salmi) of Resolution Racing Services.  I was told he was a good guy, knows his stuff blah blah… I'm from NY,  proof is in the numbers. Well,  he has proven me to eat my words. He knows his stuff. From a 6.15 to 6.05 in two runs, that is impressive but what really was impressive is he told me what it was going to run. Now If the guy who was to check the rods only did his part we would of went on the next round,. HHHMMM, now what is that guys name ? Oh, ya ! That was me. Yes, I am admitting I made a mistake, it doesn't happen often because I am perfect but it happens. All seriousness, Jon is a great tuner and has brought a lot of new information to our team. Now, if he can only give us the winning Lotto numbers……….
My brotha from anotha motha, Butch Bruzele.  Butch is the man who no matter what happens, smiles and says we will get it next time. He is always Johnny on the spot and just keeps going. A Quick story : We needed tires for the race car while at Virginia Motorsports Park. We found them three hours away but had to pick them up. Butch and I drove. When we arrived the guy says where you putting the tires? We said in here!We were driving a  Mustang! We had to push the front seats as close to the dash as possible. We got lots of stares the whole way back to the track!   Without him in the pit area, I would have jumped off the trailer many times.He for sure….Keeps me grounded!
Jody Lupton (Aka Pepsi) is our 'Southern Fried goodness' boy. This guy will drive to any race track at any time of the day.  For one event we drove 5 hours one way  to pickup batteries! Pepsi drives a Box with air suspension that is 3 inches off the ground!I think I left my butt back at the race track 4.55 mins into the drive. Pepsi is a book of knowledge as well. He remembers every run, every detail.He is his own computer, for sure!
These guys are our part of our family now, even if they don't like it or want to admit it. They get to endure the same pain, fun and excitement the  Boss gives me including gray hair.  I can say we have a lot of fun in our little DPR family and without them and the others that I will mention next time I would not be able to be so perfect. Come on I had a .000 light at MIR ! But seriously, these faces you see behind the cars, staring at the computer screen for hours, full of oil and covered in rubber are a huge part of our family. Even though the first quarter wasn't a great one, the second quarter is looking a lot brighter already. So, keep an eye out for the crazy Italian family and some southern boys as well. Huu.. I think I have a new reality TV show, Italy meets the South. Meatball vs  Grits. Ravioli vs Biscuits and gravy.