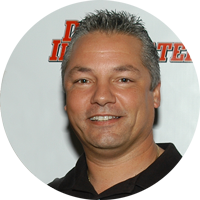 Andrew 'Bam Bam' Parise is a husband, a professional, a consummate gear head (Crew Chief) of Dina Parise Racing, one of the most dynamic Pro Modified Drag Racing teams on the circuit today. Dina Parise Racing is truly a husband and wife team, with a passion for Drag Racing and a passion for giving back.
Andrew began racing in Super Comp with several different cars. Parise Racing (in the beginning was named Tweaked Ya Racing) began with Andrew racing a Blown 1967 Chevy Camaro. With a 540 ci motor and 1100hp, this car was well known on the Bracket Racing circuit.
But, Andrew always had a passion to race the wild and crazy Pro Mod's. After helping and crewing on a couple of Pro Mod teams, Andrew felt it was time to build the dream. That dream being a 1953 3,000 HP Blown Corvette. That dream became reality, and in a big way!
Andrew holds an NHRA national record in Comp Eliminator. For his first full year in competition (the 2010 season), that is stellar!
Andrew has had the opportunity to work with some of the top professionals in the Pro Mod class; Dave Tomasino, Scotty Cannon, Carl Spiering and many others. Having watched Pro Mods and the caliber of people competing, Andrew has taken from those experiences both as a driver and Crew Chief.
*In 2014 the DPR team scaled down to 1 car. That being the Cadillac Dina now runs.*
Andrew is a phenomenal driver but currently he is 'Crew Chief' for Dina. He is right in the mix tearing down between rounds, getting ready for the next round .It makes for an exhausting day, but Andrew is a ' hands on' kind of guy. He prefers it that way.
Husband and wife 'teams' are not necessarily the norm. Most men leave their wives at home when going to the race track. Not Andrew. Andrew hopes to soon again race against his wife Dina.Racing one another or not, the trash talk is endless, yet, entertaining! Entertainment guaranteed!