Well here we are. August has come and gone, we are winless and I am I frustrated…. All I can say is, "WOW". We have put our hearts and soul into this program and Stella is just being stubborn. It's not a car issue or driver issue at all. It is 'little' things that just keep biting us.
The NMCA is an amazing series to race. Great tracks, awesome fans and they had some of the best racers in attendance. Unfortunately, success was not to be for us. On a positive note, we did find the issue(s) and are addressing it.
The NMCA staff do a great job putting on their show. As racers we take a lot for granted when attending events. It takes a lot to put one of these events on. From ticket sales to parking to track prep. The staff at the NMCA are amazing group of people and do an outstanding job. No matter how experienced of a driver she is, it is still difficult to watch your wife motoring down the track. Your stomach gets butterflies and there is always a slight bit of uneasiness. Having the staff at NCMA certainly gives you a sense confidence and security. Thank you to the entire NCMA staff for that.
It has been one crazy season. I feel the need to apologize to our marketing partners, fans, crew and Dina for the lackluster performance this season. Being the man in charge of it all, I feel I have not done my part. I will not quit nor lay down, that is not my style. The fact is our performance has not been up to par, and I am working diligently to rectify that. I can promise you this, changes are happening. We don't have a huge budget which makes it hard to have the latest and greatest but DPR is not willing to give up. We will be back; stronger and performing better than ever in 2017.
It has been a wild 2016 for so many off the track as well. Our friend and fellow racer Bill Lutz, had a procedure a few months ago then all hell broke loose for him with his health. Bill was instrumental in helping to bring Pro Mods back to IHRA by working hard behind the scenes. I met Bill many years ago in the Winners circle at the NHRA Unleashed race. He is great guy with an amazing family (he just became a Grandfather!). Here is a guy who beat cancer, then went in for a simple operation and nearly loses his life. Life changes in an instant. Don't take it for granted. I know Bill is fighting the fight, because I text him every day giving him hell, telling him to keep fighting. I know he is probably tired of me but he needs to hear it. He has a long road to recovery. Please keep him and his family in your thoughts.
Keeping in the 'theme' of family, our home track is Virginia Motorsports Park. Yes, we live Georgia, but VMP is our track. The track manager Allen, is a pain but we still like him. Being so in touch with that area we learned about a young woman named Katy Daniel. Katy was working on her farm with her uncle, using an Auger. While working, her hair was caught in the Auger and in turn she lost her scalp, both ears and one eye brow. When we heard this story we felt like it was one of our own and had to do something (full story here https://dinapariseracing.com/67219-2/ ) . With the help of the racing community, our friends and fans we raised donations for Katy's family to put towards expenses. Now, think of this for a moment. All of that happened in a split second. I don't even want to think of the pain this girl felt. She has such a long road ahead of her yet, she is so determined and positive. Katie is a determined and strong young lady who is an inspiration to so many. The road to recovery is going to be long for her but she is #KatyStrong.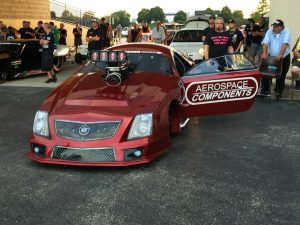 Many of you may know Ian Tocher, photographer for Drag Illustrated. You may also be aware he is recuperating from an incident at Rockingham Dragway a while back. I am happy to say he is improving daily! Determination is key to success.
Different people, different injuries but one common factor. FIGHT. Never give up attitude. Determination. My point to all of this is; regardless of your situation, playing the pitty party won't get you ahead in life. Stop saying why me and start saying why not me. Ask, "How can I help others?" Take Cale Aronson for example. That crazy nut does not understand the words, 'NO', or 'CANT'. I thought I was high maintenance and drove Dina nuts, but Poor Tinzy. That girl should get a Purple Heart. I kid…I kid…Cale continues to fight every day. The people I mentioned are not Actors, not fictitious characters. They are hardworking people like you and me and have basically stared death in the face. They fight not only for themselves but for their families and to do what they love to do again. We all at one point in our lives battle something, we can either lay down and let it beat us or kick its butt. The people I just mentioned are butt kickers. I am inspired by all of them.
So, people ask me, "If you are struggling so much right now, why not just quit?" My answer to them is 'quitting would be too easy.' If we (Dina and I) were not following this crazy dream, we could; go on vacation, have money in the bank again, sleep more than 3 hours a night and stay in one place for an extended period of time. I know if I quit, I would be letting down not just myself, but the many others that have helped us along the way and up to this point. Besides, if the people I mentioned previously are fighting for their lives, how can I not keep fighting for what I want? We all have different goals and dreams. My biggest dream right now is to once again race my wife and kick her butt. For now, I will just be the guy to blame… I mean crew chief.
Right now in our sport, there is big talk about ADRL coming back. That 'talk' spurs more 'talk' regarding the 'health' of PDRA. That's not my opinion, it's merely an observation of the chatter. Then we have reality stars entering Pro Mod at NHRA and IHRA rebranding for 2017. I look at all this and say, "WOW!". Really, you can say what you want about Kenny Knowling (ADRL if you are unaware), but the man is a marketing genius. He has put more butts in the seats in a Pro Mod/Doorslammer series race than anyone (of late). Our first ADRL race he had to 'pick names out of hat' for the run order. Guess what? Dina and I were 'chosen' to race each other! Coincidence? Of course not! It was for the fans. What is being forgotten in our sport currently is that racing is entertainment. Racing IS a show and it IS for the fans. Our job as a racer is twofold; to be competitive and to entertain. Kenny knew his job was put fans in the stands and make it exciting and he did just that. Every series should be looking Kenny to see what he is going to be doing. Personally, if I were heading up any other series I would be hiring Kenny. We currently do not race the PDRA series. They do have some fast cars and good car counts. On the flip side, they have a lot of work to do with marketing and getting fans in the stands (for the most part). There has been much talk regarding a reality star entering the NHRA ranks. Honestly, a lot of racers 'started out' racing on the streets. The difference? That (version of) street racing was never glorified on a TV show. In the beginning, NHRA seemingly wanted to put the screws to many of them by taking their licenses, a move I myself did find counterproductive. Now, NHRA sees the popularity of the Street Outlaws show  so they choose to have the reality star shoot a PSA about street racing. Which would be a great idea if he were not continuing to street race. So, 'do as I say, not as I do?' Of course this is my opinion. I do not have a dog in the fight here, but I am a bit confused by NHRA and the direction of all of this. He is still racing on the street and on a TV show that promotes street racing, yet makes a PSA warning against the dangers of street racing? I guess I need a Doctorate in Oxymoronism to figure this one out. It's kinda like the Marlboro man doing a non-smoking campaign. Again, this is my take on the situation, certainly not a personal attack on the reality star himself. Frankly, he's the lucky one. He was given a platform and he took it. Kudos to him.
IHRA has crowned their 2016 Pro Mod Champion, Billy Harper. Unfortunately, we only attended one race with them this year. IHRA is rebranding its program and we have been told Pro Mod is coming back in 2017. IHRA has a lot of work to do as well. It is said, Top Fuel is coming back to IHRA. I think at this point TF is going to be very hard to sell to teams that are competing in NHRA, but for those that can't afford to run NHRA this may be an option. We will see how it all pans out.
The one thing I see lacking in Drag Racing is branding and promotion of drivers. But not in NASCAR. NASCAR is killing it in their broadcast and beyond. But, NHRA? The TV program is just blah,a bit lackluster. Although I will say, FS1 is better than ESPN it still needs to step it up a bit. One car goes down the track, another one then another. It's repetitive and not appealing to a new fan that may not understand what is happening. Yes, I know, its Drag Racing is a straight line, and NASCAR turns left. Regardless of that, people like to see who is under the helmet. Why is John Force on the TV all the time? He has a personality and doesn't care how or what he says be it right or wrong. In one interview (well more than once) he forgot his sponsors name, then mispronounced it. But, he made fun of himself and still drew attention to the sponsor anyway! Your car can break every record in the world but if nobody knows who the driver is, or the sponsors associated with them, it really doesn't matter.
The last race (and every race) of NMCA we had a lot of fun and got to hang out with a ton of people. I made a side bet with Dina, and I lost. Losing that bet, resulted in me (and Butch) wearing Tutu's to the starting line. I do not like losing, and I certainly do not like losing when paying the vig means wearing a TuTu in public! I can tell you this, that is the last time I will be wearing a TuTu. I am sure Dina will be putting a nice slideshow together of the Bam Bam and Butch ballet. I have to say I am so smooth and fly very well. I think I am going to try out for Dancing with the Stars.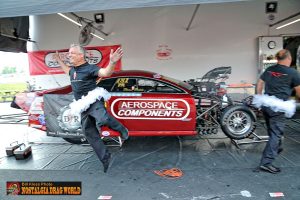 Well it's time to get Stella apart and start looking toward the future. Dina and I are working on new marketing partners for 2017. We will keep you all posted on our progress!
See you all at the Track!
Andrew Bam Bam Parise