Mother nature has shown us how powerful she can be too many times. Unfortunately, the Parise's have experience dealing with her in a Hurricane situation. They still lived on Long Island when Superstorm Sandy hit in 2012. It was the most horrifying experience of their lives. They watched family and friends lose their homes and much of what they owned. They know some that are still not back in their homes today. It's an ongoing process to rebuild.
Post Sandy, they did quite a bit of fundraising and collection of items for their fellow residents. The campaign was called 'Rev Up Sandy Relief'. Feel free to read about it by clicking the links provided. https://dinapariseracing.com/dprs-rev-up-sandy-releif-campaign/ https://dinapariseracing.com/dina-parise-racing-rev-up-and-bounce-back-after-sandy/ https://dinapariseracing.com/dina-parise-racing-rev-up-sandy-relief-where-are-we-now/
The time has arisen again, with the unfortunate task of having to 'fundraise' by collecting items to assist those affected by recent Hurricane activity (with Hurricane Harvey and Hurricane Irma). This is a time when we all need to work together to help our fellow Americans. It's about the people and the pets, never forget the pets! Imagine you lost everything. Where do you start to rebuild? It's a frightening thought for all of us.
To try to help ease the pain of the loss residents have endured, Dina Parise Racing has teamed up with Carolina NT Small Tire Racing. Andrew and Dina along with Lance Stanford and Travis Harvey will be on hand collecting items at the Carolina NT Small Tire Racing event on September 16th at Galot Motorsports Park. The Parise's will have their trailer on hand to load up items, and will leave the week following the race to drop off items. The location is yet to be determined and will of course be announced.
 Items being collected are listed here.Please adhere to the list, thank you.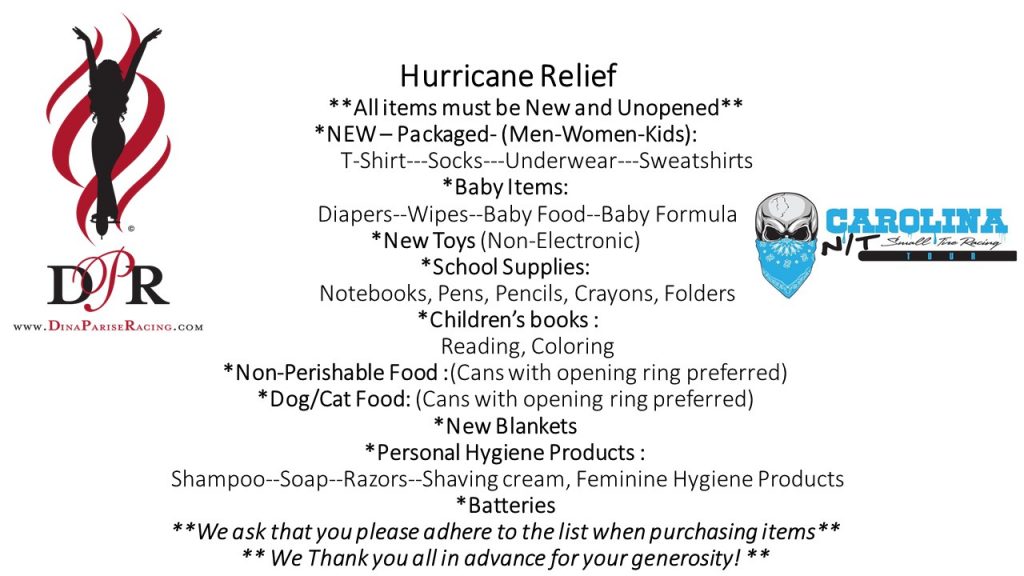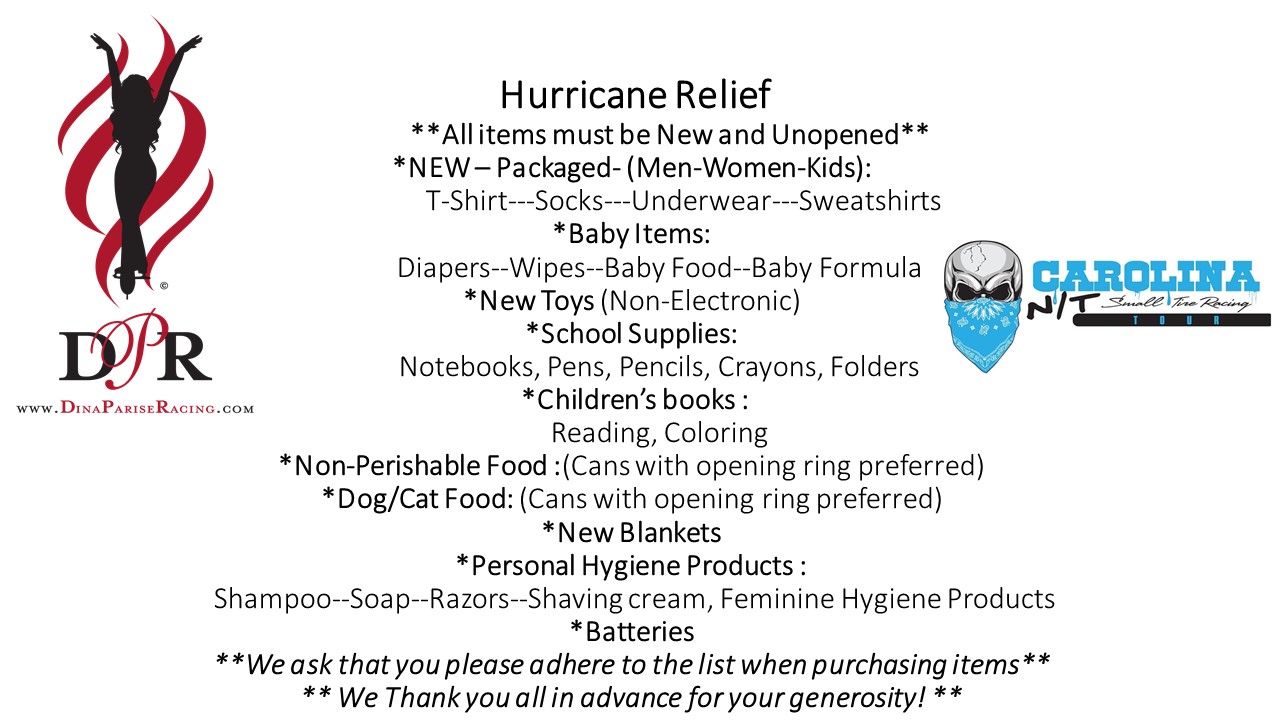 To kick off the 'Rev Up Hurricane Relief' campaign, Dina Parise Racing will be accepting donations here in Georgia until (no later than) September 20th! If you would like to drop off items, here's the address:
Rev Up Harvey Relief (Dina Parise Racing)
19 Venture Lane
Cleveland, Ga 30528
We encourage you all to donate items AND take in some great drag racing, be sure to get to Galot Motorsports Park on September 16th for the Carolina NT Small Tire Racing event! Load up the car and bring the family! Gates open at 12PM for spectators (9AM for Racers)! When donating you will receive a FREE 50/50 ticket!
So, get together with your friends and neighbors! Collect those items and choose the way you would like us to receive them! Either way, we appreciate your help and thank you in advance!
For more information please visit:
  Dina Parise Racing: https://dinapariseracing.com/
 AND
 Carolina NT Small Tire Racing Production: https://www.facebook.com/Carolina-NT-Small-Tire-Racing-Production-