Like with Dina Parise Racing, your vehicle is your pride and joy as well as your investment. Investments need to be protected. There is no better company to choose to protect that investment than Covercraft Industries!
If the Cover Fits…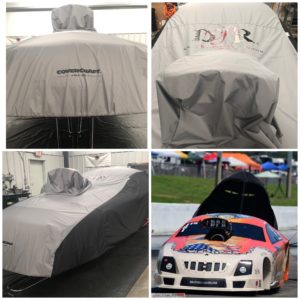 The Dina Parise Racing team would like to thank Covercraft for the custom fitted Car Cover they created for Stella (the 3,000HP Supercharged Cadillac Pro Mod). With their specific Cover customizing process, they were able to create a cover that fits like a glove. Perfect for indoor storage as well as for those pop-up storms at the race track! This cover is light and easy to use.
Protection for Whatever you Drive..
Covercraft has an array of products for the auto-enthusiast as well as the Auto-enthusiast Pet owner! They have a wide range of exterior as well as interior protection, with a great selection of materials.They have 'Protection for whatever you drive!'.
Isn't it time you protected your investment? For more information visit: https://www.covercraft.com/us/en . When placing your order, be sure to let them know DPR sent you!
Supporting cast……
From performance to detail DPR acknowledges and does it all.  Stella runs efficiently and safely with products from top notch companies: NGK, Lucas Oil, Speedwire Systems, DJ Safety, CRC Auto, Hoosier, DMPE and Wiseco. The DPR website looks great and runs efficiently thanks to the professionals at Crank It Media. Thank you to American States Utility Services for their support! The team encourages you to try the products and services these companies offer. The fact remains that they do use them all. That is the best recommendation!
The DPR team would like to thank all their marketing partners for their continued support!
Contact DPR to become a Marketing Partner as well! Let DPR work for you!
Get Social:
Be sure to join the DPR team on all their Social Media! Their Website will show you the way! For all things DPR please visit https://dinapariseracing.com/ Parise has quite a bit on her plate on the track and off. Be sure to follow along on Social Media to keep up with it all!
*Covercraft– Today the company is the world's largest manufacturer of custom-patterned vehicle covers. Our library of over 80,000 patterns still grows daily as we constantly add new applications.
Our product line has expanded greatly over the years and now includes seat protectors, front-end masks (bras), dash covers, floor mats, tailgate nets, tire covers, windshield sunscreens, canine travel items and other specialty protection and storage products. *
Story By- DPR