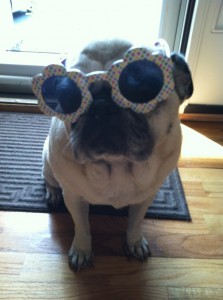 Napping in my NHRA Jr Dragster stroller in the Dina Parise Racing pit. Yup, that's my favorite place to be. I don't mind being in the pits listening to the roar of the cars. It puts me to sleep. Kinda like when Mommy vacuums. These are all noises I am used to. But, once it gets too hot, I need air conditioning! I am a princess, you know! But I was not always…….
Here's another fact you may not know about me, well unless you have one of my 'Hero Cards' , of course ! In my 'younger' days I was what they call a 'Pet Therapy' Dog. Many humans do not know what that actually is. No, I did not perform Therapy by walking on backs or giving a Therapeutic Massages, although I am talented enough to do so! Let me woof it out to ya……
Therapy Dog's rock! We are trained to visit with those who may need affection and comfort. Hey, I'm cute and furry, who wouldn't like that? I went to visit Nursing Homes. But others also go to hospitals, schools, hospices and even disaster areas! Did you know that petting me can actually lower your Blood Pressure? Yup! Like a bit of doggy magic!
Because I am so laid back and cool, my (then) trainer Kate thought I would be a great 'Therapy Dog'. She suggested Mom take me to Bideawee (on Long Island, NY) for Pet Therapy Certification. I passed with flying Dog Bones! They gave me a cool vest to wear and everything!
Like I said, I went to Nursing Homes. Mom felt that was the place for me! I heard her talking about 'Nanny Stella'. That was her grandma. She was in a nursing home years before and she suffered from Dementia. Now, Mom went everyday to visit 'Nanny Stella', but she noticed many other residents never had visitors. That made her sad. So, when I came along, Mom thought there was a reason I was there! And she was right!
I loved getting to go to visit my peeps! I could tell they were excited to see me too! If I knew how to smile, I would have! That was a great job!
I know I no longer am a 'Pet Therapy' dog, but these days I need a bit more rest. Kinda like the peeps I used to visit!
Did you know that 'Pet Therapy' does not just have to be dogs? I knew a big Pot Belly pig that did it too! I remember, she loved to eat grapes and popcorn! So, if you have an animal you think would be good at 'Pet Therapy' you should research it locally! You can make so many very happy to visit with a furry friend like me!
Now in my 'Pet Therapy' retirement, I lounge around at the racetrack. I also meet and greet the DPR fans because, well I'm just good at it! Peeps can't resist me!
Please remember , not all animals are as easygoing about noise as I am. And with the 4th of July approaching it makes my fury friends scared. Keep them indoors so they don't get scared or hurt!
For more fun tips don't forget to check me out on twitter! https://twitter.com/ProModBella ( @ProModBella )
Have a Happy and Safe 4th of July!
Woof out to ya all !
Bella Booda