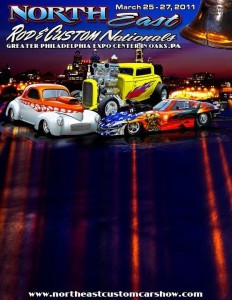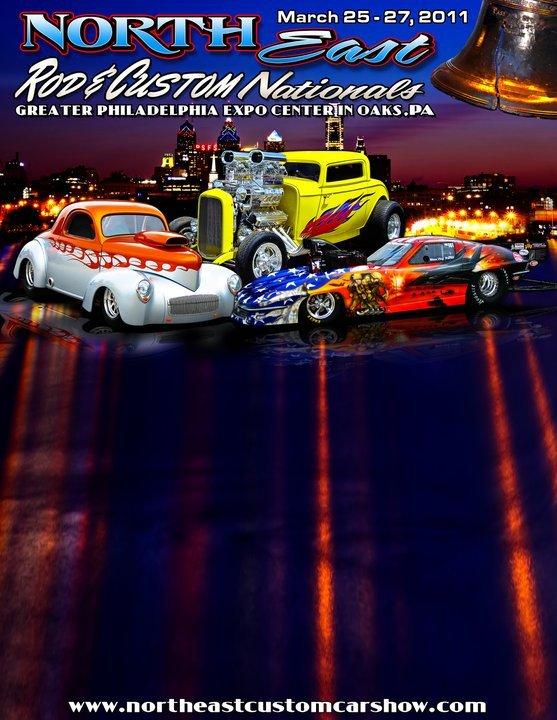 The longest, most snowy winter on record in recent memory is finally about to be left behind! Parise Racing will finally be getting the cars out of the shop. First stop for this husband and wife Pro Mod team is the Northeast Rod and Custom Car show at the Greater Philadelphia Expo Center at Oaks March 25th -27th.
Not the roar of racing you say? True. But, sometimes getting to take the time to look over these amazing race cars, in a new environment is a good thing. It can open up the world of Drag Racing to those who may never have thought about going to a race. Fans can equate this environment to watching a sleeping beast. The next time they see these cars, the beasts will have awakened and they will be loud and fast! It will make that next trip (or the first trip) to the track, that much more enjoyable!
The Parise's 1953 and 1963 Military Themed Corvette Pro mods are two feature cars at the show. Others include Jerry Hunt with 'Studezilla', Ken Hall and the 'Top Secret' Jet Funny Car, Team Frantic Ford Funny Cars and Horace Reinford with 'Moose too' 1927 Ford Roadster. Along with the feature vehicles, there will be many other celebrity appearances as well. From models Krista Elyse and Jessica Barton, to former Philadelphia Flyers Dave 'The Hammer' Shultz ,Brian Propp, and Bernie Parent; Philadelphia Eagles Lesean 'Shady' McCoy and Ike Reese ; as well as Danny Bonaduce and Russ Newbury (from the ' Deadliest Catch'),there will be something for everyone! For more information visit http://www.northeastcustomcarshow.com/ . Be sure to view the 'celebrities' page for bios and photos of Dina and Andrew Parise and all others previously mentioned!
The time has finally come for the unveiling of Andrew's new paint scheme! "The guys at 'The Shop' definitely recognized my vision." Stated Dina Parise. "I spoke with Chuck, and told him what I wanted to see. Together, we came to the final product. Forget the fact that it is Andrew's car, I'm not even sure he knew what it was going to look like!" She laughs. "I must admit, this is the best way to get the fans to see the car for the first time. There is so much detail to see, they can take it all in."
In case you missed it, here is a video with a sneak peek of the new paint, check it out! http://www.youtube.com/watch?v=gLuiprov-os&feature=channel_video_title
The Parise Racing Corvettes have gained popularity in part, because of the paint schemes on both cars. The P-40 Fighter plane theme on Andrew's Corvette has been a crowd favorite .Essentially that has not changed. It has just been taken to the next level! "We are excited to have the opportunity to unveil the new paint in this forum." Stated Andrew Parise. "Of course the track is our comfort zone, but it is nice once in a while to get to really talk to the fans. 2,400 horsepower in your ear, can make that a bit difficult at times!"
Parise Racing is planning on running a LIVE FEED on UStream from the show! Just as they do on race weekends! Andrew and Dina will try to bring some special guests by during the weekend! You can find UStream on the Parise Racing website homepage, or here: http://www.ustream.tv/channel/parise-racing .
Giving back has always been a big part of Parise Racing. Even if the team is not racing, the fundraising continues. They have been advocates for the National Multiple Sclerosis Society for many years now, by raising donations and awareness for this debilitating disease. The Parise's will be collecting donations for MS at the Northeast Rod and Custom Car Show. If you are not going to the show and would like to make a donation, visit http://www.pariseracing.com/causes.php and just click on the 'Donate Now' button! It's that easy and it's safe! Remember, March 25th is World MS Day! Join the movement!
The team is moving forward with the 2011 racing season, but could still use sponsors to make things happen! Let our team make your name shine! Join us today!
For more information about Parise Racing of for Sponsorship Opportunities please visit: http://www.pariseracing.com/
Parise Racing can also be found at:
http://www.facebook.com/PariseRacing
http://twitter.com/pariseracing
The team will be making updates to FaceBook and Twitter from the show! Don't miss it!
In this economy, sponsorships can be elusive. Parise Racing is proud to represent the companies that support them. The team would like to welcome back NGK (www.ngksparkplugs.com ) for another great year of racing. They have supported our team for over 5 years now and it is a strong relationship.
The team would also like to welcome:
LAT Racing Oils – www.latracingoils.com
USA Auto Supply – www.usaautosupply.com/store/index.php
Custom Wire Sets – www.customwiresets.com/home.php
JE Pistons – www.jepistons.com
Browell Bell Housing – www.browellbellhousing.com
Bradco Engineering
Motorsports Unlimited
R&R Racing Products – www.rrconnectingrods.com
Parise Racing would like to thank everyone for their continued support.