As all of us say, we need more time in the day. Well, when you are Parise Racing, you have two cars and few helping hands, it is hard to complete everything in the amount of time you want or need to.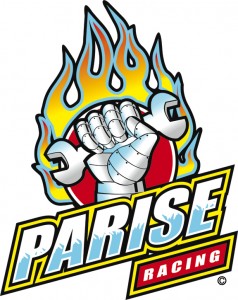 The team is fortunate to have some help from some 'new' helping hands, and things are moving along very well. The Parise Racing team has two High School students working on a senior project. They come to the shop and help out. "It is a learning experience for them." States Dina Parise. "They can do something they may have not otherwise ever done, and we are lucky enough to have Pizza and soda for labor costs!"
"We have learned a lot in the past two seasons, and we plan on using what we have learned.", stated Andrew Parise. "So, we will be bringing our 'A' game. Last year was good for us, but it is a new year and a new slate and it could always be better. Our program is no secret. We ran Converters last season and this season will be no different. It seems it is the year of the Converter. People either love them or hate them. We have loved them for two seasons now, and we have done plenty of R&D to get to understand (and love) them."
Dina Parise's 1963 Corvette is looking as amazing as ever. "My car can run hard, but she also did give us a run for our money." Stated Dina "We had some issues last season, but that is behind us now. I have a lot I want to accomplish. Now; I can really get to work."
The biggest change in the Parise Racing camp is the unbelievable 'new' paint scheme on Andrew Parise's 1953 Corvette. This completely redone paint scheme keeps in with the P-40 Warhawk fighter plane motif, but takes the graphics to another level! The work was done by The Shop in Maryland http://www.theshopmd.com/ . You may be looking for photos, but you will not find any just yet! But, here is a video with some teaser photos of the paint; you may want to check out! http://www.youtube.com/watch?v=gLuiprov-os&feature=channel_video_title
Parise Racing will be unveiling the paint scheme at the Northeast Rod & Custom Car Show; March 25th-27th,at the Greater Philadelphia Expo Center. Parise Racing is and has been active in raising awareness as well as donations for Multiple Sclerosis. The team will be accepting donations at the show. Did you know that March 14th-March 20th is Multiple Sclerosis awareness week? For more information on the show; http://www.northeastcustomcarshow.com/ , and look for Dina and Andrew in the celebrity section. Not attending the show?
Visit http://www.pariseracing.com/causes/ to make a donation to help fight MS!
After this long winter, and a quick roll in and out of the trailer for a car show, the team is going to be ready to race! This season the team will be competing in the Northeast Outlaw Pro Mod Association and will be adding other events to the 2011 calendar as well. Be on the lookout for the duo from New York! Check the events calendar here: http://www.pariseracing.com/events/
In this economy, sponsorships can be elusive. Parise Racing is proud to represent the companies that support them. The team would like to welcome back NGK http://www.ngksparkplugs.com/ for another great year of racing. They have supported our team for over 5 years now and it is a strong relationship. The team would also like to welcome; LAT Racing Oils http://www.latracingoils.com/ , USA Auto Supply http://www.usaautosupply.com/store/index.php , Custom Wire Sets https://www.customwiresets.com/home.php ,JE Pistons http://www.jepistons.com/ ,Browell Bell Housing http://browellbellhousing.com/ , Bradco Engineering, Motorsports Unlimited, R&R Racing Products http://www.rrconnectingrods.com/ .
Parise Racing would like to thank everyone for their continued support.