(Oakdale,NY) – It's coming upon the third Saturday of May. Most unfortunately are unaware of the significance of that day, or how significant the entire month of May really is.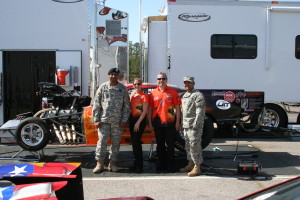 May is Military appreciation month.  The Senate first passed a resolution in 1999 designating May National Military Appreciation Month. Saturday, May 21st (the third Saturday of the month) is Armed Forces Day. The culmination of Military Appreciation month will be on May 30th.
Secretary of Defense Louis Johnson proclaimed the American Armed Forces Day in August 31, 1949. In the United States, Armed Forces Day is always celebrated on the third Saturday in May to honor all American military personnel.
Would you like to let those serving overseas know you care? Parise Racing can help!  Visit http://pariseracing.com/ and click on the 'Support for the Troops' tab! Print it out, take it to work! Our Troops deserve our support!
Parise Racing is headed to Virginia Motorsports Park for the Super Chevy Show .Andrew will be ready to do battle in his blown '53 Corvette. But behind the scenes, there will be some very special guests. Some are Veterans, some Wounded Warriors getting a needed break from a local VA hospital , some dedicated VA workers and Active Duty Military personnel as  well ."We run our Vettes for Vets program all season long" Stated Dina Parise  "But, it seems especially poignant when we run it on a holiday such as this. Especially with the guests we have joining us this week."
Parise Racing could not run their Vettes for Vets program without the support, assistance and cooperation of  the following: VMP, Bryan Pierce, Trey Dotson and Ecko McDonald ; along with Outback Steakhouse in Colonial Heights , Va.
Now, back to our regularly scheduled program…….racing!
Andrew Parise is ready for VMP! "I'm going solo on this one!" States Andrew Parise .  "My wife is really putting the pressure on me. She's got some nerve. I mean really, she wrecks the car, and I have to pick up the slack?" He laughs.
The team has regrouped after last week. "It's a new week." Stated Andrew. ""That's how we see it. We will go out there and put on a great show for the fans and our Military guests. I'm looking forward to it."
So, if you are keeping up with the Parise saga….We think 'Bam Bam' has begun to sing "Let the sun shine in…….."
Thank You to our sponsors for their support: NGK,USA Auto Supply, LAT Racing Oils, Hoosier Tire, Custom Wire Sets. All links and information can be found here: http://pariseracing.com/ Click on the sponsor tab.
Special Thank You to:
Outback Steakhouse (Colonial Heights, Va. Roger Hedrick Proprietor)
http://outback.com/restaurant/locations/VA/Colonial-Heights/Colonial-Heights/index.aspx
Virginia Motorsports Park   http://vmpdrag.com/drag/
**NOTE** Super Chevy Weekend is also Armed Forces Weekend! All weekend, anyone with a valid Military or Department of Defense ID Card will receive a single day spectator admission ticket for half price Saturday and Sunday.