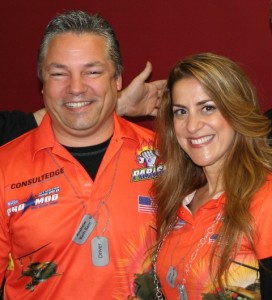 Amelia Earhart said it the best, "Women must pay for everything. They do get more glory than men for comparable feats, but, they also get more notoriety when they crash."
" 2011 has not  been the best year for Parise Racing," Stated Dina Parise. "We tried some new technology that just didn't work out for us, and to top it off, I hit the wall. It has been a bit of a struggle but we are not willing to give up that easily. Our team has the perseverance and determination to overcome obstacles. Yesterday is in the past. We have learned from it and moved on." stated Dina.
"We decided to sit back and look at everything .It was time to make changes to achieve our goals."  Stated  Andrew Parise. " To advance in this sport you do have to try new things, but sometimes they just don't work in your favor. Rather than going into panic mode, we regrouped. Now, we are ready to rock!" Stated Andrew.
After the crash, Dina's 1963 Corvette went to  ProChassis. Nick Montana and the crew got the chassis back in racing condition with little time to do so. Strange Engineering and American Racing Headers turned over parts very quickly, which also helped the process along. The car then went for paint and was ready for some testing! The team then spent a few days at Numidia Dragway to get some test runs in. Testing was successful, and the team is ready to go!
Parise Racing is back in business and headed to Maple Grove Raceway for the Super Chevy Show! They will be attending and racing with the Northeast Outlaw Pro Mod Association in the 'Chevy VS. the World II ' Event !
As many of you may know, rivalry runs deep in the Parise camp! This weekend will be no different! Who are you rooting for? What's that you say ? You can't get to the track? No worries! Check out the Parise Racing 'pit cam' live on U-Stream all weekend! http://www.ustream.tv/channel/parise-racing  or on the Parise Racing website homepage! http://pariseracing.com/
Are you interested in becoming a Marketing Partner with Parise Racing? If so, please contact them at info@pariseracing.com .
Parise Racing would like to thank the following for their continued support:  NGK, LAT Racing Oils , USA Auto Supply Inc. ,Hoosier, JE Pistons, Browell BellHousing, Motorsports Unlimited. For more information regarding these companies please visit : http://pariseracing.com/sponsors/