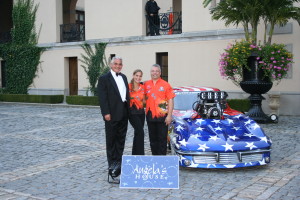 *October 5, 2012* "How are Mother and child?" Isn't that the first question we all ask when a child is born? Unfortunately the answer is not always yes.Bob and Angie Policastro are parents that understand the unfortunate side to that question. Their struggle gave them the determination to help other parents avoid the struggles they encountered……
Bob and Angie Policastro's daughter Angela was born (in 1989) with severe brain damage. Not only were they faced with the daunting task of the possibility of permanent homecare, they also were forced to deal with significant voids in the healthcare system. Ultimately they were forced to have Angela reside in a facility two hours from their home. The facility although a loving home environment that provided her the care she needed, was just so far from the Policastro's home.
In 1992, the non for profit Angela's House, was created to offer families and professionals an agency to call to help medically frail children and their families. Angela's House has helped to simplify home care options for families by coordinating the extensive array of services needed to support medically frail children at home. The doors of the first home 'Angela's House' located in East Moriches, NY opened in the fall of 2000 in a culmination of a ten-year effort by Bob Policastro. This special home for children is the first of its kind. Named after his daughter, this beautiful home offers a loving environment with 24-hour nursing care.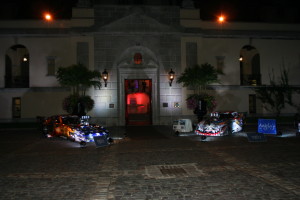 Now that you know the WHO; let's get to WHAT went on!
On September 27th   Parise Racing was honored to be a part of 'Brielle's Fairytale Fashion Show' Benefit for Angela's house. Designs by Brielle along with Geraci Condello created beautiful fashions to be reproduced and sold also to benefit Angela's house! So if you like what you see, you can purchase it and the proceeds will go directly to Angela's House!  And if you look closely, you may notice a certain Pro Mod driver wearing a beautiful blue dress! Nope, it's not Andrew…. They told him he should have shaved his legs!
Would you like to donate to Angela's House? Or would you like more information? Please visit here: http://www.angelashouse.org/
As a team Parise Racing had an amazing evening! The '63 and '53 Corvette Pro Mods  were lit up beautifully by the Echo Agency of NY. You could not ask for a better location than Oheka Castle ! It is stunning!
As many of you know, Parise Racing has had a bit of a tough year, but don't let that fool you! Although the team may have not been seen on the racing circuit, they have been seen everywhere else! The team attends many charity (and other various) events. For one, Parise Racing is always aware that no matter what, this team is fortunate. Things can get you down, but there is always someone else who has a heartbreaking story, and maybe, just maybe….. Parise Racing, these beautiful Pro Mods and of course Bella the Wonder Pug can brighten someone's day. "Those thoughts are always kept in the back of our heads." Stated Dina ." We WILL see you all in 2013. We will see you on the track with even more competitiveness, in-house-rivalry and passion for giving back than you have ever seen before!"
Be sure to stay tuned! There is so much more to come from Parise Racing! You will want to see what they have been up to!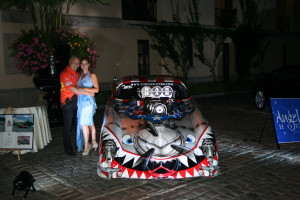 "When the Helmets Go on the Wedding Bands Come Off! Rivalry Begins at Home!"  
Want to learn more about Parise Racing? Would you like to become a Marketing Partner? Visit our Social Media sites for info!
http://pariseracing.com/
https://www.facebook.com/PariseRacing
http://twitter.com/pariseracing
http://www.youtube.com/PariseRacing
Please visit our sponsors:
NGK http://www.ngksparkplugs.com/default.asp
LAT  http://www.latracingoils.com/
Island Propane http://www.islandpropanecorp.com/
Thank you to:
Oheka Castle http://www.oheka.com/
The Echo Agency of NY http://www.theechoagencyofny.com/