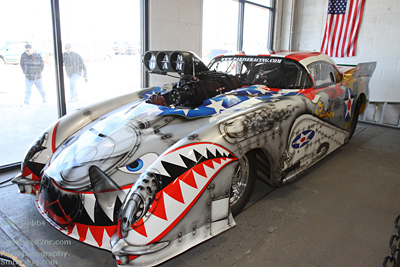 At Parise Racing, everything that is done tends to have a significant meaning. Along with that meaning, comes the responsibility of a bit of research. Andrew and Dina Parise are very proud of this latest creation, and felt the need to share a bit of background. So, here goes.
The Curtiss P-40 Warhawk was an American single-engine, single-seat, all-metal fighter and ground attack aircraft that first flew in 1938. From late 1941, the P-40B was used by the Flying Tigers. The Flying Tigers, known officially as the 1st American Volunteer Group, were a unit of the Chinese Air Force, recruited from U.S. aviators. The AVG was highly successful, and its feats were widely-published, to boost a declining public morale at home. According to their official records, in just 6 1/2 months, the Flying Tigers destroyed 297 enemy aircraft for the loss of just four of their own (in air-to-air combat).
With those facts in mind, Dina Parise (with the help of The Shop) created the NEW paint just unveiled at the Northeast Rod and Custom Car Show. The paint scheme was a hit! Many of the fans were waiting to see the new paint and stated that they were not disappointed! "The detail is intricate and there is so much to see, without being cluttered.", someone stated. The team met former pilots and Air Force members at the show, who also stated their appreciation for the detail. Visit the Parise Racing Photo gallery for photos!
Brian Lutz and the Northeast Rod and Custom Car Show staff did a fantastic job with the show, and the team would like to thank them for the invitation to be featured at the show. With over 300 show quality cars, there was much to see!
But, enough about standing still, it's time to go racing! The Parise's are ready for another season! Andrew will again be 'piloting' and putting up some great numbers in his '53 Corvette Pro Mod, now with that amazing new paint! Dina will of course be running great numbers, herself in her '63 Pro Mod Corvette, as always inspired by the US Military .Please visit the Parise Racing website for scheduling information. Keep checking, as the schedule will change periodically.
The team will keep everyone posted regarding upcoming events. Be on the lookout for more news!
The team is moving forward with the 2011 racing season, but could still use sponsors to make things happen! Let our team make your name shine! Join us today! As a husband and wife team, we are sure to gain the attention your company deserves! Contact us!
For more information about Parise Racing of for Sponsorship Opportunities please visit: http://www.pariseracing.com/
Parise Racing can also be found at:
http://www.facebook.com/PariseRacing
http://twitter.com/pariseracing
In this economy, sponsorships can be elusive. Parise Racing is proud to represent the companies that support them. The team would like to welcome back NGK for another great year of racing. They have supported our team for over 5 years now and it is a strong relationship.
The team would also like to welcome: USA Auto Supply, LAT Racing Oils, Custom Wire Sets ,JE Pistons, Browell Bell Housing , Bradco Engineering ,Motorsports Unlimited , R&R Racing Products
Parise Racing would like to thank everyone for their continued support. The team looks forward to representing them throughout the season and beyond!
*Story courtesy Parise Racing
*Photos courtesy Allen Dobbs