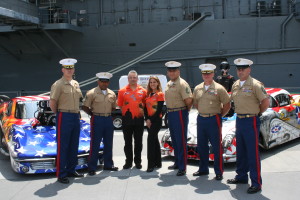 It has been a staple of the Dina Parise Racing team to honor the Members of our Armed forces no matter what day of the year it is. From a standstill to over 240  MPH these two Chevy Corvette Pro Mods are a true dedication to our Nation's Military and what it stands for. In one word; Freedom.
"I feel we would be remiss if we did not remind everyone to recognize the true meaning of Memorial Day. We can not forget the sacrifices made by so many." States Dina Parise. "We painted these cars with our Armed forces members in mind. As a tribute to their service and sacrifice.  Not an event goes by without a Veteran or an active duty member striking up a conversation with us regarding the paint on our cars. Usually, they thank us! Actually, it's our 'Thank you' to ALL of them! To us, Memorial Day, Veterans Day and Armed Forces Day is EVERY Day! "She says.
For the second year in a row, this DPR team will be participating in the Memorial Day (weekend May 25-26)) , 'Salute To Heroes' festivities at the Intrepid Sea , Air and Space Museum. There seems to be so much emphasis on the fact that 'Fleet Week' has been cancelled that everyone is again forgetting the meaning of the 'day'. Surely the event will be altered from years past, but the core of the event and it's meaning is still there!
So head on down to pier 86 (the Intrepid) in NYC! Did you know that all the activities on the pier are FREE! Visit  http://www.intrepidmuseum.org/MemorialDayWeekend2013.aspx for more information!
Please remember before you head to the Intrepid or to wherever you are headed,  be sure to do a few things. Fly your American Flag. Stop at a Military Cemetery or Monument and leave a small American Flag or Wreath in honor of the fallen. It is the least we as citizens can do before we head out to enjoy the day with our families.
Never Forget. Freedom is Not Free.
People always ask how  DPR  can get out there to do what they do. The advertising Partners are the key to DPR's success! This team works hard to keep their Advertisers happy! Check out the Advertisers and go ahead and try their products and services! DPR uses them all ! NGK, LAT Racing Oils, CRC Industries, Throttle Threads,  Neal Chance, Hoosier Racing Tire, Browell Bellhousing, Motorsports Unlimited and Pro Chassis design. Visit here : https://dinapariseracing.com/dina-parise-racing-sponsors Contact DPR to become an Advertising Partner!
A special thank you to: Radical Corvettes http://radicalcorvettes.com/ , Island Propane http://www.islandpropanecorp.com/ and Julie Chan CBMoves http://JulieChanRealtor.com for their assistance in helping DPR appear at the Intrepid!
Story and Photo By DPR