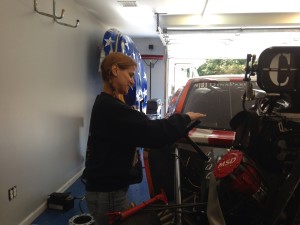 You know when you have that dream where you are falling and falling…. and you wake up in a sweat with your heart pounding? Sometimes being a team owner and driver…. makes me feel like that for real! HA! I say that tongue and cheek, but you get the gist.
You always hear (or read) me talking about our amazing Marketing Partners. Of course, the truth is, we owe what we do to them! And we are thankful for everything they do for us, and we are always sure to create the visibility for them, in our own DPR way.
For me, coming from a competitive background, I strive for more and more every day. I want to reach the top. It's a hunger that keep me fighting, no matter what. As I said, we appreciate all our Marketing Partners but of course we hope to acquire more along the way.
It's funny, I get many who ask me about PR and who is your PR person? Really? PR person? Do I look like Danica Patrick to you? Do you think we have a gazillion dollars? HA! No.For PR sometimes the best 'person' is not a 'person' at all! In our case, it may be our Pug, Bella! But really, I am not afraid at this point to say it's me….all me. There is no extra money in the budget for a PR person, so what you see is what you get. We did at one time however try to use a 'Marketing Person'. Frankly, all he did was waste our time and money. Never again. I am not naïve. I understand that nothing is guaranteed, but this person took advantage. People like that should be held accountable for their actions, but I have no time for retribution. I'm too busy to go backwards. Honestly, I know if the right person will just pay attention to my ideas…… it will be a home run. It's a work in progress, and I am willing to DO the work myself. OH,ya… and I don't have a choice anyway! LOL!
If you follow https://www.facebook.com/DPariseRacing or https://twitter.com/DPariseRacing at all, you will find many photos of Andrew and myself turning wrenches on our Pro Mod Corvettes. We are resourceful because we need to be, but the fact remains  that will never change. I grew up that way. I am the owner, Driver, PR girl and the cook. And I love every minute of  it! As of right now, I still hold a real job too. I am a hairdresser and have been for many years. My ultimate goal is racing full time. In my racing endeavors, my goals are; Empowering women to follow their dreams……. And a Championship…. I will achieve my goals.
DPR has certainly made mistakes in the past. But, if you don't make them , you don't learn from them. Pick up, move on. 'Suck it up Buttercup', is my favorite saying.  It's what I said to myself when I crashed (racing Andrew) , and Andrew was in and going rounds. It's  a two car team. We had things to do. So, I made lunch, and got on with the day!
My days I must admit tend to be quite long. They begin with doing things around the house. I try to squeeze in a workout , and then the real work begins. If I am not headed to my job, I am working form home taking care of whatever I need to for the team. It is a never-ending process. there are highs and lows. Some days I feel discouraged, but DPR has amazing fans and they really keep me fired up!
We will be firing up this DPR  '63 Corvette again soon! Next stop will be Virginia MotorSports Park for the Super Chevy Show and Extreme Outlaw Pro Mod May 17th – 19th . If you are there, and I hope you are, remember the DPR pit area is always open! Come by! Say hello! Get a signed Hero card from me (or Andrew and Bella of course).
Remember the best part about Drag Racing? Every ticket is a pit pass!
See you at the races!
~Dina