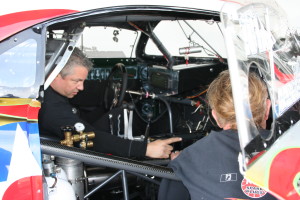 Burning the candle at both ends is nothing new for me, it has been very busy. I could use more hours in the day, or better yet get my crew to New York. The little things on these cars take longer to do, then rebuilding the engines. But as they say the work must get done one way or another.
Being married is a full time job, then you add in racing, a second boss, and if you know Dina she is very persistent at times, so you add all this in with a 18 hour day the pressure gets very high. Dina takes medication for her migraines we call it Stupid Max, she will say "The thing made a noise…. you know… the thing". It is like playing charades. Well, the Doctor just increased the dosage, which means we are going to be playing a new improved game! It is going to be a lot of fun.
It has been a long winter, lots of snow and a bit too cold for me. The boss made the decision to attend the testing at South Georgia Motorsports. Well, let me explain the fun prior to leaving for this event. Dina doesn't get sick often, but a couple days prior of loading all the goods into the motorhome she comes down with the flu. How convenient. So, between working all day I have to run around and get the food, drinks, stickers, load the motorhome with clothes and all the goods. Oh ya, load both Pro Mods and everything needed for racing. All I can say is WOW. I got it all completed and off we went, stopped off on the side of the road in Virginia to pick up crew member Butch Brazelle.
For the most part the trip going down was nice and quiet. Dina was nice shade of Green for most of the trip, serves her right for making me do all the work. As most of people know, I have to wash the transporter before entering the track (It can not be seen with dirt on it), so we traveled an hour out of the way to get it washed when I heard a pop. Flat tire on the trailer.  Not happy, but hey we have the tools. We pull off in the grass only to realize we cannot jack up the trailer. Well, after driving 20 hours of driving,the last thing you want is a flat with no way to change it.The police show up. The officer was as helpful as he could be. I think he really was entertained by us! With having no leverage on the grass, I came up with an idea.Use the wood that closes the steps when traveling! Let's just say the Boss was not overly excited with that idea. We change the tire like a nascar pit crew, say thank you to the Police Officer and off we go to get it washed and the chrome polished.
We were scheduled to test for four days. Besides being cold, I felt like I worked in Jiffy Lube. We had an issue with Dina's 63 Corvette and we were covered in oil for four days. We only made one hit each, loaded up and went back to NY. It was a very depressing ride home, when all of a sudden we heard POP… Yes another flat on the side of 85 in VA, this time we couldn't get the jack high enough to get the tire off. But Butch and myself pulled it off in the dark and off we went.
Living in NY, tolls are expensive and our Easy Pass stopped working. So to Cash lanes we go. The first bridge, George Washington Bridge the female cop looked at me with that face and said $50.00. The second bridge we pulled up to was the Throgs Neck bridge, the cop looks at the rig, shakes his head and says "$110 bucks, I can't believe I just said that" Well that was the funniest thing we heard. He just couldn't believe he said $110 bucks.
We attended the EOPM race at Virginia Motorsports April 5th. It was great to be back and see our extended family. We get all setup and ready to test on friday both cars,So we thought. Dina's car, 'the Beast' had a fuel leak. Luckily we found it, bad news we didn't have a spare part. Oh wait we may not have had a spare part, but we had a spare 'Parts Car'! MY CAR.. my rockin 53 Corvette! So, we take that part off and go make a test pass. We didn't light the world on fire but the car finally went straight thanks to Pro Chassis designs, Nick Montana and his staff. Sixty foot's were 996 then down to a 966, with a 2.66 to the 3.30. As for me, I missed the tune up a bit but as I have been told that's Drag Racing.
So, now its back to getting ready for the next adventure and put new tires on the trailer. Had enough of changing flats on the side of the roads. We worked hard in South Georgia and realized that the LAT Racing oil makes a great moisturizer for your skin, but I rather keep it in the car. All I can say is " Thank you CRC". With With the first adventure out of the way, it is time to go back to the drawing board and make some adjustments.
We want to thank our marketing partners for what they provide and how loyal they are to the DPR team. NGK, Lat Oil, We want to welcome, our newest partner CRC Industries. They have many products, from Brake Kleen to Black streak remover, yes one of my favorites.
It is going to be an exciting year for DPR, the team is making changes and coming on strong.