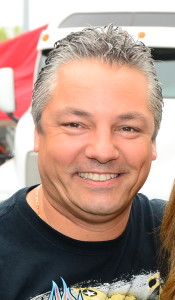 Changes in 2013- Kenny is back in charge of the ADRL, X-Drl is created, Mello Yellow is the new Sponsor of NHRA, Dale Earnhardt produces Dale Jr Potato Chips and the biggest news of all, Dina Parise Racing  is opened with the one and only Dina Parise and ' TOG'  (The Other Guy) becomes official! We are still a two car (Pro Modified ) team, but here is a perfect story for all of you. Picture it: Englishtown 2012; I walk into the restroom and a fan spots me or at least  I THOUGHT he was happy to see me. He says, " is Dina here", I said  "yes, she is but were not racing today."  He says,  "great I want to see her, I'm a big fan, love her '63 Pro Mod!".  I said,  " Oh, I drive the other car, the '53 Pro Mod". He says,  "what other car?' True story……
Its another New Year but this year is different from any other year.We began as Parise Racing with me as owner calling the shots. Some might say different but it was true to a certain point.
Now racing under Dina Parise Racing , 2013 is a new beginning for the team and a lot of new changes are happening already. Dina Parise is one of the few females to be a team owner and driver, she has a lot of pressure now, I like to share the pain. Now she can officially call the shots, I guess when she says 1/8th mile only I really can only go 1/8th mile. For some who don't know this story, we raced at Lebanon Valley in NHRA Division 1 Comp Eliminator. I said lets only go to 1/8th and shut it down. Dina's went down the track before me and went to the 1/8th and did her thing. I on the other hand ran it out the back door and went a 6.03 to get the AA/PM record. Well, you could hear the fireworks going off from Dina, she was telling (our crew ) James Montana, " he said only 1/8th mile!" When I got back to the pit I said it felt good, so I ran it out. I guess those days are over.   With Dina taking over the ship I can focus more on other things, watching cartoons, going to the beach and just relaxing. These would be all great thing to do, but do you know my wife? I have to watch cartoons at 4am with the the dog, because we get kicked out of bed at 5am.  It is  a busy day in the DPR house no sleeping or relaxing with the new boss!
Now on to the fun part, once the team found out that Dina  was the team owner, it was all over for me. As some know, I have many names some not that I can write but one is TOG (The Other Guy). One of our crew members Butch Brazille… sent me a message,"Welcome to the crew TOG".  It is going to be a fun year for the crew.
I don't write a lot of blogs as Dina calls us Penn& Teller, guess who is who. But I made a promise to write more often just so I can stop listening to the boss yapping. I had black velvet hair before I met Dina, now I hear from people that they  like the Salt and pepper look I'm sporting. Notice the Salt first. Being a wife and husband race team brings a lot of fun, excitement and everything else. Just ask our crew chief Dave Jordan.  We are a reality TV show every minute of the day, we don't need a script or a monitor. What you see is what you get. So, where was I,  oh ya the writing thing.  So, I promised myself to write now that I have free time between  4am-5am.
Hurricane Sandy  has changed a lot of peoples lives,  and our life changed as well. My in-laws are living with us, that is all I have to say about that, LOL. But seriously, many people have lost everything. We attended a Holiday Party for the Students of Island Park at a school, for the kids and families. When we talked to some of the families and heard the stories of how they lost everything, homes washed away, some living in  different states and towns, it makes you realize just how important life is. Not the material things, but life.
As a New Yorker, and you have to say it correctly Nu Yawka,  we are taught that you have to push forward regardless of the weight on your shoulders or the ball and chain on your ankle. We don't look in the rear view mirror and wonder why, we flip it up and look at the future. This is what our team is all about, for every closed door there is another opportunity to waiting to be discovered.
Hold on to your shorts as this ride is going to get wild. We look forward to the future and getting back to what we do best. Time to start Flingin' Meatballs ………
See you at the Track
Andrew
AKA Bam Bam
AKA TOG