If you 'cruise' the pits at a drag race the sights and sounds can be mind-numbing. There is the distinct smell of alcohol in the air. Exhaust becomes a cheap cologne that is essentially a 'gift with ticket purchase'. The constant hum of motors revving has an almost musical tone to it. From classical to hard rock, it's your choice. You will notice the diversity in vehicle choices. Probably one of the coolest features about drag racing cars IS their diversity! At the dragstrip one will encounter a staggering number of cars that range in age, make and model as well as material. Some boast original bodies while others are reproductions. None the less, the racers will race them, talk about them and show them proudly.
Vehicles and motors aside. What is the most important component to the drag racing equation? The people of course! As you know I have spent a day or two at the drag strip. If I am there to race or to spectate, there is always something I take away from it; how diverse our sport actually is.
Drag racing is and has almost always been ahead of the curve as far as diversity is concerned. That in and of itself is an accomplishment that has quite frankly gone un-noticed. Look, no disrespect to NASCAR, but we (drag racing) do not need a Diversity Program to bring female and multicultural athletes in. We are there. We have been there for quite some time. Black, White, Male, Female and pick a cultural background. Don't forget our Import racers! Many are of Puerto Rican decent. I could go on… Let's just say, drag racing has it and more!
Even when I'm racing, I do like to cruise the pits when we have some downtime. This past weekend I met up with two great ladies that inspired me to write this blog reinforcing why I love this sport so much. They are the epitome of why this sport is diverse. Not just because they are female. There is more to it than that!
As many of you may know, I was formerly a skater for the famed Ice Capades. Yes. I was a 'Show Girl'. They say you can take the girl out of the show but you can't take the show out of the girl. There is quite a bit of truth to that! I was also a licensed hairdresser for many years. That was what I did during the week and proceeded to race a Pro Mod on the weekends. At one point someone deemed me Claire Kent. Oddly, I thought it fit! My background certainly lends itself to the diversity factor in our sport.
Cruising the pits this past weekend, I passed a bright pink Pinto that read 'Teacher's Pet' and I had to stop. Who does not like a Pink Pinto? The driver's name is Jessica. She proceeded to tell me she had been a 4th grade teacher and was now a librarian. A librarian by day, a racer on the weekend. Yes, too cool. I bet the kids love it too!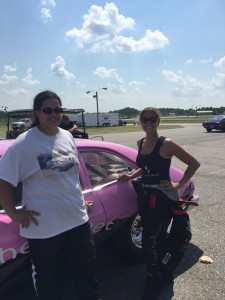 Then I met Jenna. We bonded over our fur babies. Bella and Dixie did meet although Dixie seemed a bit put off by Bella's smushed Pug face! As for her racing, she was running her Mustang in 4 classes (yes 4) along with her Dad. She and her Dad race together quite often. Another fact about her that I found so fun and impressive! They did manage to bring home 6 trophies between the two of them when all was said and done! As you can see in the photo, she was loaded to go. Reason being, she had work on Monday. You see, she's a payroll clerk. she will head to work Monday but you can bet you will see her out here again next Saturday!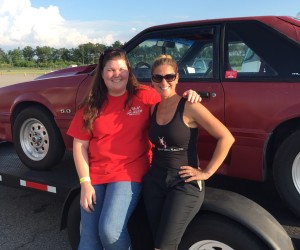 As for other racers I know of with various backgrounds; one transports Koi fish and my husband worked in the IT field for many years……. Diversity.
There is diversity everywhere in our sport. Fans included. I love the fans! Recently in Palm Beach I met two gentlemen that stopped in our pit because they were aware that Stella was going to be making her way down the track. You see, they were both Cadillac CTS-V owners. To boot they owned the only two manual versions in Palm Beach! Since I do shift Stella, I became an honorary member of their little 'club'!
It is rare to have a negative fan experience. Rare but not non-existent. I have to say that I cannot let this mixed bag of metal and mortals fool me. There is always a leftover Neanderthal creeping around with his knuckles still dragging and a sideways comment. Frankly I am always up for that type of challenge. It keeps me sharp. Let me entertain you with the exchange that took place in the staging lanes this past weekend. Here goes. "Well girl, don't you think that's just too much motor for you?" states the Neanderthal as he circles Stella as if stalking his prey. "Since it's the second one I've driven and owned," I said "I would say no. And the addition of power is more fun for me." At that point his friends began to give him the 'choke' sign. He then tried to speak to me as if I had no idea what I was driving. To be honest, this is rare. So is what I am about to tell you my response was. But, it did the trick. He begins to throw out numbers regarding Horsepower with no apparent knowledge of what he was referencing. He then tried to make a point about the Supercharger unfortunately confusing it with a Pro Charger. All the while speaking to me in a demeaning tone. I listened politely. More politely than he deserved. I needed to put a stop to it. Not because I wanted to 'one up ' him, but because he needed to know that it was unacceptable to treat anyone that way. No matter their gender. I decided to quash it. In my own way I did with a bit of cheeky humor and a slight left jab. In a conversational voice and with a smile I said,  "You know, if I sat you in there and gave one wop to that throttle it would send you running home to your Mamma." As I said. I never go there. But every once and a while we need to show that our girlie muscles are bigger than their big boy bully muscles. It's rare but it happens. With that it ended. His friends dispersed but not without bursting into fits of laughter. He licked his wounds, put his tail between his legs and went on his way. I can bet he will just politely ask questions next time at the least that is my hope.
Back to my original point. The next time you attend a race, don't just watch and listen to the cars. Watch and listen to the drivers themselves. Ask them what they do beyond the 1320. It may surprise you, fool you and or impress you! You will enjoy the sights and sounds even more!
See you at the races!