Woofin' at ya my good people! It has been a dogs age since Mom has let me at the Lap Top! Good thing the Dina Parise Racing Cadillac CTSV Pro Mod is almost ready to debut….. she's making me and Daddy crazy! I like my 'dog' space, and she's in it wayyyy to much! They say dogs get under your feet? I don't know, I think humans are just looking for a way to trip themselves.
Recently, my Mom and Dad took me on a very long trip. I don't care, I love to travel! Then I got to stay in some really nice hotels! I love hotels! When I walk in the lobby, they treat me like the Super Star that I am! Lots of petting and chatting…. Well, they chat, I just enjoy the attention!
I did get to sit in mom's new Cadillac CTSV. It's nice and comfy! But, I'm not sure where Mom's gonna sit! You know, sometimes I do need a break from my NHRA Jr.Dragster stroller! I like a bit more….horse power!
I know you may have read about me going to see Dr.Coren at West Hills Animal Hospital & 24hr Emergency Veterinary Center. Well, really, sometimes I like to make Mom take me there because they treat me so nice! I have lots of friends there. But this time I was not feeling so great. So, the Doc took a blood test (I do not like those…Woof!) and Mom waited by the phone for the results. Thing is, you can't keep this old girl down! That's just what the Doc said too! He told my Mom that I'm lookin' good for 84 1/2 years old! Mom gives me treats twice a day. I let her think I don't know there are meds inside them. She thinks she's smarter than me, but really I rule the whole house! I have them wrapped around my furry little paw….just where I want them.
I am ready to hit the Drag Strip to see my peeps! It's time! I have been tweeting and working my paws to the bone! Being the DPR, PR Pug is a hard job …. Being this cute is tough. But, hey someone's gotta do it right?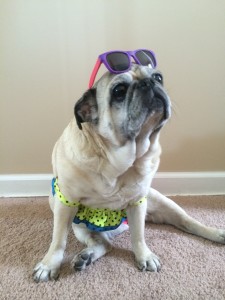 Let me be real Woofin' serious for a moment. I know you humans love spending time with us fur babies (and real kids too!). We are too cute to resist. But baby, it's HOT outside! Would you wear a winter coat in this weather (like I do)? Would you wear a winter coat and sit in a car with no air-conditioning or stay out in the yard for hours on end ? No,  I didn't think so. So, if the thought of that makes you break out into a sweat and hyperventilate, think what it does to us furry ones! The car is NO PLACE for us to be fur kids locked into especially on a hot summer day. We know you think you are doing the right thing by taking us along, but really we would rather be in the air-conditioned house. We wanna play with our toys and drink water when we feel like it. And the best part….. is when we greet you at the door when you come home! Don't you love that ? It's what we do best ( well, I snore really good… but that's another story!). So say NO to leaving fur babies in the car! This message is brought to you by Bella the DPR, PR Pug! Feel free to pass this message along! My work is done here, now I will hit the pool !
Don't forget you can find me on Twitter ! https://twitter.com/ProModBella
Can't wait to see you all soon! Woof at ya later!
Bella Booda
The DPR PR Pug