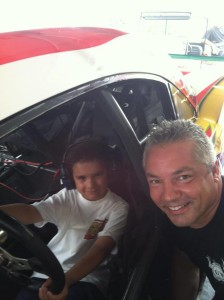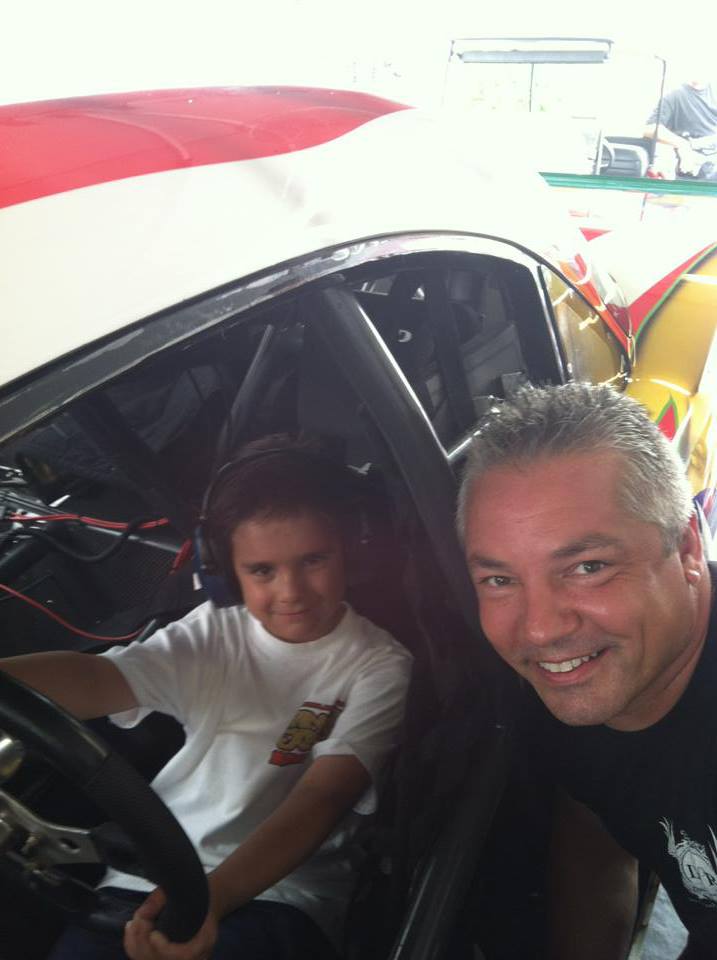 As many of you know, Maple Grove is a special place for me. It was my first race track that Dina watched me race at and it was the track that brought me back to drag racing. We attended the Super Chevy Show in Maple Grove, and it was a hot, 98 degrees is just crazy. My coffee never got cold, the ice was melting and we were sweating like it was raining out. Not a pretty picture. You wouldn't expect any fast times in this heat but the cars were doing real well, from 6.11's on up. I qualified number 3 but we had that gremlin. We changed all the electronics in my 53 Corvette Pro Mod on the last qualifier and oh boy did it have some power. I did a long burnout (got in trouble a bit) But it felt real good. I Let go of the trans brake pedal and sideways I go. Not what I had in mind, but caught up on some reading on the side of Jim Bersani's Turbo Chevy. Not the first time we have met.
We re-grouped, looked everything over and off to Eliminations and Once again I had to race Jim Bersani. We stage and I go RED! Red? Really? AND, the car goes to the right…. again. But more important I went RED. It has been a long time since I went RED, and I have to tell you it is not a color I like to see. It is hard to take as a driver going red, you not only let yourself down,but your team your fans and then there is the BOSS. For years I was after Dina about sleeping at the tree, now I have to hear about going red. When you let your team and fans down, it really hurts. But, you move on….
Oh Fly away
Well, I had the boss as a crew member this weekend along with Butch and Dave and a special appearance from James Montana. Now, being a driver it is hard to be a crew member. But, Dina belongs in the seat of her 63 Corvette Pro mod and not with a head set on. I think she asked me the same question like 20 times in 5 minutes. " You okay,You need anything?" Now, we both have the same driving mentality, suit up and shut up. I think she forgot this rule, being the Dina Parise Racing, boss I guess she can do what she wants.
Moving Forward
As you know DPR is all about moving on, and drag racing is changing everyday. From more series to race in to new technology it is being changed everyday. We are making changes to our program that we have seen improvements already. We will be changing much more in the future, can't give away everything just yet, but it is going to be awesome. I find that annoying Dina more often is key in my daily duties, but more important is looking to improve our team. For me, as some of you know me I get emotional excited at times. We have a great consultant in our camp that is behind the scenes. Jon Salemi (Resolution Racing Services) Aka Johnny Bravo. I watched Bravo in action while we had a major issue and he was calm, cool and relaxed. While I was jumping out of my skin. He has taught me some things already, but the most important is to be less emotional.
The big news in NHRA, Ford is pulling out. We are working hard to obtain marketing partners to compete in NHRA, but you have to provide a return to your partners on their investment. I have talked to many companies about marketing and we hear the same results. We need a change in drag racing, need to have personalities again, bring back the day Scotty Canon called out John Force. Look at NASCAR. the drivers show emotions. Drag racing in my mind is the best sport for marketing partners, fans come directly in our pit area and are face to face with you and your marketing partners. No disrespect to NASCAR, but NASCAR has a logo on a car traveling around a huge track. We need to change the way we use technologies, TV is great but we need more. Only the drivers can make the change. We all know we don't race for the money, we do it because we love the sport. John Force says he cannot read or add, but he is a marketing expert. His teams are always in the papers, going out of the box and saying what is on his mind. Personality; You can dislike him or love him, but every racer wants to be him. A marketing Guru.
For us, it is hammer down and wide open. Have little time to get ready for the next event and I feel the gray hair growing. We have a lot of work to do but I know we can get back on track. Who knows maybe at the end of the day we come out of Pro Mod and Dina will join Top Fuel. Woops, I think the boss is going to write me up for this!
Catch you on the flip side!
Andrew 'Bam Bam' Parise