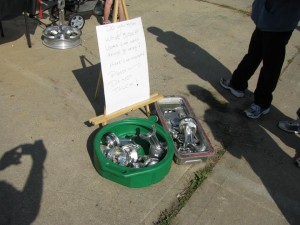 For Long Islanders it has been quite some time since Drag Racers and fans alike have had the pleasure of having the sights, sounds and smells of a Drag Strip in their own backyard. Drag Racers are a resourceful bunch as well as a giving community. Add those two things together and you have yourself a race , of sorts!
For the second time , the Central Islip Fire Department Training Facility ( http://www.centralislipfd.com ) hosted a Test and Tune as well as a Car show organized by Long Island Drag Racing (  http://www.lidragracing.com ) all to benefit The  Cooley's Anemia Foundation ( http://www.thalassemia.org/ ).
Drag Racing, a beautiful day and a great cause. there are no better components to add together than that! It was a great day for Long Island racers to get out and Test their race cars for the up coming season! Long Island Drag Racing provided a 'Port-a-Tree-' Christmas Tree, equipped with an actual Reaction and 60 foot time. The participants could stay into the throttle to 200 feet  until having to lift. The event was well organized , and everyone was impressed with the track conditions.
As part of this event Dina Parise Racing was there in association with Island Propane Corp. ( http://www.islandpropanecorp.com/ ). DPR was there appearing with the 1953 Corvette Pro Mod. Unfortunately, in the event prior to that the car suffered a catastrophic blow to the motor. With some quick thinking and ingenuity, Dina decided to display the culprits of said blown motor! So, on display, were some busted up pistons , rods and a pan with aluminum scrap. there was also a sign that read: 'Do you know what 3,000 HP looks like when things go wrong? Well, here's an example!' What a conversation starter!
The turnout was enormous! Fans and Racers had a great day for a great cause. $13,000 was raised for the Cooley's Anemia Foundation. That is a win, win situation!
DPR would like to thank:  Julie Chan Coldwell Banker :http://www.JulieChanRealtor.com for participating in this event!
Thank you to: NGK,LAT Racing Oils, CRC Industries, Throttle Threads, Neal Chance, Pro Chassis Design, Hoosier Racing Tire, JE Pistons and Browell Bell Housing.
Please visit : https://dinapariseracing.com/dina-parise-racing-sponsors  for more information about DPR's Marketing Partners!