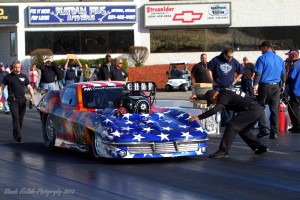 After a season lacking the smell of burning rubber,the huff of Methanol oozing from the header pipes ,greasy fingers and exhausting travel days; Dina Parise Racing and the team's two beautiful Pro Mod Corvettes have hit the track once again.
"For sure we are having to play catch-up" Stated Dina Parise. "It's been a long year. We are shaking off the cob-webs and getting back into the groove. No pun intended of course!"
Being that this DPR team has hit two racing events, this seems long overdue, no? Well, here goes. In a nutshell:
April 6th DPR attended the Extreme Outlaw Pro Mod Race at Virginia MotorSports Park. This was really a dust off for the team. Both the '53 and '63 Pro Mod Corvettes were out and ready to go. As anyone in Drag Racing knows, you are never ready, 'til you are finished. The '63 began to give the crew trouble. Big trouble. Two cars slowly dwindled to one. Why you may ask? Well, because Andrew's '53 Corvette had become the parts car. " You name it, she took it." Stated Andrew Parise. "It looked like I had a Pro Mod Fire Sale! I think she's taking this President of DPR thing a bit too far." He laughs. Undoubtedly, the team had it's fair share of woes that weekend. But this team has seen adversity, and stared it in the face. More than once.
Next stop, Maryland International Raceway for Door Warz and the Northeast Outlaw Pro mod Association. This weekend the team decided to concentrate on Andrew's car only. Being quite shorthanded for that trip it seemed a smarter option. The weekend began with an electrical gremlin that was not egar to be identified. With the assistance of Jon Salemi, owner of Resolution Racing Services Andrew Qualified in the #5 spot in a 16 car field. Securing his #5 position he ran a respectable 6.14 and held it with 6.10 in the next round. He did take the first round win over Larry Plummer with a 6.05 @ 230 MPH, but hurt the motor and could not make it out for the next round." Jon was a great addition to this DPR team. We look forward to working together in the future. I know we will." Stated Andrew.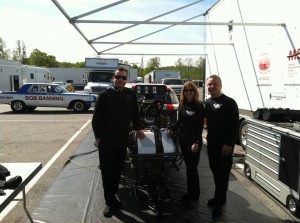 Let's not forget about the rockin' DPR crew! They worked hard on both outings, as they always do! Thank you Butch Branzelle, Jody Lupton, James Montana, Nick Montana and Nick Lacerenza for your hard work and dedication to DPR. Lastly, we can not forget, Bella the PR Pug. (Be sure to check her out on twitter @ProModBella).
Being back to racing is work! But, taking the 2012 season off from racing did in no way mean that Dina (or Andrew ) were sitting back eating Bon Bon's(well, if you ask Andrew, Dina eats too much chocolate, but that's another story) "This DPR team has some great Marketing Partners. Even when not racing, we attended Charity events and shows to stay visible and continuously promote our partners."
DPR would like to thank NGK Spark Plugs, LAT Racing Oils, Pro Chassis Design and Hoosier Racing Tire for their continued support. DPR would also like to welcome Throttle Threads (The official outfitter of DPR), CRC Industries, Radical Corvettes and Kelly Jean Design. It is with the support of these amazing companies as well as utilizing their products and services that allow DPR to continue on the path to success! Please head to https://dinapariseracing.com/dina-parise-racing-sponsors  to learn about all our great Partners. Then support our partners by purchasing some of their product or utilizing their services!
So, DPR has begun the 2013 season with a bang! Be sure to keep up with the team on their Social Media for latest happenings!
https://twitter.com/Dpariseracing
https://www.facebook.com/DPariseRacing
http://www.linkedin.com/in/dinapariseracing