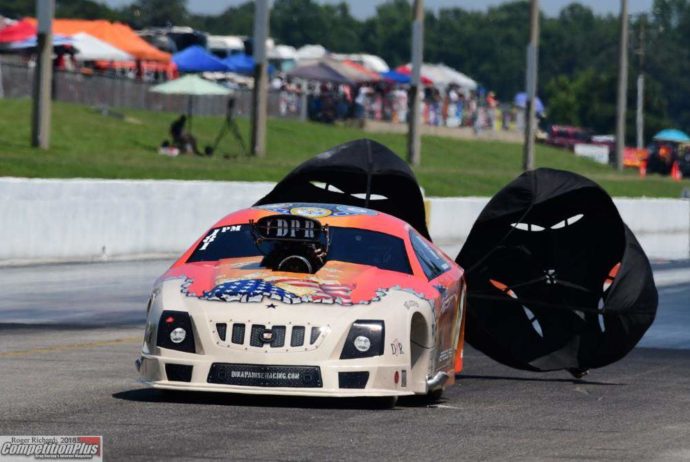 (Atlanta, Ga) Dina Parise Racing is excited to be headed to the PDRA Firecracker Nationals at Virginia Motorsports Park, this weekend (June 28-30th). To add to the excitement, DPR will be unveiling and debuting a brand-new look for Stella (the Pro Modified Cadillac). This is Parise's first race with the PDRA Series. She will be competing in the Moroso Pro Boost category.
"This process has been a labor of love." Stated Dina Parise. "We hit a few roadblocks along the way, but in the end, it was worth it."
 Change is good
Recently DPR reached a sponsorship agreement with Speedwire Systems. The Canadian company has authorized dealers and installers worldwide ( http://speedwiresystems.com/ ). A side-note to the agreement is that Speedwire Systems had an integral part in assisting DPR in executing Stella's new look. Parise has (for many years) been utilizing a custom switch panel, (made by Speedwire Systems) tailored to her specifications.
American States Utility Services, Inc. has also signed on as a marketing partner of DPR. ASUS provides operations, maintenance and construction management services for water and wastewater systems at a growing list of U.S. Military installations.( http://www.asusinc.com/ )
NGK Spark Plugs has been a marketing mainstay with DPR for nearly 20 years! This lasting relationship has much to do with the stellar product NGK provides as well as the support they have shown for almost two decades.
The companies that support DPR
From performance to detail DPR acknowledges and achieves it all.  Stella runs efficiently and safely with products from top notch companies: NGK, Lucas Oil, Speedwire Systems, DJ Safety, CRC Auto, Hoosier and Wiseco. The DPR website looks great and runs efficiently thanks to the professionals at Crank It Media. Thank you to American States Utility Services for their support!
The DPR team would like to thank all their marketing partners for their continued support!
Contact DPR to become a Marketing Partner as well! Let DPR work for you!
Get Social: Be sure to join the DPR team on all their Social Media! Their Website will show you the way! For all things DPR please visit https://dinapariseracing.com/ Parise has quite a bit on her plate for the season on the track and off. Be sure to follow along on Social Media to keep up with it all!
Put your heart, mind, and soul into even your smallest acts. This is the secret of success.
~Swami Sivananda