Honor: high respect, as for worth, merit, or rank. As many of you already know, this Dina Parise Racing team has always honored Veterans and Members of the Armed Forces. The tradition of honoring Veterans is what keeps DPR grounded as a team. This tradition continues as the team heads to the Super Chevy Show at Maple Grove Raceway. Only this time it will not be just a 'team effort'. The fans will have an opportunity to not only honor Veterans, but to become a part of DPR history.
Glad to be back: After missing the 2012 Super Chevy Show at Maple Grove Raceway, DPR is glad to be headed back to this event! "Maple Grove Super Chevy holds a lot of significance for this team." Stated Dina Parise "This was my introduction to Drag Racing and the beginning of our team as a whole. We have many fans and friends here. In 2010 I lost the final here to Jimmy Barker. The list goes on."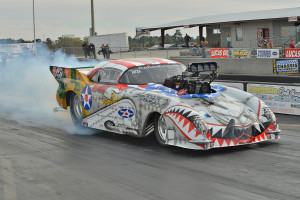 Determination: This DPR team has had a bit of a rough 2013 season thus far. But, Dina and Andrew are determined and they are both fierce competitors. " It's been a wild ride so far." Stated Dina Parise "Only problem is I'm looking for a refund on this ride ticket!" She laughs."Getting back in the groove of things has been a bumpy ride. " Stated Andrew Parise "But, we will get past it. Well, if my wife and I don't kill each other first that is!" He laughs.
Who nose? :The DPR team will be at Maple Grove (July 19th-21st) with their sharp looking 1963 and 1953 Pro Mod Corvettes. Well, one may look a bit different this weekend than it has in the past. Dina's '63 Corvette is being fitted with a new nose . Of course , it is not painted with the Stars and the flag drape just yet. But, this team will always find a way to turn a negative into a positive! Here's where the fan participation comes in! "I wanted to give the fans an opportunity to feel they are part of the team, and be able to 'give back' at the same time." Stated Dina." I think this will be as fun for the fans as it will for us!"
Grab a Sharpie: DPR is proud to announce the 'Stop Write Here' Project! Fans will have the opportunity to sign their name (and take a photo of it) on the unpainted nose of the '63 Corvette and help support a an amazing organization all at the same time! As fans arrive in the pit to sign the car and take a photo, DPR will only ask that they make a donation to the Honor Flight Network. Honor Flight Network (http://www.honorflight.org/) is a non-profit organization created solely to honor America's veterans for all their sacrifices. We transport our heroes to Washington, D.C. to visit and reflect at their memorials. . Top priority is given to the senior veterans – World War II survivors, along with those other veterans who may be terminally ill. Honor Flight has many regional hubs to accommodate Veterans.
Ladies First: Being that DPR is (as you know) a female owned team Dina's wish was for the funds  be allocated to  female Veterans. "As a driver (and a person), these ladies inspire me." Stated Dina "I think this is a great way to give back to them for their service. Our way of saying Thank you and you are not forgotten."
Attention in the Pits: DPR wants fans as well as fellow racers to take part  in this amazing project to benefit the Honor Flight Network! If  you are a fan walking  through the pits or a racer between rounds, be sure to stop by the DPR pit and participate!
Thank you : People always ask how  DPR  can get out there to do what they do. The Advertising Partners are the key to DPR's success! This team works hard to keep their Advertisers happy! Check out the Advertisers and go ahead and try their products and services! DPR uses them all ! NGK, LAT Racing Oils, CRC Industries, Throttle Threads (the official team uniforms), Radical Corvettes,  Neal Chance, Hoosier Racing Tire, Browell Bellhousing and Trailer Valet. Visit here : https://dinapariseracing.com/dina-parise-racing-sponsors for all their websites and details! Contact DPR to become an Advertising Partner!  A special Thank You to Hairy Glass for their assistance. http://www.hairyglass.com/
Get Social:  Be sure to join DPR on Facebook https://www.facebook.com/DPariseRacing , Twitter https://twitter.com/Dpariseracing  and don't forget Bella the Wonder Pug too https://twitter.com/ProModBella !
Story by DPR
Photos: Rhonda McCole Photography