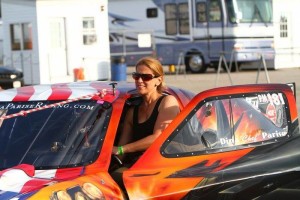 "Rain drops are fallin' on my head!" It was the song of the weekend! Dina Parise and her Dina Parise Racing 63 Corvette Pro Mod were in attendance at Virginia Motorsports Park for the Super Chevy Show / Extreme Outlaw Pro Mod event.
It was a wild weekend due to the weather. " Having lived through Sandy, and seeing this horrible rain that has effected so much of the racing season, it makes me wonder." States Dina Parise. " Did someone pee in Mother Nature's cheerio's or what? She is really not a happy camper as of late and I am just wondering what the deal is."
The DPR 63 Corvette Qualified 9th in a 16 car field. The rains came on Saturday after the 1st qualifier. The rain did not stop, until early Sunday morning. With that the track officials decided to hold one more qualifying run and head straight into eliminations. Unfortunately for this DPR team, we had breakage in the rear an could not make the call!
The weekend was not a total bust, though! On hand was none other than DPR's advertising Partner Radical Corvettes ( http://radicalcorvettes.com/ ) . Owner Ed Cassetta was the Show Class winner with his 1992 LT1 Chevrolet Corvette!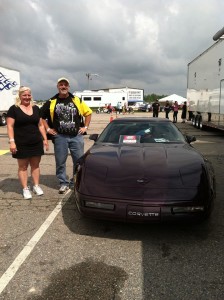 DPR was down one car due to Andrew's dentation at Maryland International Raceway for Door Warz a few weeks back. But the team will be ready for the Northeast Outlaw Pro mod Race at Capitol Raceway on June 1st !
People always ask how  DPR  can get out there to do what they do. The Advertising Partners are the key to DPR's success! This team works hard to keep their Advertisers happy! Check out the Advertisers and go ahead and try their products and services! DPR uses them all ! NGK, LAT Racing Oils, CRC Industries, Throttle Threads, Radical Corvettes, Island Propane, Neal Chance, Hoosier Racing Tire, Browell Bellhousing and Pro Chassis design. Visit here : https://dinapariseracing.com/dina-parise-racing-sponsors for all their websites and details! Contact DPR to become an Advertising Partner!
Be sure to join DPR on Facebook https://www.facebook.com/DPariseRacing  and Twitter https://twitter.com/Dpariseracing too!
Story Courtesy DPR
Photos Courtesy Rhonda Houge McCole Photography