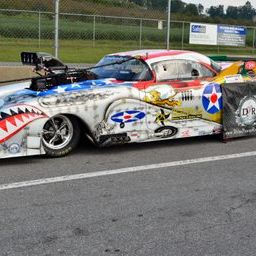 They say "Idle hands are the devil's workshop", right? So, if that saying has any truth to it you can certainly understand why the Dina Parise Racing team keeps so busy on and off the track! With and even without their Pro Mod Corvettes in tow the Parise's have been keeping busy.
"This season has been a whirlwind so far!" Stated Dina Parise. "We have had to deal with blown motors and a crash, yes but that's the stuff that makes you dig in and want more! Crazy as that sounds! Well, no one ever said we were normal!" She laughs.
DPR has just returned from Maple Grove Raceway. It was the Latin American Sport Compacts and the Northeast Outlaw Pro Mod Association presented by (DPR Marketing Partner) USA Auto Supply. For this weekend the team fielded only Andrew's 53 Corvette. Andrew qualified solidly in the number 10 spot with a 6.204 ET… hitting the chutes early. He took the win light over Steve Kramer in the first round. Lady Luck did not seem to ride with Andrew in the second round though. Andrew drifted toward the center line and took a loss to Gary Courtier who went on to the final. Gary then lost to Tyler Hard. Congratulations to Tyler and the team on their win! DPR would like to thank the crew Dave Jordan, Rocco Micciolo, as well as Jon Salemi of Resolution Racing Services for a job well done!
The sport of Drag Racing allows for a great fan experience. The 'pit pass' experience for fans is the most amazing part. It also allows DPR as a team to entertain 'honorable' guests. This past weekend was no exception. The team hosted an extraordinary gentleman (Veteran) and his son. They run the Keystone Iron Warriors in Sinking Spring, Pennsylvania. The team also had the honor of hosting a Vietnam Veteran with many stories to tell. DPR thanks them both for their service to our country.
As many are aware, DPR has a long standing relationship with the Veteran community. After Dina's 'unfortunate incident' in June, it was decided to turn a negative to a positive. And, if you have been keeping up you also know that DPR then began the 'Stop WRITE Here' Program shortly after. Fans are encouraged to sign the unpainted nose of Dina's 63 Corvette and in turn leave a Donation for Indy Honor Flight http://www.indyhonorflight.org/ (Part of the Honor Flight Network).To date, DPR and its fans have assisted two Veterans in making the journey from Indy to DC! The project will continue until the nose is painted.
To add to the hustle bustle of this DPR team Dina has taken on yet another role! Radio co-host!  Dina is the new co-host of the Sam Auxier Jr. Radio Show, beginning Monday September 16th. The show  airs LIVE every Monday night at 7PM EST   http://www.thesamauxierjrshow.com/ ." My wife is a smart cookie." Stated Andrew Parise with a smile. "I am always razzing her about her yapping, so I guess she decided to one up me and capitalize on it. It's certainly her way of doing things." EyeRoll, followed by a chuckle.
People always ask how DPR can get out there to do what they do. The Advertising Partners are the key to DPR's success! This team works hard to keep their Advertisers happy! Check out the Advertisers and go ahead and try their products and services! DPR uses them all ! NGK, LAT Racing Oils, CRC Industries, Throttle Threads (the official team uniforms), Neal Chance,  Radical Corvettes ,Hoosier Racing Tire, Browell Bellhousing,USA Auto Supply and  Trailer Valet. Visit here : https://dinapariseracing.com/dina-parise-racing-sponsors   for all their websites and details! Contact DPR to become an Advertising Partner with your business!
Get Social:  Be sure to join DPR on all their Social Media to keep up with them! The  Website will show you the way! So please visit  https://dinapariseracing.com/   to learn more about the DPR team! Then join the team on: Facebook, Twitter Etc… and don't forget Bella the Wonder Pug on Twitter too https://twitter.com/ProModBella  !