(Oakdale,NY) – Ever hear the saying, 'When it rains it pours?' Well it's comin' down in buckets in the Parise Racing camp! Just when you think things can't get any worse…
It began just TRYING to get out of New York. Somewhere along the line, Andrew and Dina became the poster people for Murphy's Law. If it could break, spill, crack or fall off…..it did. Then there was the traffic. It was like a mass exodus to leave Long Island! Where were these people going? Didn't they know the team was already late and needed to get to Maryland International Raceway for the Mountain Motor Nationals and Northeast Outlaw Pro Mod Association race? Guess not.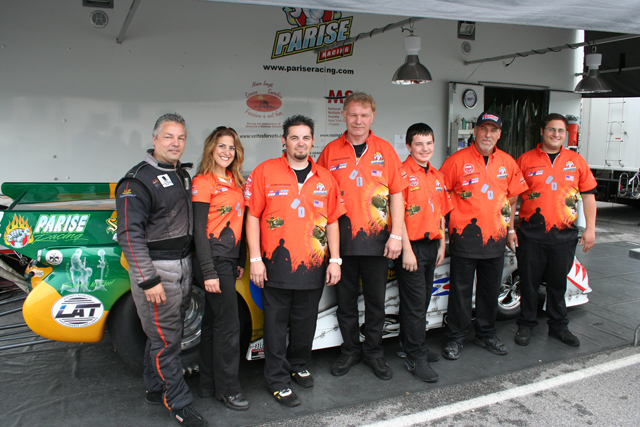 Once the team finally arrived at the track they got to work to prep for Friday's test and tune and qualifying rounds.
Andrew and Dina both made a few hits in their '53 and '63 Corvettes (respectively). This was Dina's first time back to MIR since her crash last August. "I felt OK. I was happy that the test session was in the left lane." Stated Dina Parise  "I needed to just get out there and do it."
In the first qualifying round it was Parise VS. Parise . "It's the way we love to race." Stated Andrew Parise "We love to meet at the tree. She left on me, I saw her and then she was gone. I got to top end and saw flashing lights. Not the way to end a race with anyone, let alone ; your wife .I damn near fired my car back up to get to her, but  Jeff Miller made me get on his scooter. In my head for one thing, I knew that Jason Miller and MIR safety were taking good care of her."
"Really?Again?" Stated Dina. "That's all I could say to myself. Even the damage looks the same. At this point the level of frustration is insurmountable. We barely had enough funds to race, and now this. It's heartbreaking. I can say this; I treed him, and I had him, until it went south, and at that point, I had qualified (although we still had three more sessions to go). So I have that going for me!" She laughs.
Even given the circumstances, the team still had a job to do, and a Vettes for Vets program to run. Saturday came and did not present the best racing weather, but the rain was holding off, for now.
On hand for Parise Racing's Vettes for Vets program were USMC Quantico personnel. Thanks to MIR, Royce Miller, Jason Miller, Bryan Starner and the staff. The guests had a great time and were treated to a round of applause by the crowd as well! Thank you also to Rustic River Bar and Grill for their support and great food!
As always the team would like to thank their crew. Crew Chief Dave Jordan, and Crew members James Montana, Jody Lupton, Butch Branzelle and Corey Branzelle.
As far as racing, we were able to get in three more rounds of qualifying.  Andrew was to run Tim O'Hare in first round eliminations and wouldn't you know it…….it poured down rain. That ended the event. How appropriate…. 'When it rains it pours'…..
Thank You to our sponsors for their support: NGK,USA Auto Supply, LAT Racing Oils, Hoosier Tire, Custom Wire Sets. All links and information can be found here: http://pariseracing.com/ Click on the sponsor tab.
Special thank you to:
Maryland International Raceway    http://www.mirdrag.com/
Rustic River Bar and Grill                 http://www.rusticriver.net/