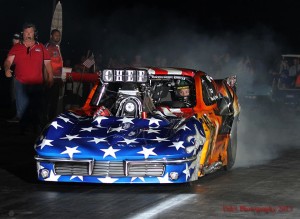 There was somethin' strange in the neighborhood….Well, the Ghostbusters did not get a call, but the Dina Parise Racing team sure could have used 'em! Chasing ghosts and gremlins, you would have thought it was Halloween! The  Dina Parise Racing team attended the Northeast Outlaw Pro mod Association event at the 'New' Capitol Raceway. Although it was not Halloween, this outing seemed to be more tricks than treats! "Between the sweltering heat and the fact that my 63 Corvette was just not willing to cooperate, it was a frustrating weekend." , Stated Dina Parise. " This car is fast, and we know that. So once she settles in… Look out!" Said with a smile.
Although the DPR team had a DNQ for this past weekend's race, it was not a total loss. The team was inundated with fans back at the trailer after each pass. " It really makes you feel good that you have fan support regardless of the outcome." Stated Dina Parise. "Of course we want a stellar number on every pass, and we want to win. Some days that's not in the cards, but it's nice to know that the fans are ok with that. But I will not be making a habit of it, let me make that clear! " She laughs.
As stated earlier, this NEOPMA event was held at the 'New' Capitol Raceway in Crofton , Maryland. This track does have a very rich history in Drag Racing . From Don Prudhomme to Joe Amato to Bunny Burkett this track has entertained many with the best of the best. Then for a period of time,  Capitol Raceway seemed to have fallen into a bit of disrepair. It seemed it's reputation among racers and fans had become muddied and things looked bleak. Then in 2012 along came Raceway Promotions, a company formed by John Crane and B.J. Herrell to revitalize the facility. "Frankly, we were not sure what to expect when we arrived here on Friday." Stated Andrew Parise. " But I have to say, Jimmy (Bradshaw) and the crew really put the racers first and kept the track conditions under control given the unbearable heat, and especially since we were only running Dina's car; Happy wife, Happy life!" He laughs.
Next stop for the DPR team is the NEOPMA race at Atco Raceway. The ghosts have been exorcised and all is well in the Parise camp, and the team is ready to resume racing.
DPR would like to Thank : Butch Branzelle, Nick Montana & Chris Montana (Pro Chassis Design), Jody Lupton and Dave Jordan for their assistance on and off the track .
People always ask how  DPR  can get out there to do what they do. The Advertising Partners are the key to DPR's success! This team works hard to keep their Advertisers happy! Check out the Advertisers and go ahead and try their products and services! DPR uses them all ! NGK, LAT Racing Oils, CRC Industries, Throttle Threads (the official team uniforms), Radical Corvettes, Island Propane, Neal Chance, Hoosier Racing Tire, Browell Bellhousing and Pro Chassis design. Visit here : https://dinapariseracing.com/dina-parise-racing-sponsors for all their websites and details! Contact DPR to become an Advertising Partner!
Be sure to join DPR on Facebook https://www.facebook.com/DPariseRacing  and Twitter https://twitter.com/Dpariseracing too!
Story by: DPR
Photo By D&S Photography