"Blow it out your pie hole!" Well, to the typical person that may sound insulting but in this case its music to your ears, sort of!
Amidst the continuing excitement of the impending debut of the Dina Parise Racing Cadillac CTSV Pro Mod (being built by Matheis Race Cars Inc.) the team persistently works hard for their existing Marketing Partners as well as bringing new ones on board!
At this time, DPR would like to welcome Stainless Works as a Marketing Partner! Stainless Works is an industry-leader in stainless steel performance headers and exhaust systems. In addition to designing their wide range of after-market headers and exhausts, they manufacture them on-site, right here in the United States. They are constantly adding new products for a variety of new car and truck models as well as the classics. Stainless Works systems have proven performance increases through pre and post-dyno testing of vehicles.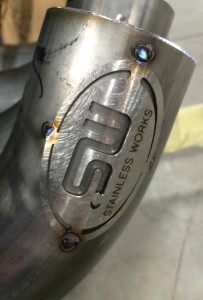 Be sure to Enlist in the SW Army! Founded to create a unity among racers across the country, the SW ARMY is a family, a brother and sister-hood of enthusiasts in the motorsports community. From road racing to car show warriors to drag racing, the SW Army has members on the rise at every level. (http://stainlessworks.net/swarmy )
Stay tuned for much more news coming from the DPR team coming shortly! This team is movin' and shakin' for sure!
DPR would like to thank Stainless Works as well as their existing Marketing Partners.
Marketing Partners are the key to DPR's success! The team works hard to keep their Partners happy! Check out the Marketing Partners and go ahead and try their products and services! DPR uses them all! Thank you to NGK, LAT Racing Oils, CRC Industries, Bell Helmets, Stainless Works, DJ Safety, Neal Chance, Hoosier Racing Tire, Matheis Race Cars, Speedwire Systems and USA Auto Supply for their support throughout the season and beyond! Visit here: https://dinapariseracing.com/marketing-partners    for all their websites and details! Contact DPR to become a Marketing Partner! Let us work for you!
Get Social: Be sure to join the DPR team on all their Social Media! The Website will show you the way! So please visit https://dinapariseracing.com/    to learn more about the DPR team! Then join the team on: Facebook, Twitter and don't forget Bella the Wonder Pug too https://twitter.com/ProModBella  !