They say everything happens for a reason. In the Dina Parise Racing camp, they have become believers in this statement. This team has learned that some days may be tougher than others, but they are just preparation for things to come.
And come they do. Recently DPR reached a sponsorship agreement with the Florida-based company, which will see Parise and her team competing in the remaining NMCA events; racing in the highly competitive VP Racing Fuels Xtreme Pro Mod class.
"When Kim (Kussy) and I first met" Said Dina Parise "We hit it off. Two hard working women in this amazing industry both loving every minute of it. What's not to like, right?"
The DPR team has a rich history in working with our Nation's veteran population and military members in general. Some events many may have known about but there were quite a few that just never surfaced. It was for the veterans, not for the team. "I have always said it's not about getting to the stripe first" Said Parise "But the journey you take to get there". Aerospace Components started out doing Government contract jobs, and are a Mil certified shop. The company has been hiring veterans for the past 20 years.
Aerospace Components is quite supportive in the Drag Racing industry. They pay contingency on 5 products (all classes, all series with Promedia. For the last 5 years ): Brakes, ( Must have Front and Rear) Vacuum Pump,Water Pump, Fuel Pump and Shifter. They also support the racers with awesome programs like the Aerospace Components Winner's Circle for all events in all series NMCA, NMCA West and NMRA with Promedia. That is just part of what they do!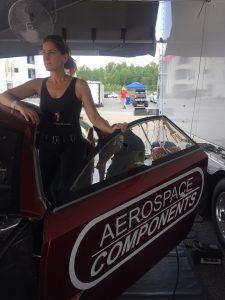 Much like DPR, Aerospace Components has a huge presence and following on social media and they share the success of the racers and their racing career. Don't miss the innovative with new videos of "Kimmy's Garage"! Learn how it's made or how to install their products. They believe in educating and engaging customers and future customers about their products.
Both DPR and Aerospace Components are looking forward to this new partnership, and showing you the great products they have to offer all MADE IN THE USA!
The DPR team continues to push the envelope in every way. From performance to detail this team acknowledges and does it all. Stella sparkles and looks great because of the products provided by Eastwood and CRC Auto. She runs well and safely with products from as NGK, Lucas Oil, Speedwire Systems, Hussey Performance, Hoosier and Motorsports Unlimited. The DPR website looks great and runs efficiently thanks to the professionals at Crank It Media. DPR gets where they need to go with assistance from Aerospace Components.
Please visit https://dinapariseracing.com/marketing-partners . There you will find more information regarding the companies listed as well as some *special offers*! The team encourages you to try the products and services these companies offer. The fact remains that they do use them all. That is the best recommendation! The DPR team would like to thank all of their Marketing Partners for their continued support!
**The team celebrates the 2015 IHRA Crower Pro Mod World Championship win with them all!**
Contact DPR to become a Marketing Partner as well! Let DPR work for you!
Get Social: Be sure to join the DPR team on all their Social Media! Their Website will show you the way! So for all things DPR please visit https://dinapariseracing.com/ Parise has quite a bit on her plate for the 2016 season on the track and off. Be sure to follow along on Social Media to keep up with it all!
Photo and Story by DPR