FREE: without cost or payment. That best describes the festivities of the event Dina Parise will be appearing at as a special guest this Saturday October 1st! (Free to spectators only)
The Brake-Fest Car Show presented by Master Power Brakes is no ordinary Car Show. Brake-Fest is a Car Show benefiting both Classroom Central and the Martin Truex Jr Foundation.
"We love getting to do events like this." Stated Parise. "The core of this DPR team has always been connecting with not only the fans but giving back to the community." Parise is referring to not only having Stella (the 3,000HP Pro Mod Cadillac) on display for the fans to see, she is also referring to the initiative the team has taken to assist Classroom Central in collecting School supplies for needy children. "My father was an educator in New York." Stated Parise. "Harlem to be exact. I understand the plight of those in need of the bare essentials. Andrew and I also spearheaded a collection of School Supplies post 'Superstorm Sandy' for hard hit communities on Long Island. Education is key. Everyone deserves a good education and needs the proper tools to obtain one. We will do our best to try to help them along."
How you can help: When coming to the show, be sure to bring along one (or more) of the School Supply items (listed below). Head to the Dina Parise Racing display where you will find a Classroom Central bin and drop the item(s) in! The student that receive the supplies thank you! Be sure to get a Dina Parise signed autograph card as a thank you! After you have made your donation, met the DPR team, taken a look at Stella, as a special treat, you can stop and get your free sample of Sub Zero Ice Cream too! Looking to make your next event even more memorable? Let Sub Zero Ice Cream and Yogurt cater your event. They will provide a culinary experience your guests will never forget. Their event catering takes care of the set up and clean up, so you can enjoy your party without worrying about feeding your guests. Be sure to ask for information at the Sub Zero Ice Cream display located along with DPR!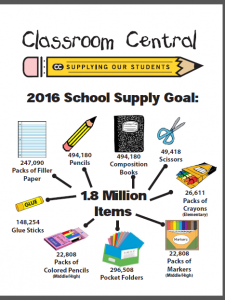 DPR will have their area set up almost as if it were race day! That is because DPR wants you to experience the thrill of Drag Racing right at the Brake-Fest Show! Spectators will be Thrilled by sights and sounds of 3,000HP up close and personal twice during the show! The team will be firing Stella up at 11AM and 1PM!
"We are super excited to have Dina Parise and her crew support this year's event." Stated Eric Waters of Master Power Brakes "She is a very influential and accomplished figure in the word of drag racing having taken home the IHRA Championship in last year's Nitro Jam Series. She will be taking photos and signing autographs through-out the day as well as firing-up her 3000HP Pro-Mod to let all the NASCAR shops in the area know what REAL horsepower sounds like!" Now, we don't know about you, but that sounds like fighting words!
If you are headed to the Brake-Fest Care Show, be sure to bring the family! There will be lots to do! The Car Show is just a start! There will be; a silent auction, a 50/50 raffle, door prizes, racing simulators, multiple race car start-ups and much more!
Don't forget the Meet and Greet with Dina Parise and Willie B of MAV TV's Two Guys Garage!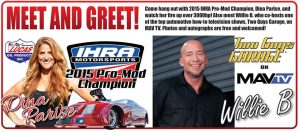 When: Saturday October 1st – Show begins 9AM Awards presented at 2PM
Where: Hwy 77 Exit 36 in Mooresville, NC 28117 (110 Crosslake Park Dr.)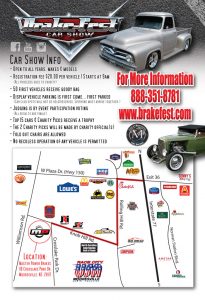 Can't get to the show? DPR will be going LIVE via https://www.facebook.com/DPariseRacing/ and https://www.periscope.tv/DPariseRacing at various times during the day! Be sure to sign up for alerts so you don't miss the action! If you know DPR, then you know…… you NEVER know what is in store! So be sure to tune in!
Classroom Central: Classroom Central equips students living in poverty to effectively learn by collecting and distributing free school supplies. Classroom Central supports over 100,000 students in poverty in over 200 schools in 6 school districts: Charlotte Mecklenburg, Gaston, Iredell/Statesville, Union, the City of Kannapolis, and Lancaster, SC). https://www.classroomcentral.org/
**Items Needed: K-12 reading books (gently used okay), composition books, child scissors, stickers, crayons, markers, glue sticks, hand sanitizer, folders, pencils, pens, tape, tissues, paper (costruction and lined), hats and scarves.**
Martin Truex Jr Foundation: In August 2014, Sherry Pollex, Martin's longtime girlfriend, was diagnosed with Ovarian Cancer. Through their experiences, Martin and Sherry found purpose and focus in their mission to raise awareness, boost advocacy, and generate financial support for underfunded cancer research initiatives specific to ovarian and childhood cancers. Together, we have the power to improve lives, inspire smiles and realize dreams. We will Never Give Up. https://martintruexjrfoundation.org/
*Be advised* Cover children's ears during engine start up, as they can be sensitive to the noise*
Thank you to: Eastwood, CRC Auto ( Smart Washer), NGK, Lucas Oil, Speedwire Systems, Hussey Performance, Hoosier, Motorsports Unlimited, Crank It Media and DJ Safety.
Please visit https://dinapariseracing.com/marketing-partners There you will find more information regarding the companies listed as well as some *special offers*! The team encourages you to try the products and services these companies offer. The fact remains that they do use them all. That is the best recommendation! The DPR team would like to thank all of their Marketing Partners for their continued support! Contact DPR to become a Marketing Partner as well! Let DPR work for you!
Get Social: Be sure to join the DPR team on all their Social Media! Their Website will show you the way! So for all things DPR please visit https://dinapariseracing.com/ Be sure to follow along on Social Media to keep up with all things DPR!