High Performance Luxury: High performance luxury can be defined as space, comfort and presence but yet, is ultimately defined by the 'feel' of the overall vehicle. Emotion begins to distinguish the difference between a 'luxury' and a 'mainstream' car. Well, things just became emotional!
In the spirit of taking high performance luxury to the next level, the Dina Parise Racing team would like to present and welcome 'Stella', the NEW Cadillac CTS-V built by none other than Matheis Race Cars Inc.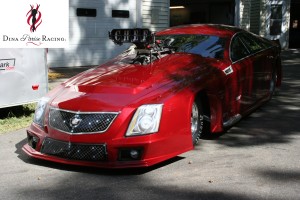 "This build has certainly taken a bit longer than we had planned." Stated Dina Parise. "This was not the fault of anyone, we just ran into a few snags along the way. And besides, perfection takes time, right? Stella is perfect! We gave her that name after my Nanny Stella. She was a tough, independent, a fiery (in every sense of the word) Red-Headed Italian! It just works!" She laughs.
Take the term 'luxury' out of it (for a moment) and what are you left with? Frankly, you are left with a bad ass, classy looking Pro Mod. No other way to define Stella than that. In putting the pieces of the Pro Mod puzzle together, her naming became the final piece. From the Cadillac CTS-V Body selection to the Chassis assembly through to the safety equipment as well as the paint and finishing touches, this car has been nothing short of a labor of love covered in a veil of secrecy for all involved.
Throughout the process DPR chose to keep Stella under wraps. In the initial stages, they showed a few build photos and that turned to 'sneak peek' photos soon thereafter. "Keeping her a bit of a mystery was fun for us and the fans!" stated Dina. "It was a great way to pass the time as well as recognize our Marketing Partners during the process. We made the absolute best of the situation. That's what we are best at!"
Keeping Stella under wraps was especially tough for Rob Matheis of Matheis Race Cars Inc. "I have said before that I have been a fan of the Parise's for a long time." Stated Rob Matheis "So, when the opportunity arose to build the Cadillac for Dina we were all in. The fact that this car looks so close to the actual CTS-V will keep the fans wanting more. Admittedly keeping this build a secret was not easy. But in the end we are extremely proud of the product we have built for them." Said Rob .
During the process of the build, DPR has gained the support of a few new Marketing Partners. "We are very thankful for the Partners we currently have as well as for the additional ones that have hoped on board with DPR!" Stated Dina." All of our Partners have assisted to make this happen in one way or another. We are very appreciative of that and are proud to represent all of them." Said Dina
In recent months the DPR team released information regarding new Partner relationships. Due to the secrecy of the Cadillac project, some of their contributions (with their blessing) had been kept secret as well. Thankfully, the CTS-V is outta the bag and DPR can share the contributions made! Pay close attention, because you will definitely want to patronize these businesses once you see their work! (You can find a full list of Marketing Partners below).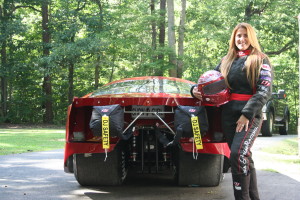 As stated the car was built by Matheis Race Cars inc. What would a Supercharged Pro Mod be without a spectacular pair of Headers fabricated by Stainless Works. DPR is proud to be enlisted in the SW Army! A powerful race car such as this needs the best safety equipment around, so DPR of course went to DJ Safety! From Fire suit to boots and belts to chutes, DJ Safety has provided DPR with the best looking most effective safety equipment on the market today. Do not forget Bell Racing for the best melon protection around! Safety and comfort makes for a great race day!
The final stage leading to the reveal of course was making the Cadillac look as perfect as she should. That was left to Paint by Bruce Mullins with materials provided by USA Auto Supply. "Anyone who knows me knows I have a crazy attention to detail." Stated Dina "Bruce was a partner in my insanity. From the Headlights and the grill to the personalized license plate as well as the emblems, Bruce nailed it! Stella is a stunner!" Said Dina
Not only was the paint on Cadillac executed perfectly, but Andrew Parise and Bruce Mullins had a surprise in store for Dina as well. That surprise came in the form of a handwritten note (inside the driver's door) from none other than IHRA Funny Car champion Bunny Burkett. 'Set your goals high, don't settle for less- Do it one run at a time. Be safe and win…..Your friend, Bunny Burkett.' How cool is that?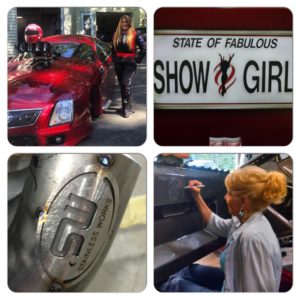 So, Stella is out for the world to see. The DPR team looks forward to getting her down the track in competition shortly! Always remember safety first 'cause Stella's so bright…. You'll hafta wear shades!
People always ask how the DPR team can get out there to do what they do. Marketing Partners are the key to DPR's success! This team works hard to keep their Advertisers happy! Check out the Advertisers and go ahead and try their products and services! DPR uses them all! Thank you to NGK, LAT Racing Oils, CRC Industries, Bell Helmets, DJ Safety, Stainless Works, Speedwire Systems, USA Auto Supply, Matheis Race Cars Inc., Hoosier Racing Tire, Browell Bell Housing, Axcel Sports,Trailer Valet and Coast 2 Coast Cuisine TV for their support throughout the season and beyond! Visit here: https://dinapariseracing.com/marketing-partners   for all their websites and details! Contact DPR to become a Marketing Partner as well! Let DPR work for you!
Get Social: Be sure to join the DPR team on all their Social Media! The Website will show you the way! So please visit https://dinapariseracing.com/ to learn more about the DPR team! Then join the fun with the team on: Facebook, Instagram and Twitter and don't forget Bella the Wonder Pug too https://twitter.com/ProModBella !
Photos and Story courtesy Dina Parise Racing