The term 'from hero to zero' may just apply to the wild weekend the Dina Parise Racing team endured at US 131 Motorsports Park for the IHRA Northern Nationals. If it could happen it did. But frankly this hard working 'grass roots' team has seen and been through quite a bit in the past few years. They tend to be like a Timex… 'Take a lickin' and keep on tickin'!
Upon arrival the DPR team began working on Stella to prepare her for a quick test session on Friday. As small as this team is, they take their maintenance program very seriously. Andrew Parise is a stickler for everything being race ready before arrival at an event. Of course, anyone familiar with drag racing knows; always expect the unexpected. On that day, there was a plethora of unexpected issues that needed attention. The frustration being compounded by the fact that the Parise's were having issues by no fault of their own. By 6PM Friday the team was able to make a test it. One is always better than none.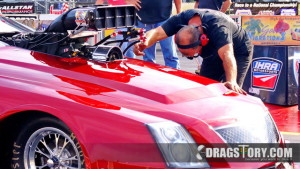 Rain has certainly been a mitigating factor in the 2015 IHRA Crower Pro Mod series. The President's Cup Nationals fueled by Sunoco was concluded at US 131 Motorsports Park during the Northern Nationals presented by Aeromotive. Competition had been postponed due to Tropical Storm Bill back in June.
Once again (you may guess what's coming next) it rained on Friday and there were only 2 (of 3) qualifying rounds completed for this event. The first of the two came very late on Friday evening. Again Saturday morning, rain. Apparently Mother Nature is at a point in her life where she is needing some mood altering drugs or perhaps just a nice bottle of vino and some chocolate. Either way, her moods are wreaking havoc on our racing schedule!
In round 2 of qualifying Dina Parise ran Billy Harper in the Presidents Cup Final. Harper took the win with a 5.963 at 245.50 mph over Parise's 6.244 pass at 197.98 mph. "It was surely a tough loss." Stated Dina Parise. "Twice a bridesmaid, and never a bride. My second final this season and I did not do my job. I for sure was not on my 'A' game with Stella. I was holding back a bit. But in the scheme of things we are certainly making progress, much due to our work with Quain (Stott). I have a kick butt hard working team. I can't thank them enough for all they do."
With Parise's 6.24 pass it was enough to get her into the field. She was to face #1 qualifier Steve Matusek in round 1 of eliminations. Parise knew she needed to be on her game for this run. Quain Stott had been stepping up on the tune up bit by bit. Stella left the line well. She was on a good pass. For sure headed in the right direction tuning wise. Matusek took the win with a 5.937 at 245.50 mph over Parise's 6.136 at 230.41 mph.
This race did not end at the stripe however. Parise engaged in her normal 'shutdown' procedure but all did not go as planned. Her chutes did not deploy as they should and getting Stella to come to a full stop was more of a task than she bargained for. "Well, let's just say I took a trip to the beach and no bikini's were required!" Stated Dina. "Wow, certainly not how I wanted to end this weekend. I pulled the chutes but I could not feel them at all. I knew it was going to be rough getting her slowed down. The pit kept getting closer. Before you knew it I was playing in the sandbox! Crap! I knew it was going to leave a mark on my beautiful Stella. But frankly it beats the alternative! On a positive note, she was picking up all weekend. That Quain, he's a keeper!" She smiles.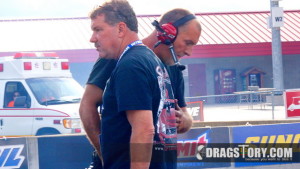 In true racer fashion, Parise exited her Cadillac Pro Mod and asked Mark Kinton (IHRA Safety Crew member) "What did I run? How's Stella?" to which he replied, "Be quiet and listen to me. I'm your boss right now. Hush up and listen. Helmet off! Let's go!" She complied. Not that she was given a choice.
The DPR team would like to thank IHRA Safety Crew for their quick response and care taken with both Dina AND Stella. Taking such care in the removal of Stella from her trip to the 'beach' has kept costs down for DPR to get her turned back around and back to racing form as quick as possible. The team also would like to thank everyone from the other drivers, announcers to the fans for their support and positive words.
"I realized she was going in (to the beach)." Stated Andrew Parise. "As long as I knew the shiny side was up, we were all good. I knew she was in good hands. Butch (Branzelle) and I got up there and she waved to me (from inside the ambulance) to let me know she was ok. She was cracking jokes in the ambulance. Ya, that's my wife. She will be here all week, be sure to tip your waitress." He shakes his head.
This DPR team is coming together. The changes made are purely positive and regardless of the slight mishap this team is on an upward slope. Dina Parise has just taken over the IHRA Crower Pro Mod Points Lead! She is currently 52 points ahead of Bill Lutz and 53 points ahead of Ruben Tetsoshvili. So yes, for a moment, it is back to hero! But if you know anything about Dina Parise you know this; she is a fierce competitor and she will not take anything for granted. She is well aware that this will be a fight to the finish.
"I cannot thank my crew enough" Stated Dina "My husband Andrew, Butch Branzelle and of course Quain Stott. We are a good team together. I am learning a lot from Quain. Trying to take it all in. A big thank you to Cynthia as well. She does not even realize how helpful she is!"
The DPR team continues to push the envelope in every way. From performance to detail this team acknowledges and does it all. Stella sparkles because of the products provided by USA Auto Supply and CRC Auto. She runs well and safely due to products such as DJ Safety, NGK, Speedwire Systems, Hoosier, Motorsports Unlimited and LAT Racing Oils. The DPR website looks great and runs efficiently thanks to the professionals at Crank It Media .A special thank you to 'Uncle Mel's Mystery Appitizers'. Please visit https://dinapariseracing.com/marketing-partners . There you will find more information regarding the companies listed. The team encourages you to try the products and services these companies offer. The fact remains that they do use them all. That is the best recommendation! The DPR team would like to thank all of their Marketing Partners for their continued support!
Contact DPR to become a Marketing Partner as well! Let DPR work for you!
Get Social: Be sure to join the DPR team on all their Social Media! Their Website will show you the way! So for all things DPR please visit https://dinapariseracing.com/
Story Courtesy: Dina Parise Racing
Photos Courtesy : Dragstory.com