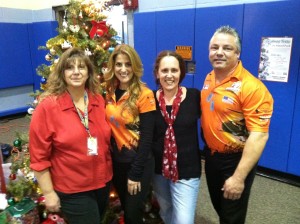 Long Island and much of the Tri-State area is still in quite a bit of disrepair even as we ring in the New Year of 2013. 'Super Storm' Sandy left behind a path of destruction not seen in this area for nearly 100 years.
The Dina Parise Racing 'Rev Up' Sandy Relief Campaign began as an effort to assist residents in local Long Island communities. "We are from Long Island." Stated Dina Parise. "This is our home too. We were lucky to have not suffered any damage from either Irene or Sandy, but my parents have been living with us since Sandy due to their home being flooded out. We all suffer the effects as a community, not to mention having to live together with your parents again!" She Laughs "I kid when I say that, but at least they are here and safe."
The collection process for 'Rev Up' Sandy Relief was not monetary, but all useful items. Items were collected and distributed by DPR personally to ensure the items made it to their destinations.
Items collected and Donation destination:
*Non-Perishable foods and Personal Items: Camp Bull Dog (Lindenhurst, NY)
*Clothing: Big Brothers Big Sisters of Long Island and Suffolk County United Veterans
*Pet Supplies: Rescue Ink  ( Island Park, NY)
Lastly…. The reason 'Rev Up' Sandy Relief began. The children of Island Park ,NY. Not only did they lose their homes, but they lost their Elementary School as well ; The Francis X. Hegarty Elementary School. The kids had no school supplies and the holidays were approaching as well.
*Back Packs, School Supplies, Toys : Children of Island Park
This DPR 'Rev Up' Sandy Relief Campaign was made possible with the assistance a few key players that certainly need mention. Island Propane for not only supplying the warmth (at the car show) , but for supporting the team for not only that but many personal appearances. The UPS Store #5127 ( 173 Main St. Sayville, NY 11782) for supplying all flyers and posters. Western Beef for supplying a Gift Card to the Island Park School District to use toward items needed for the Holiday party in December.  Grill 454 for lending the property for a great cause! If you are not familiar with the origin of 'Rev Up' Sandy Relief, check our news from November, 2012!
As we roll into 2013 we hope for brighter days. DPR will continue to work toward helping the Island Park community. The team is aware the Elementary School has lost all books and Musical Instruments. The next 'Rev Up' Sandy Relief effort will be to assist the kids in obtaining new instruments and books! Want to help? Contact us!
The racing season is fast approaching. Dina Parise Racing looks forward to seeing you all out there! Are you interested in becoming a Marketing Partner with one of the most unique teams on the racing circuit today? Where else can you find a female owner/driver with a husband as a team mate? Contact us at info@Dinapariseracing.com for more information!
*Look for the *NEW* improved www.DinaPariseRacing.com to be launched shortly!*
Have you joined our Twitter, Facebook and Linked In pages yet Pages yet?
https://twitter.com/DPariseRacing
https://www.facebook.com/DPariseRacing
http://www.linkedin.com/in/dinapariseracing
Thank you to our Partners:
NGK : http://www.ngksparkplugs.com/index.asp
LAT Racing Oils : http://www.latracingoils.com/
Island Propane : http://www.islandpropanecorp.com/
Thank you to the following for their assistance with 'Rev Up' Sandy Relief:
Grill 454 : http://www.grill454.com/
Western Beef : http://www.westernbeef.com/
The UPS Store #5127 ( 173 Main St. Sayville, NY 11782)
New York Auto Fest : http://www.nyautofest.com/
*Story and Photo by Dina Parise Racing