'The heat is on!' That was certainly the term for the NMCA All American Nationals at Lucas Oil Raceway this past weekend. With temperatures well into the 90 degree range and a track temperature of 140 degrees, you could fry Meatballs on the starting line! Temperature aside, the racing and track conditions were phenomenal!
This was the first of the three race deal for Dina Parise Racing and Aerospace Components. The team did not only represent Aerospace on the track, they were a fixture on the manufacturer's midway as well. "What an exciting way to spend a race weekend!" Said Dina Parise "We were honored that Aerospace and NMCA wanted DPR as representatives on the midway. We had a blast with the fans! We are looking forward to doing it again in Joliet and Norwalk."
For DPR this 2016 season has been a bit of a struggle, yet it seems things are finally beginning to turn a corner. "Although we were certainly not the fastest this weekend," Said Andrew Parise "We were consistent. Stella went A to B on all but one pass and she was straight as an arrow. Seems we have found the issues and we can improve from here. I'm happy with that. Now my wife will get off my case." He laughs.
The team qualified #10 in a 16 car field. In 1st Round Parise ran Richard Holt. Parise ran a 4.120 to Holt's 4.108 but won the round due to Holt fouling out. Parise then took on Randy Adler in round 2. Adler won the round with a 4.027 over Parise's 4.157. "All in all, I'm happy with our performance" Said (Andrew) Parise "We went down in the heat. We didn't break anything. Hallelujah, as I said, the wife is off my case. Somewhat!"
"I cannot thank my team enough!" Said (Dina) Parise "My husband Andrew and Butch worked their tails off this weekend. They always do. Work hard and laugh harder. It's what keeps us sane, successful and from killing each other!" She laughs.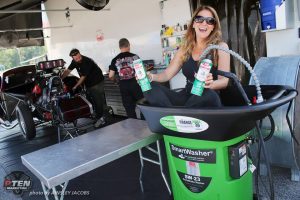 A bit of a fun side note. Parise is meeting some of her fellow drivers for the first time here at NMCA. Case in point, Richard Holt who hails from Texas. Prior to running 1st round Parise and Holt had a conversation in the staging lanes, to which Holt explained he has given her a nickname. Holt was asked by other drivers who he was running in the 1st round. His answer? "Oh, I have 'Tiny Dancer'!". He proceeded to explain this to Parise and informed her this was now how he would (affectionately) refer to her. Seemingly it is sticking, the name was heard quite a bit throughout the pits (and on social Media) for the remainder of the weekend!
The team wants to thank and recognize the NMCA organization for the spot on track prep they maintained throughout the weekend. They also would like to recognize Bangshift.com for the live feed coverage of the race. A top notch job done by all.
The next race on the DPR schedule is the NMCA Super Bowl at Route 66 Raceway, July 28-31. Once again Bangshift.com will be airing their live feed all weekend long. Don't forget DPR also has a live pit cam as well, featuring a 'birds eye view' of the pit and all that goes on! You can find the pit cam on the team's website https://dinapariseracing.com/ throughout the race weekend.
The DPR team continues to push the envelope in every way. From performance to detail this team acknowledges and does it all. Stella sparkles and looks great because of the products provided by Eastwood and CRC Auto (including the new Smart Washer). She runs well and safely with products from as NGK, Lucas Oil, Speedwire Systems, Hussey Performance, Hoosier and Motorsports Unlimited. The DPR website looks great and runs efficiently thanks to the professionals at Crank It Media. DPR gets where they need to go with assistance from Aerospace Components.
Please visit https://dinapariseracing.com/marketing-partners . There you will find more information regarding the companies listed as well as some *special offers*! The team encourages you to try the products and services these companies offer. The fact remains that they do use them all. That is the best recommendation! The DPR team would like to thank all of their Marketing Partners for their continued support!
**DPR celebrates the 2015 IHRA Crower Pro Mod World Championship win with them all!**
Contact DPR to become a Marketing Partner as well! Let DPR work for you!
Get Social: Be sure to join the DPR team on all their Social Media! Their Website will show you the way! So for all things DPR please visit https://dinapariseracing.com/ .Parise has quite a bit on her plate for the 2016 season on the track and off. Be sure to follow along on Social Media to keep up with it all!
Photo Courtesy Dragzine/PTEN