'Down to the wire'- used to denote a situation whose outcome is not decided until the very last minute. Well, that is certainly the scenario Dina Parise is facing right now when it comes to the fight for the IHRA Crower Pro Mod Championship. Dina is known for being blatantly honest (usually with a side of humor) and is surely willing to admit that this scenario should be a whole lot different right now, and at this point she will only blame herself for that. They say there is no 'I' in team but there certainly is an 'I' in driver.
The fact is that the hardest working people on a drag racing team are the crew. They are up and at it early to set up and begin performing maintenance. Before you know it, you are rolling into the round by round action as the day progresses. All the while, never guaranteed a break and they surely will never consume a meal without grease as a condiment. When that racecar hits the strip and the performance is stellar, who gets the kudos? The driver. When the racecar hits the strip and the performance is not up to par, who gets the blame? The crew. Of course there are variables here but you get the picture.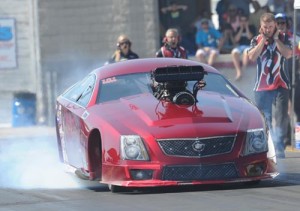 When putting the pieces of a successful racing operation together at times it seems the stars need to align. But in reality you need hard work, dedication and most of all good chemistry. The Dina Parise Racing team has all of those components. The importance of these components will especially come into play when a team has few members, such as DPR. Andrew Parise is the backbone of the DPR team taking care of everything from transporting , set up, prepping Stella (the Cadillac Pro Mod) ,turning wrenches at events (along with crew member Butch Branzelle) and most importantly taking care of the 'up-keep' (of everything) including Stella's maintenance program. "At times I can be a one man band." States Andrew Parise. "Back in the shop, I handle the maintenance myself. I am ok with that. We do what we have to, to keep going. I like to be hands on anyway. I prefer to see and feel what is happening with Stella, this way I know things are done. I'm not really a fan of trusting someone else to hold my wife's safety in their hands."
"As many of you know, Quain Stott recently joined forces with DPR." Stated Dina Parise. "He has certainly been a welcomed addition to the team. His tuning has been spot on and he is getting Stella right where we need her to be. The issues of late have been with me as a driver. I have to take responsibility for that. I'm not a runner. I face issues head on. We have certainly made changes over the season, some due to the fact I have battled with comfortability in this car. But now it's time for this Buttercup to suck it up and do her job. My team is busting their asses, I owe it to them to perform."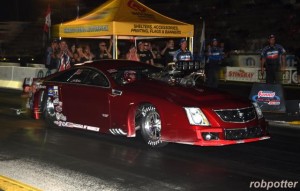 Parise is not a rookie when it comes to the Pro Mod ranks. She understands what it takes to wheel these cars .She has a great passion for driving and for the sport of drag racing in general. Her competitive fire will not let these issues get the best of her. In fact, if you know her you know that she lets nothing stand in her way. "I prefer to take negatives of any sort and change them to positives." States Dina. "Life is too short to let any negativity rent space in your brain. I would rather let it fuel me. I'm not one for wasted energy!" She smiles.
One race remains in the series. Parise has a 31 point lead over Bill Lutz. The run for IHRA Crower Pro Mod champion will surely come 'down to the wire.' It should be a spectacular finish. The finals will be held at Memphis International Raceway on October 9th and 10th. Cannot attend the race? Watch it LIVE here: http://www.ihra.com/livefeed/nitrojam presented by http://motormaniatv.com/ . It's almost as good as being there!
The DPR team continues to push the envelope in every way. From performance to detail this team acknowledges and does it all. Stella sparkles because of the products provided by USA Auto Supply and CRC Auto. She runs well and safely due to products such as DJ Safety, NGK, Speedwire Systems, Hoosier, Motorsports Unlimited and LAT Racing Oils. The DPR website looks great and runs efficiently thanks to the professionals at Crank It Media .A special thank you to 'Uncle Mel's Delicious Mystery Appetizers'. Please visit https://dinapariseracing.com/marketing-partners . There you will find more information regarding the companies listed. The team encourages you to try the products and services these companies offer. The fact remains that they do use them all. That is the best recommendation! The DPR team would like to thank all of their Marketing Partners for their continued support!
Contact DPR to become a Marketing Partner as well! Let DPR work for you!
Get Social: Be sure to join the DPR team on all their Social Media! Their Website will show you the way! So for all things DPR please visit https://dinapariseracing.com/
Story Courtesy: Dina Parise Racing
Photos Courtesy: Drag Race Canada/BCS Photography