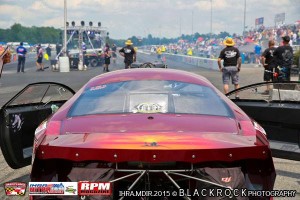 For those who have been following the Pro Mod career of Dina Parise, you are most likely well aware of her 'relationship' with Maryland International Raceway. Beginning in the days back when Dina Parise Racing was a two car husband and wife Pro Mod team leading to now, there is a rich history both good and miserably bad at MDIR. For Dina, the last time she left there it was on bad terms. She was determined to change that and for all intents and purposes, she did. Although the events leading into the race week made it seem as if her history may have been setting a precedent for her upcoming week.
This DPR team is no stranger to adversity as of late. Seemingly, someone has not been owning up to the fact that they are giving food and water to the 'Gremlins' after midnight and yes for a moment they took control. Picture it if you will. Arriving home early on a Monday morning fresh off a testing session with Stella the Cadillac Pro Mod. No 'crew' on hand at this point. It was just Andrew and Dina ready to unload (the trailer contents) in order to get maintenance and prep done to head to MDIR on Wednesday evening (for IHRA Presidents cup Crower Pro Mod). Do not forget the 'regular' shop work being accomplished as well. When lo and behold, the lift gate fails to work. And with no manual override, all of the contents were captive in their enclosure. Stella became a hostage in her own environment. The fix? Drive the rig the Renegade/Kibbi in Indianapolis immediately. So Andrew did.
None of this was in the 'plan', but in the scheme of things it could always be worse, right? In the end, the team made it to the track race ready. Sort of. "Well, we arrived." Stated Andrew Parise. "Next step was to give Stella some air and get her ready. Poor girl was cooped up in that trailer in need of some TLC. It was a nutty week. Only us!" He laughs.
The team went up for the first qualifier on Friday and had to back out at the line due to an oil pressure issue that plagued them all weekend. The second qualifier was called due to rain. The third and final qualifier left Dina in the 6th spot with a 6.416 @ 196.64. She would face Ruben Tetsoshvili in round 1 of eliminations. It would be a re-run of the Cordova final! With Ruben having won Cordova and being the point's leader, Dina was feeling the pressure. Compounding that, the team was battling an oil pressure issue with Stella and she was just not running up to par.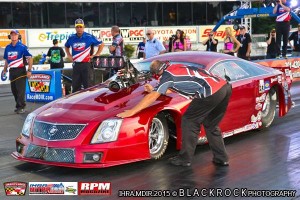 Ruben had a slight advantage at the tree with a .114 over Dina's .173 light. Dina had the advantage rest of the way. She got the win light. A round win, taking out the point's leader and gaining peace mind. Both she and her team needed, worked hard for and wanted this and they achieved it. To many this may seem a minor accomplishment, to DPR it was moving a mountain. "Coming into this IHRA Presidents Cup weekend I had a lot to prove." Stated Dina Parise. "A lot to prove to myself. I needed to know I was not letting anything negative rent space in my brain. I actually do love this facility. It's a great place to race. From the track surface to the fans. I love it. But in the last couple of outings, we did not see eye to eye. I needed to change that. We were not the fastest this weekend, but I slayed the dragon all while taking out the points leader! My team rocked it out. Thank you to Andrew, Butch, Charlie(AKA Uncle Mel), Jody and Toni! Change is good! I'm a happy girl!"
Unfortunately, the remainder event was cancelled (due to inclement weather) and will conclude at the Northern Nationals at U.S. 131 Motorsports Park in Martin, Michigan on August 7 – 8. The DPR team will be there to finish off the final elimination rounds! This coming week the IHRA nitro Jam Mopar Nationals will be at Grand Bend Motorplex. The team will not be attending this event due to budget constraints.
At this point, Dina Parise is standing at #2 in IHRA Crower Pro Mod, only 6 points behind Ruben Tetsoshvili. The DPR team continues to push the envelope in every way. From performance to detail this team acknowledges and does it all. Stella sparkles because of the products provided by USA Auto Supply and CRC. She runs well and safely due to products such as DJ Safety, NGK, Speedwire Systems, Hoosier, Motorsports Unlimited and LAT. A special thank you to 'Uncle Mel's Mystery Appitizers'. Please visit https://dinapariseracing.com/marketing-partners . There you will find more information regarding the companies listed. The team encourages you to try the products and services of these companies. The fact remains that they do use them all. That is the best recommendation! The DPR team would like to thank all of their Marketing Partners for their continued support!
Contact DPR to become a Marketing Partner as well! Let DPR work for you!
Get Social: Be sure to join the DPR team on all their Social Media! Their Website will show you the way! So for all things DPR please visit https://dinapariseracing.com/
Photos Courtesy ~ BlackRock Photography/Holloway Photos