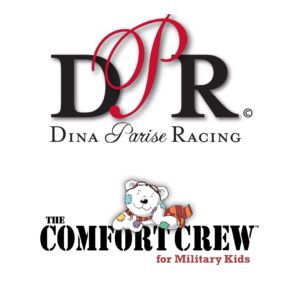 For the nearly the past 20 years Dina Parise Racing has been known for its support of the U.S. Military. To take that support to the next level, Dina Parise is proud to announce her association with Comfort Crew for Military Kids, as a spokesperson for the charity organization.
 A Family Affair
"My husband Andrew's father was a Lt. Colonel in the Air Force." Stated Parise. "He came from a Military background. We have been associating with Military personnel for nearly twenty years. Comfort Crew is an amazing organization and I'm honored to be a part of it. I'm looking forward to assisting in helping our Military kids."
If you are familiar with anyone that serves or has served in our U.S. Military, you understand serving is a family matter. The stress of Military service is not restricted to that of the service member themselves. Inevitably, that stress is felt throughout the entire family.
 Uniquely Challenging
Due to Military life being unique, it can create a different set of challenges as opposed to civilian life. Frequent moves, deployments, as well as injuries (both visible and not), can create trauma and uneasiness for children.
As a result, Comfort Crew for Military Kids was created. It is a non-profit organization giving the children of our members of the Armed Forces, the resources they need to face the challenges that may be presented to them during the time of their parents' deployment. There are various programs suitable for different age groups and issues. You can positively impact a child's life through Comfort Crew!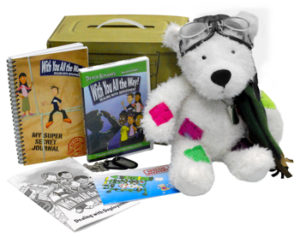 "The Comfort Crew is honored to have Dina and her team join us in our efforts to support military kids and their families." Stated Ronda Englander, Co-Founder of Comfort Crew. "Together, Comfort Crew and DPR want military families to know, we are With You All the Way! "
 Comfort Crew:
Founded in 2007, the Comfort Crew for Military Kids (CCMK) is designated as a 501(c) (3) public charity. CCMK has created a comprehensive set of resources created for school-age children that address specific challenges associated with growing up in a military family: multiple deployments, reconnecting as a family after a time of separation, visible and invisible injuries of a returning parent, and grief over the loss of a loved one. These resources are housed in Comfort Kits and delivered all around the world at no cost to military families.
The Comfort Crew's mission is to deliver proven resources to help military kids and their family connect and build resiliency in the face of extraordinary challenges.
To learn more about The Comfort Crew for Military Kids or make a donation, please visit www.comfortcrew.org .
 Acknowledgments 
From performance to detail DPR acknowledges and does it all.  Stella runs efficiently and safely with products from top-notch companies: NGK, Lucas Oil, Speedwire Systems, DJ Safety, CRC Auto, Hoosier, DMPE and Wiseco. The DPR website looks great and runs efficiently thanks to the professionals at Crank It Media. Thank you to American States Utility Services for their support! The team encourages you to try the products and services these companies offer. The fact remains that they do use them all. That's the best recommendation!
The DPR team would like to thank all their marketing partners for their continued support!
Contact DPR to become a Marketing Partner as well! Let DPR work for you!
Dina Parise Racing (DPR): is a leader in the Motorsports industry. DPR has revolutionized the industry by becoming a Social Media and Media Marketing service. Parise has earned an IHRA World Championship in the Pro Modified class and is the first woman to hold that title in the series. For more information, visit https://dinapariseracing.com/ or e-mail: info@dinapariseracing.com . To find DPR on Twitter, Facebook and Instagram: @DPariseRacing.
 ###
Story: Courtesy DPR
Photos: Courtesy DPR/Comfort Crew for Military Kids