They say 'seasons change'. For the Dina Parise Racing team, that term could not ring more true at this moment!
The nuts and bolts of it:
This past weekend at the IHRA World Final (at Memphis International Raceway) was the culmination of a wild season for DPR. The 2015 season was not only challenging and eventful (sometimes not in a good way) it was at times downright frustrating. The team never relented and it paid off. In the end it was all worth it. Dina Parise clinched the championship and is now the 2015 IHRA, Crower Pro Mod World Champion!
"The nuts and bolts of it is that we are a small team," Stated Parise. "We are thankful for everything we have and for the support we receive. But in reality, we ran on not a 'shoestring' budget, but an 'aglet' budget! Regardless of budget we accomplished what we set out to do and we are proud of that. Proud for our accomplishments and proud for the marketing partners that have supported us and believed in us!"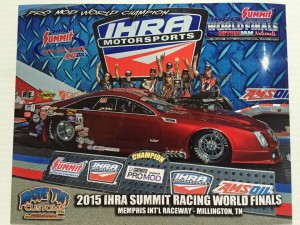 The good, the bad and the ugly:
Fielding a new car is not always as easy as it would seem. DPR debuted Stella the Cadillac CTS-V Pro Mod at IHRA Nitro Jam (Bradenton Motorsports Park) back in April. As prepared as they thought they were, they seemed to be plagued with issues. From minor to major and everything in-between. One of the major issues for Dina was comfortability. "I was having a hard time becoming one with the Stella," Said Parise. "You can sit in a shop to make adjustments until you are blue in the face. Until you are actually in the car and running it, you really cannot get a feel for certain things." The team made several changes to the inner 'cockpit' until she became comfortable.
In May, the team detonated their '#1' motor. Although they did have a spare (from Andrew's 53 Pro Mod) it was not nearly up to the standards of the #1 motor, yet the team had to utilize it. Upon sending the #1 motor out for repair, it was subsequently damaged further due to mishandling by the shipping company. Insult to injury. On a side note, the team was left paying for the additional damage as well, because the shipping company is refusing to take responsibility.
In August the IHRA Nitro Jam event at US 131 began with the addition of Quain Stott to the team! It also began with bits of unexpected issues and the issues did not cease. The culmination of the 'Murpy's Law' factor was Dina running long to the 'beach' (sand pit). (more about it here: https://dinapariseracing.com/dina-parise-racing-runners-up-runs-long-to-points-leader )In true racer fashion, Parise exited her Cadillac Pro Mod and asked Marc Kinton (IHRA Safety Crew member) "What did I run? How's Stella?" to which he replied, "Be quiet and listen to me. I'm your boss right now. Hush up and listen. Helmet off! Let's go!" She complied. Not that she was given a choice. Thankfully for the most part Stella was really none the worse for wear. The team returned to Pennsylvania thinking they would not make the race the following week at Grand Motorplex. Andrew refused to give up. He thrashed all week knowing they needed to hang on to the points lead. In the 11th hour, the team (Dina and Andrew) loaded up and headed to Canada.
DPR was shorthanded at the Grand Bend event. Andrew was the lone crew member left to do it all. Quain (Stott) was there tuning and had his own job to attend to. Stella was running well. Quain was masterful at getting the tune-up where it needed to be. The most unfortunate piece to this puzzle was driver error. "I dropped the ball." Said Parise. "I made costly errors that cost us the win light. I cannot run from it, all I can do is take it in and learn from it and move forward."
Before the finals in Memphis, the team made a stop at (IHRA sanctioned) South Georgia Motorsports Park for a quick test session the Saturday. Yet again… there it was … 'Murphy's Law' lurking in the shadow of the DPR pit area. Saturday morning they awoke to begin the test session but it was not to be. Andrew became violently ill with the flu. "Normally, I would just shake it off." Stated Andrew Parise. "That day I could not move. It was as if I was run over by my rig." The team stayed over to test Sunday. Andrew was still ill but did what he could to have Dina get a few passes in. Dina and Andrew planned on heading to Memphis on Monday. That was not to be either. Dina became the next victim of the raging flu overtaking DPR. Thankfully racing in Memphis was not to begin until Friday. It gave them both a chance to recuperate.
Lastly comes IHRA World Finals at Memphis International Raceway. As had happened all year, Mother Nature was the thorn in everyone's side. Rain. Due to the rain, the racers were left with only two qualifying shots on Saturday. All teams seemed to take it in stride.
The championship came down to a 31 point difference between Dina Parise and Bill Lutz. Dina took the win light in the first round of eliminations via a peddle fest against Robert Patrick. Next up was Bill Lutz and Ruben T. The DPR team waited anxiously at the top end of the track to observe the outcome. Ruben pulled his chutes, Bill had not. Bill did not get the win light. It was over. That was the moment Dina learned she did clinch the IHRA Crower Pro Mod World Championship. "The first thing Quain said to me was 'Welcome to the (champion) club'," Said Parise "What an honor to have those words spoken."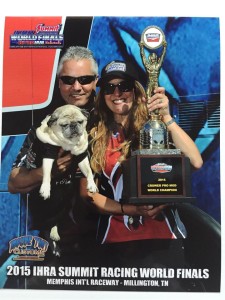 "It was a tough year," Said (Andrew) Parise. "From engine changes to just crazy issues we really did not perform as well as we wanted to or should have. But with lady luck on our side we pulled off the Championship. Was it pretty? Nope! But like many others in the past that won in a similar fashion to how we did, it feels pretty damn good. I am very proud of this team not only for winning but for never giving up. I made some bad calls this year that cost us not to win a couple races but everybody still supported me. I can tell you for 2016, Stella will be running 150% for another championship."
"Never give up. If you dream it, give it a shot." Said Parise. "We came close to walking away on a few occasions. But the support of our marketing partners, our fans, friends, family and fellow racers was what kept us going. It was quite a journey. What an unbelievable outcome. We could not ask for anything better. Well, maybe just to repeat it next year? We will certainly work toward that!"
Thank you, Thank you very much:
DPR would like to thank Quain Stott (and Cynthia) for assisting the team. His capabilities as a tuner are second to none. Cynthia's attention to detail keeps things organized. His expertise and assistance pushed the team to win this championship. Next thank you goes to Butch Branzelle for his efforts as crew member all year. His dedication to the team was just another piece to that championship puzzle. In addition, a thank you goes out to Charlie Saccoccio and Jody Lupton for pitching in as crew members!
Real men wear TuTu's:
On a side note, a new tradition was born during the championship process. Quain, Butch and Andrew showed off their best dance moves while wearing TuTu's to the line! Some things you just cannot un-see! Even Louis Floquet of Crower joined in the fun!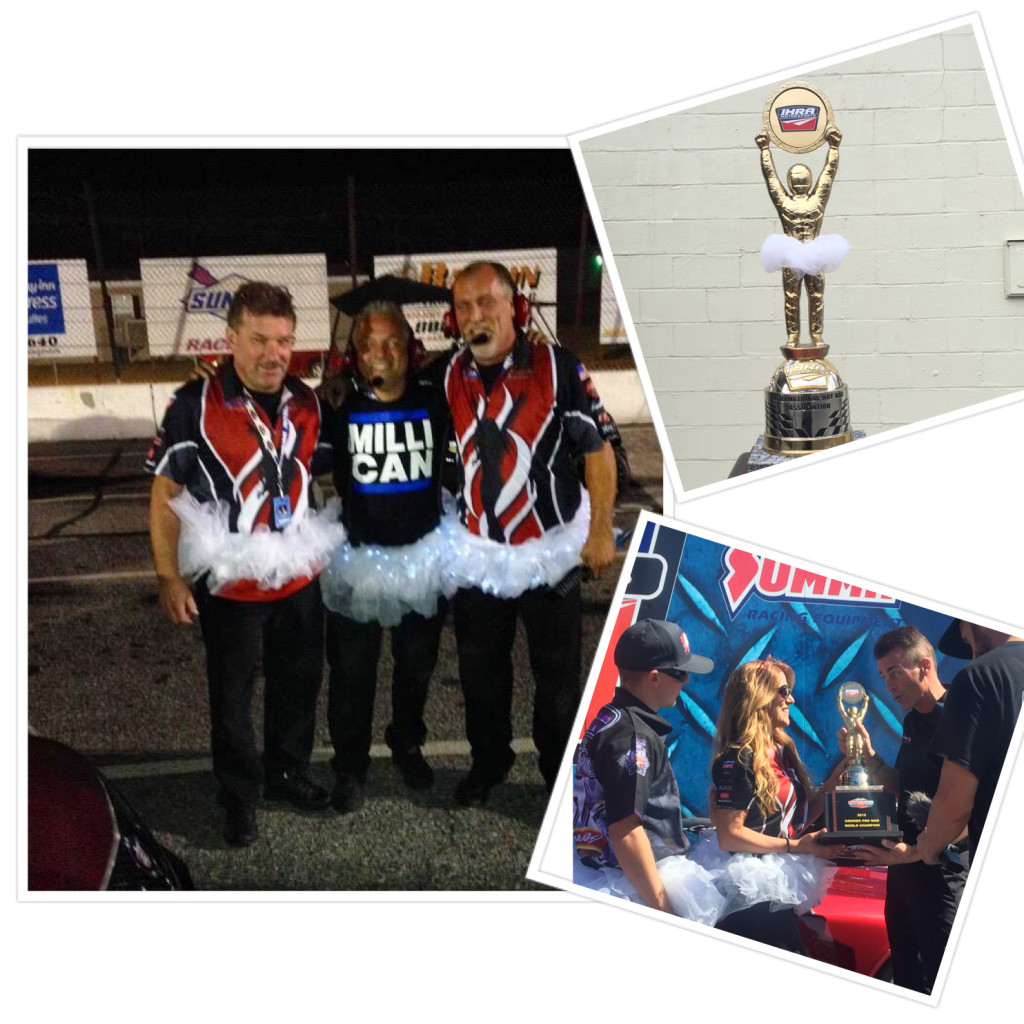 The companies that help to make it happen:
The DPR team continues to push the envelope in every way. From performance to detail this team acknowledges and does it all. Stella sparkles because of the products provided by USA Auto Supply and CRC Auto. She runs well and safely due to products such as DJ Safety, NGK, Speedwire Systems, Hussey Performance, Hoosier, Motorsports Unlimited, Impact Mouthguards and LAT Racing Oils. The DPR website looks great and runs efficiently thanks to the professionals at Crank It Media .A special thank you to 'Uncle Mel's Delicious Mystery Appetizers'. Please visit https://dinapariseracing.com/marketing-partners . There you will find more information regarding the companies listed. The team encourages you to try the products and services these companies offer. The fact remains that they do use them all. That is the best recommendation! The DPR team would like to thank all of their Marketing Partners for their continued support! The team celebrates this IHRA Crower Pro Mod World Championship win with them all!
Contact DPR to become a Marketing Partner as well! Let DPR work for you!
Get Social: Be sure to join the DPR team on all their Social Media! Their Website will show you the way! So for all things DPR please visit https://dinapariseracing.com/
Story by : DPR
Photos courtesy : Chris Simmons Photography/Hang 'em High Photography/IHRA