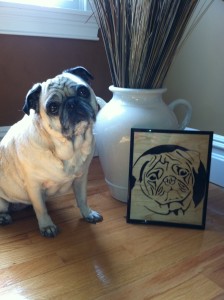 So it has been a while since I have blogged. I have not smelled much burning rubber lately and I am missing my fans right now! Being famous really is a tough gig.
I have been kickin' back at the Parise Casa. I have plenty of bones to chew and Mom and Dad read me my 'fan mail' often. HHMMM… Sometimes I think I get more 'fan mail than they do, but don't tell them that!
This past weekend, I got to go to Grandma and Grandpa's for a sleepover! I had a great time. But Grandma makes me sleep with a Jeff Gordon blanket. I love her and all, but doesn't she know Mommy and Daddy don't make left turns? I've tried to tell her, but she does not understand Pugeese.
So, I went to Grandma's because Mommy and Daddy were at  zMax Dragway  for the NHRA,  4 Wide Nationals! I am a bit upset about that because I didn't get to go and see my peeps! They seem to think it's all about them…..Sheesh!

It was still great to hear about what Mom and Dad did in Charlotte! They went to the Hot Rod and Hotcakes breakfast for Doug Herbert's BRAKES program. They said it was great! I still think I should have been there, don't you think? There were so many Top Fuel, Funny Car and ….well, Pro Mod drivers there that my Junior Dragster stroller would have looked really good! I could have helped to spread the word about BRAKES and to raise awareness about teaching teens & their parents safe & responsible driving. I'm a great driver of my Jr. Dragster stroller, you know!
Then Mom and Dad went to the 2nd Annual 'Tweet Up' to sign autographs with other drivers at Dave and Busters restaurant. OK, I know, they don't really like my furriness inside restaurants, but I'm a special kinda Pug! I woulda fit right in! All you had to do would be to tape a Sharpie to my paw and we would be in business! But NOOOOOOO…….. They left me home.
I think it's time for this girl to upgrade her Stroller. Supercharger maybe? HHHMMMM…. Not sure, but you all will have to wait and see!
Thank you for all your support of Mom and Dad's Parise Racing team! I know they are working really hard to get back to racing! You guys Rock!
Woof at ya soon!
Bella Booda