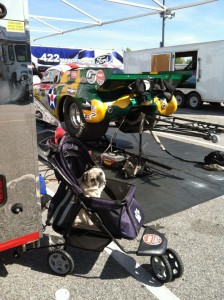 Woofin' at ya my good people! It's good to be back in my Stroller again! Yes, right where I belong! The Dina Parise Racing season has begun… and this PR Pug is in full gear… and Lovin' it!
So far I have seen my peeps at Virginia Motorsports Park, Maryland International Raceway and even Central Islip Fire Department right here on Long Island! I may not drive on of those sweet lookin' Pro Mod Corvettes but I think I have more fans than Mom and Dad combined! Hey, have you seen my new Hero Cards? Oh, yes! They Rock!
At the last race, Dad was doing pretty well…… well, I thought he was, anyway. Then I saw lots of stuff…… all out on the table and in buckets. HHHMMM, now I know I'm a dog…. but I'm a smart dog….. and I'm a Drag Racing dog…. I know bad stuff when I see it… This was bad…. Little pieces of metal… the race day was over. But, I was still hangin' out greeting my fans! Dad and the crew also had one more thing to do; They had to repair my stroller. Look, he may bust up his Pro Mod and be finished for the day, but I am the PR Pug… I'm a busy dog! I was sure to oversee the whole operation…. I have to make sure they do it right! Woof!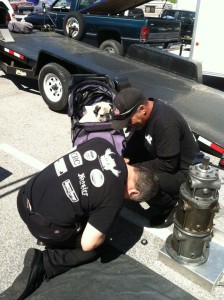 Sometimes they think because I'm down here…. I can't figure stuff out. Actually, I can see it all! They should be glad I can't talk. Woo! You think that Duke dog for Bush beans knows stuff? HA! He ain't  got nothin' on me…. He's got Beans, but I have Brute force Horse Power…therefore … I win! Woof!
So, I see Mom getting cooking done! AAAHHH, I know what that means! Race week is coming up! I think I heard her say we are going to Virginia Motorsports Park for the Super Chevy show and Extreme Outlaw Pro Mods (https://dinapariseracing.com/races-and-events) ! That is so cool! I love that place!
Do you like Drag Racing? Do you like Corvettes? How about dogs? Well, you should come out and meet me….Um, I mean come out and check out Dina Parise Racing, of course!
So, I'm off to get my toy bag and get ready to go! My bones are packed so I have plenty of stuff to chew on the ride down!
Woofin' at ya!
Catch you at the races!
~Bella Booda
The PR Pug