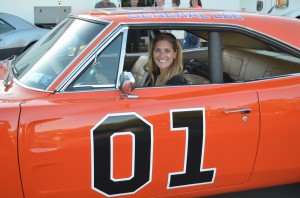 This DPR team is not just about racing. We can be found in many places…and always having fun!
My Athlete's Voices Archive: http://doublegsports.com/category/other/athletes-voices/dina-parise/
Athlete's Voices: Dina Parise, Episode 5. From the General Lee to Monday Morning Quarterbacks!
(October,2013)
What a whirlwind I have been through in the past few weeks! Our Dina Parise Racing team has been busy hobnobbing with the best of 'em!
Recently we made an appearance at (Ed Mangano's) Nassau County Cruise to the Show. This was not your everyday car show. Day 1 (Saturday) consisted of a car auction and Day 2 was the show. (Early on Saturday I had the honor of interviewing George Barris King of the Kustomizers for an upcoming project). On day 2 , we were placed with our friends from the Autoseum.org (in association with Barris Kustoms). Early on Sunday I fulfilled many a childhood Dream! My friend Andy Parillo from the Autoseum allowed me to sit in all the movie cars! These are all originals too! Batmobile, Mach 5 (just call me Trixie!) and the General Lee. Not only did I get to do that, we spent the day with George Barris, Butch Patrick (Eddie Munster), and Sonny Shroyer (Enos Dukes of Hazzard). They all pitched in for our 'Stop Write Here' Project raising donations for Indy Honor Flight!
I digress for a moment…….If you recall in my prior posts I had crashed the car back in June. The nose of my '63 Corvette Pro Mod is not yet painted so we decided to launch a fundraising Campaign for Indy Honor Flight. Turn a negative to a positive… (https://dinapariseracing.com/dpr-and-the-3-rs-racing-writing-and-the-radio ) This brings me to a point I really need to make. My disclaimer for this upcoming statement? None! I need to have this said for me and for my fellow racers. Did I crash the car? Um, it's racing? I am not embarrassed of that, nor do I make excuses for it. In actuality, there were two; yes I said two mechanical malfunctions at once (refer to Episode 1) but I never really relayed that because why should I? In the moment of the 'incident' I did what I needed to do. I kept the car in my lane (keeping the other driver safe) and I kept the 'shiny side' up. It amazes me when I hear the plethora of 'shoulda, coulda,woulda's' from people that have never even stepped foot in a race car, let  alone a 3,000HP beast. I have not just seen this with me of course; I hear it when other drivers have issues as well. Is it not bad enough that we tear our stuff up, then we need a 'Monday Morning Quarterback' telling us how to do our job? I am as positive as they come. I'm a 'Suck it up Buttercup' kinda gal ! But this past weekend, at a show…. I nearly lost it. Again we ran the fundraiser. Nose of the car still not yet painted, fans having fun signing it and donating to Indy Honor Flight. A guy comes to me and says, (laughing) "Do you drive one of these?" (My car being parked next to Andrew's '53 Pro Mod). I said, "Yes, I drive the one you are looking at." His response "Maybe you should come back to the show when it's painted." Really? I proceeded to explain the fundraiser to him (politely) as he put his tail between his legs and walked away (cheapo didn't even bother to donate, by the way). I will always keep a smile on my face peeps, but remember you all NEVER know what happens inside that car. It is a wild ride and we have a split mili-second to make the right decision. A simple 'Glad you are OK' will suffice. Drivers appreciate that way more than a driving lesson! Just a Public Service Announcement from lil' ol' me!
Next we had fun on Fox 5 Good Day NY with Rosanna Scotto and Greg Kelly.Pro Mods on 67th Street in Manhattan? Yes! Never in all my years would I think I would see New Yorkers stop in their tracks! Our cars created a buzz!
Here is Video clip 1 http://www.myfoxny.com/video?clipId=9395281&autostart=true and
Video clip 2 http://www.myfoxny.com/video?clipId=9395275&autostart=true .What do you think?
Racing season is about over. So we keep out there with appearances and fun stuff! No winter hibernation for us! I mention these two events, yet we had many more in between.
If that's not enough, don't forget my radio Co-Hosting gig every Monday night! All the info is on my Website……
For now we work on the 2014 season. Our DPR team is looking for additional Marketing Partners for the upcoming season. Do you think your business would be a good fit? Contact me and let's chat!
Sometimes I feel like I'm on a one woman mission to change the world! I am passionate about everything I do. Can I change the world? Who knows! You should come back for Episode 6 and check my progress!
For now, I will keep it moving down the ¼ mile! Catch you all at the Top End of the track!
Want to learn more about DPR or contact us?
Check us out here: https://dinapariseracing.com/
Catch ya on the next Episode!
Dina