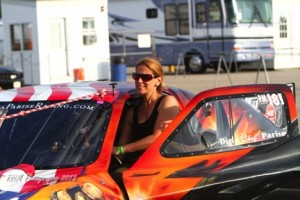 Let the Blogging fun continue….. Here you go!
My Athlete's Voices Archive: http://doublegsports.com/category/other/athletes-voices/dina-parise/
 Athlete's Voices: Dina Parise, Episode 4. Give Them What They Want.. 
(September,2013)
Being a 'sports' personality , with an entertainment background (Ice Capades)  I have a tendency to look at what 'we' do from every angle. Drag Racing compares to any other sport to a fan from their perspective. When fans attend an event such as Drag Racing (or any other sport) they expect to be entertained. Seemingly not just by the 'event' itself, but by the 'experience'. It seems the 'experience' part is lacking as of late.  If you do not 'build it' they will not come, right? Without fans we have nothing.
Fans want to feel they are part of the excitement! Now, of course they can't sit with me in my 3,000HP Dina Parise Racing Corvette Pro Mod but you get the point! One of the great advantages of Drag Racing is the fact that every ticket is a 'pit pass'! Fans are able to walk through the pit area, meet the drivers, get an autograph and be up close and personal with their vehicles. They can smell the fuel as the cars start up. They can watch as the crews work on the cars between rounds. All positive factors, yes! But we still need to go a step further. With all ages attending races we need to widen the appeal, that's just my opinion of course, but I listen to the fans and that is what THEY are saying. Since they purchase the tickets, the schwag and the products that support us they are the ones we should listen to! Again, where will we be without the fans?
Somehow, ticket prices need to be affordable for an average family. In this day and age, not many families can afford 'sports' entertainment' due to the high costs .If you do get in the gate, the prices once you get there are astronomical as well.  In some cases $9 for a hamburger? Come on people, that's just nutty! I'm thinking fans don't want to buy the actual cow…… just a thought. I said experience, not extortion! We need to keep it fan friendly!
I want to continue to do what I do for many reasons. I love driving a Race Car. Drag Racing is an amazing sport. Because we are up close and personal with our fans it creates more of a 'comfortable atmosphere'. It allows us as a team to create amazing programs supporting various Veterans Charities. Take for instance the latest program initiative, the 'Stop WRITE Here' Program. After my unfortunate incident in June (refer to Episode 1 for details!), I decided to turn a negative to a positive and, began the 'Stop WRITE Here' Program shortly after. Fans are encouraged to sign the unpainted nose of my 63 Corvette and in turn leave a Donation for Indy Honor Flight http://www.indyhonorflight.org/ (Part of the Honor Flight Network).To date, DPR and its fans have assisted two Veterans in making the journey from Indy to DC! The project will continue until the nose is painted. Next stop for team DPR (we will be continuing 'the Stop WRITE Here' Project!) will not actually be a race but will be the Cruise to the Show at Eisenhower Park (East Meadow, NY) on Sept 28th and 29th.Check our DPR website calendar for details! https://dinapariseracing.com/
Aside from getting out there and racing, I have now added to the hustle bustle of this DPR team. I have taken on yet another role! Radio co-host! I am the new co-host of the Sam Auxier Jr. Radio Show. The show airs LIVE every Monday night at 7PM EST .For info go to my 'On the Radio' box on the DPR homepage! Log on and check it out!
Sometimes I feel like I'm on a one woman mission to change the world! I am passionate about everything I do. Can I change the world? Who knows! You should come back for Episode 5 and check my progress!
For now, I will keep it moving down the ¼ mile! Catch you all at the Top End of the track!
Want to earn more about DPR? Check us out here: https://dinapariseracing.com/ Be sure to go to our Marketing Partners tab and check out all the great partners that support us!
Catch ya on the next Episode!
Dina