Depending on your taste…. You may choose a luxury vehicle or maybe something sporty right? What if you could have both ? Sort of….
High Performance Luxury: High performance luxury can be defined as space, comfort and presence but yet, is ultimately defined by the 'feel' of the overall vehicle. Emotion begins to distinguish the difference between a 'luxury' and a 'mainstream' car. Ah, it just became emotional!
In the spirit of taking high performance luxury to the next level, the Dina Parise Racing team would like to present and welcome 'Stella', the NEW 3,000HP Cadillac CTS-V Pro Mod built by none other than Matheis Race Cars Inc (Paint by Bruce Mullins).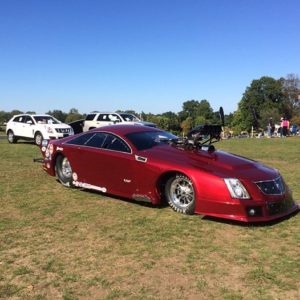 It is said that perfection takes time. Building Stella had taken a bit longer than first anticipated. Seeing her in all her glory and as the stunner that she is made it well worth the wait! It seems the DPR fans also agree. The response has been overwhelmingly positive!
Debuting a car such a Stella is no small undertaking. Especially when the team doing it is a husband and wife, family run organization. This DPR team has some incredible Marketing Partners (https://dinapariseracing.com/marketing-partners ) that have assisted in making Stella the 'reality' as opposed to just the 'dream'. Unfortunately DPR does still lack the extensive backing this team needs to compete on a full time basis. We will continue to work as hard as we have been to make that happen!
We recently had the honor of again being part of the Nassau Count Cruise to the Show (on Long Island) for Stella's debut! Getting to show Stella along with Movie and TV Car Design and build icon, Mr. George Barris 'King of the Kustomizers' is purely an honor for us! To top it off, we also won 'Favorite Car' picked by none other than one of Long Island's largest Cadillac dealer Sarant Cadillac! That for sure is a testament to the stunning beauty of Stella.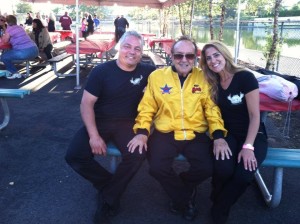 Andrew and I have so much going on at one time; it's mind-numbing but no complaints of course! Not only do we have Stella making her debut, but we also have embarked on a new chapter in our lives. We are opening Andi-Con Performance in New Freedom, Pennsylvania very shortly! We recently participated in the New Freedom Heritage Fest with Stella and met so many great people including the Mayor of New Freedom Jeff Halopin. I say 'we' when it comes to Andi-Con Performance and DPR…. But here is the deal. I am the owner and President of both Andi-Con and DPR. Ah, yes my husband Andrew answers to me in many more ways than one! Poor guy, right?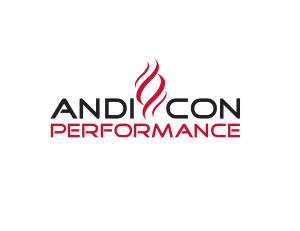 Now for the 'shameless plug'; From Street Rods to Pro Mods as well as Show cars Andi-Con Performance can assist you with all your performance needs. From Bolt-On performance to all important Safety equipment (DJ Safety and Bell Helmets) through to tuning at the Drag Strip; Andi-Con Performance respects you and your vehicle no matter the level of racing competition or even if for show! That's it in a nutshell. We are currently working on our website, but please like and follow us on Facebook and Twitter for information; https://www.facebook.com/AndiConPerformance and https://twitter.com/AndiConPerform . We look forward to being your go-to performance shop! Performance shop aside, we have much more in store for the community as well. Stay tuned for more information regarding what we will be doing!
So here's to new beginnings on many fronts! Stella has made her stationary debut and is awaiting her moving one! Andi-Con Performance is due to open shortly and we look forward to much success in New Freedom, Pennsylvania not only business wise but through the community endeavors we have planned as well!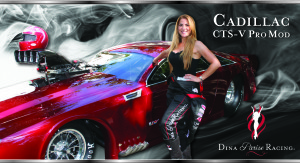 Lastly, I think you get that I am quite competitive right? Well, I am entered in a 'Calendar Competition' (on FaceBook) with the organization Car Chix. If you are a member of FaceBook, please take a moment to vote for me! All you need to do is LIKE the photo on the Car Chix original post, no app required! Here is the direct link; https://www.facebook.com/CarChix/photos/a.10152711667167442.1073741835.286190607441/10152760960207442/?type=1&theater Rock that vote people!
I cannot wait to be back here with more updates! With so much going on there are bound to be stories to tell! Thank you all for reading, following and showing the DPR love! Stay tuned for updates on our progress!
People always ask how our DPR team can get out there to do what we do. Our Marketing Partners are the key to DPR's success! This team works hard to keep our Advertisers happy! Check out the Advertisers and go ahead and try their products and services! DPR uses them all! Thank you to NGK, LAT Racing Oils, Bell Helmets, DJ Safety, Stainless Works, Speedwire Systems, USA Auto Supply, Matheis Race Cars Inc., Hoosier Racing Tire, CRC Industries, Coast 2 Coast Cuisine TV and Axcel Sports for their support throughout the season and beyond! Visit here: https://dinapariseracing.com/marketing-partners for all their websites and details! Contact DPR to become a Marketing Partner as well! Let DPR work for you!
Get Social: Be sure to join me and my DPR team on all our Social Media! Our Website will show you the way! So please visit https://dinapariseracing.com/ to learn more about the DPR team! Then join the team on: Facebook, Instagram and Twitter and don't forget Bella the Wonder Pug too https://twitter.com/ProModBella !
Thank for reading!
See you at the races!
Dina Parise~DPR