A 2015 season recap and beyond!
We started this Pro Modified journey a long time ago. Our good friend Dave Tomasino brought me on to crew for him on his Nitro Coupe Camaro and opened the door for us by introducing us to so many people. Another good friend Carl Speiring then began the process by putting our two (his and hers) Pro Mod Corvettes together with his crew. I went on to win numerous races and set an NHRA record. Dina while winning a few, seemed to struggle with her car. Mine could be driven down a dirt road and hers as she would say was "like wrestling an alligator with epilepsy." Yet she seemed to like the challenge. Gotta love a girl with guts.
 We like many people went through some financial and personal issues and had to revaluate our racing program. After struggling to stay out of living in a cardboard box we are again moving in the right direction. You can either just walk away from your dream or fight the fight and keep it alive. I am not one to give up; although sometimes I wish I new how to.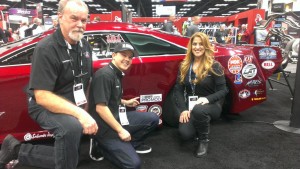 We committed to IHRA Crower Pro Mod series as soon as it was announced at the PRI show. Crower even used Stella the Cadillac to announce the comeback! I remember watching 60 cars compete for a 16 car field in IHRA back in the 90's. Will this ever happen again? I don't know. But I am sure this class will grow in the coming years. We attended every race, even the one at Grand Bend Motorplex in Canada. At the banquet, Scott Gardner made the comment referencing wondering 'how I got into in Canada'. Well, I still don't know how I did it. Must be my good looks.
Each race we attended in the beginning of the year we had issues. We broke a wheel stud in Bradenton. Stella drifted to the wall in West Palm in eliminations causing a loss. Those are just the issues that scratch the surface…
Frustrated, I then brought the car to Quain Stott to have him go over the suspension after West Palm. I drove 15 hours 8 of them in a ice storm in the Carolinas. Lets just say they don't know what ice is or how to deal with it properly. After Quain setup the car we had other issues. We decided to bring Quain on for the weekend to figure out our Engine program. After two runs, the car goes a .977 60 foot. I was like a little kid in the candy store. But we were still not without our issues. The crank had a couple cracks in it and let loose during the test session. We put our spare motor in and off we went to Cordova. I was so jacked and confident that we could finally run a number. I put the tune up in it that we just ran in testing and…… it was a pig. Well, we made it to the finals at Cordova but lost. The pig wouldn't run. I was ready to turn her into bacon! Back to the Dr.Stott we go for another test session. Move this, change that. Bam, 60 foot is back and car is running again. But now we have another issue. The driver forgot to show up! She was physically in the car, but mentality she was wasn't there. Now SHE was behind the car. Not good.
 Now, during testing it took Dina a while to back up (after the burnout). Me being the calm and cool guy asked oh so politely, "what the hell is taking you so long to back up?" She was moving in the car. That led to a little ' Italian meatball flinging' fight. She was just not comfortable which led to changing the seat position a couple of times with numerous seat pours. Next,  we had a problem with the chute button (and lever) not working when going down the track. Again, the meatball flinging ensued and that led to a flying tripod (ok, don't ask…). So, as you can see I am not meant to crew. I am a driver plain and simple.
 So, we still have our backup motor in and finally have the car running well. We attended the race at Maryland International Raceway, this was Dina's first time back to the track after she crashed there a couple years ago. Tums (antacid) were my friend that day. Dina went from 'A' to 'B' and I was happy as could be. The car ran well. Dina won 1st round taking out Ruben T. who was the points leader at the time. But yet again, the weather turned on us and the race was postponed. We had to Run Billy Harper at US 131 in the finals. We went to US 131 with some new parts and pieces thinking it will help us. But it bit us instead. We missed the test session that we needed and thrashed all day. Not what I had planed on. This race was Quain's first race our Tuner. Billy and his team are one of the best and have a killer race car. We knew we would need a miracle to beat him but no miracle happened. We lost the MIR race at US 131. Dina then had a chute malfunction racing Steve Matusek in the first round of eliminations and went into the sand. It could have been a lot worse, but she did a good job and the car had minimal damage. The cleanup was not fun we are still finding rocks in Stella.She is thick headed anyway.
We  went home,quickly regrouped and got her ready again for Canada. This was a race that we didn't plan on attending until the last minute. At 12:30am we entered Canada. Quain put a hell of tune up in the car against Bill Lutz and we lost. We lost at the tree then Bill had issues and she drove around him only to pull the chutes early. She asks over the radio "who won?"…  I said, "not you." As I picked up her to tow the car back she said, " Sorry.Damn, I'm just not coming around to this car." Now me being the loving and caring husband I only had nice things to say. Well, that was my intentions at first, but that didn't happen. You see, we are both competitive people. But, we are two different drivers. I get in the car and go nuts. Rock the car, talk loud to it, I get very excited. My Crew guys don't like putting me in the beams because I don't blink and I have a death stare. Dina has more of the easy eyes, they will burn you but is very focused in a different way. She doesn't get excited like me. It drives me crazy at times.
 So, now we going into the Finals we were only 31 points ahead of Bill Lutz. Well, I decided to make things real interesting and build a new engine combo for the finals. Ya, this should be great and it should run awesome. That was the thought process. So we ordered heads, pistions, rings, crank etc. The game plan was to put the engine together and go dyno it. Right. I was better off winning the lotto. We had pieces showing up every other day finally we got all the pieces and Burnie was able to it all together for us. But you know it isn't a simple bolt together. Overnight parts… Wednesday finish up the engine…Saturday install it….Get it running Monday. Oh, ya… one week prior to the finals.
So, now it is off to test. Now comes the fun part. Of course we have weather moving in. Some storm named 'Joe Quin' (Joaquin).Damn you Mother Nature! We drive from Pa to Virginia on Thursday and park at the track only to see rain. Go to dinner with friends and head out Friday morning for South Georgia to test Saturday. I wake up Saturday morning with a Stomach virus. Cant get out of bed all day except to visit the bathroom. Okay, we will have to test Sunday. Of Course it is raining Sunday morning and I look like a Marvin the  Martian, but the boss says Suck it up Buttercup! Rain stops but track is cold. Three hits and guess what? The car is a toilet….again. I went from green to greener . I just spent all this money to go slower? Well, "The Doctor" goes home Sunday night and Monday guess who has Stomach virus? The Boss!!!! So we stay at the track all day Monday. I am stuck watching TV. All I can say is "REALLY?" What is with these reality shows? Orange County Housewives? Naked People in the forest? Who watches this crap? Oh, ya….my wife!
 So, we finally get on the road Tuesday and head to Memphis. With the Marvin the Martian at the wheel and the White Shadow in the back we arrive Tuesday night. Thankfully the Doctor did find the remedy for the sick motor.
In the 1st round of Eliminations, Dina Had to race Robert Patrick and it was a pedal fest! Bill had to Race Rubin T and Bill shook and Rubin won the round securing the Championship win for DPR. We had to race Billy in the Round 2, and the dew cam in fast. Dina Lost at the tree, as she couldn't see the tree. I was very good and didn't say a word, I have a huge hole in my cheek from biting it too. Billy Harper is Dina's monkey(on her back). She is 2 for 2 with Billy. I used to have to Race Tim O'hare and he was my monkey. A hell of a driver, but if I lost to him I hated it.
I have never worked as hard as I did this year in getting things done. I do not think I have ever had to deal with such crazy issues in my career until now. No matter how many times I went over things, they just did not seem to work out properly. But in the end DPR got the win and that is what matters. 2015 IHRA Pro Mod World Champion! That has a nice ring to it!
 I have to thank our marketing partners for standing behind this Dina Parise Racing team and providing us with great products and services. NGK, CRC, LAT Oil, DJ Safety, USA Auto Supply, SpeedWire, Hoosier,Stainless Works,Motorsports Unlimited , Browell, Hussey Performance.
 I dragged Quain Stott out of semi-retirement and I am sure he wants revenge. But this guy is amazing. He is the most humble guy you will ever meet. He has so much knowledge that I think he scares himself at times. Not many people can drive, tune, wrench, weld and everything else. It is a great honor to have him part of our racing family. Like they say every man needs a great lady, well Cynthia is amazing. Quain is not allowed at the race track without her. She keeps him in line, don't let that sweet southern niceness fool you. I know she can out tune most people in this sport. Having people like this in your life can only bring better days and we look forward to it.
 My brother (from another mother) Butch Branzelle. We met Butch when he worked at VMP during a Super Chevy Event 15 years ago. I have watched his son Corey grow up and we had some fun times. He is always on the positive side of things. I wanted this championship so badly but thought I blew it with the new engine combo. He said, "We've got this," and we did. Thank you brother for always going above and beyond.
Thank you to Charlie Saccoccio AKA 'Uncle Mel' for not only making us laugh…but for his constant support of DPR!
 The Boss, Dina Parise. You finally beat me. You are the IHRA World Champion in Pro Mod and you have joined the list of so many others. I am so proud of you. Sometimes I am right. Not often, but some times I am. DPR works. You fought the good fight. Being the loving, caring and calm husband I am this is why you did so good this year. LOL… If we had a reality TV show it would be a ½ hour of BEEEEEEPPPPPPPS. Yes, I drove the car from behind and on the radio. Yes, I was a thorn in your side. No, you wouldn't have it any other way. Well maybe one other way…. a second car to shut me up! Well, you're the champ so get to work and find us that money tree so I can get back in the seat OR deal with me next year. EEKKKKK !!!
 I cant thank enough the people behind the scenes as well. To all that I have annoyed at all times of the night to help us, thank you.
 Life is funny, you never know what it brings and somehow it has brought this team together. To everyone that helped us……Thank you.
 Mother Nature must have had soggy cereal this year, she was not a happy girl. The staff at IHRA broke their butts to give us a great track and safe place to race. It wasn't easy for them at times dealing with us, the weather and everything else on their plates. But they provided the best surface to race on. The IHRA safety crew goes above and beyond to make sure we are all safe at all times. Oh Ya, the M word….. Management. What can you say about them. Oh be nice people. Seriously, Scott Gardner is the new president and he has hands full. Making sure everybody smiles and keeps the operation flowing. Royce Miller is the COO and everybody knows this man never stops. Sharon, Russel , Ken ,Steve , Howie, Dan, Chris……. I hope I did not leave anyone out! Thank you all for what you do and for the long hours you put in!
 Crower Stepped up and helped with Pro Mod coming back to IHRA. A big hug to them for doing this. As we all know Bill Lutz has been the voice of Pro Mod for IHRA. Love him or disagree with him he still worked hard for this deal with IHRA. He gave us (DPR) hell  at the last couple races. Rubin T, (Touchie Feelie) I owe you for taking out Lutz. Check is in the mail. If you don't know Rubin he is kinda like the Nutty professor , owner of Prolite Batteries and one hell of a driver. D-B-R the three amigos. But If I have my way I will be the spoiler for 2016.
 A big Congrats and Thank you to our DPR fans. We couldn't do this without all the support and love we receive. So, my promise to all of you is that I will try my hardest to be back in a car next year. Trust me it will be very exciting. Get ready for a crazy 2016 !
See you at the Races!
Andrew 'BamBam' Parise